The Perfect Omelet

The summer is galloping towards us and most of you are freaking out already thinking that in a couple of months you'll have to take off your shirt and face judgement. First of all, if you are comfortable with who you are and what you look like, then you shouldn't even bother thinking about how others perceive you. Secondly, if you are not happy, then do something about it. Remember when i give health tips, i don't give it so that people can achieve full on abs and ripped bodies (because steroids can help greatly if that's your only goal), i give tips so that people can feel good; because when your body is getting the right amount of fuel and spending it in healthy ways, you will feel good, and at the end of the day, you will also look good.
I'm probably going to be repeating myself a lot here but its important everyone understands the basic concept to weight loss is not only CALORIES CONSUMMED< CALORIES BURNED, but needs to also include, ACTIVITY = PROPER CALORIES.
More importantly, if you want to lose weight, be active, workout, and no I don't mean take a walk for 3 hours, or jog really slowly for one hour, I mean get that heart rate up, feel the pain and the burn of intense effort, that's the only way to achieve your goals, and if you can do it 7 days a week. People always say that its good to have rest/cheat days, yes that's true if you're a construction worker or a cowboy, but if you work in a sedentary job, 1 hour of exercise a day is actually good for your body. Ok, exception, if you are a body builder or are working certain muscle groups (you gym rat), your muscles do need to recover before you work them again, but instead of having an off day from the gym, use that time to run, windsurf, box, etc.. the more active you are and the more you keep your body guessing about the activity you are going to do daily, the faster you will lose weight.
Make time. If you time to read this blog, you have time to work out. wake up an hour early or go to be an hour late.
All I'm trying to say is that 200 calories of sugar is not the same as 200 calories of chicken breast, which is why i think calorie counting is kind of out of date. Yes it is useful to know what your limit is, but that limit can always be surpassed as long as you are eating the right fuel to help bring your body where you want it to be. The below table shows you just that. Its something i made to keep myself in check, letting me know what i can eat and after what kind of work out (in no way should you restrict yourselves to these dishes, these just remind me of what ingredients i can eat).
Moreover, both monitoring and planning are very important. To give you an idea of what i mean, this is what i'll eat during a day where i will bike for 2 hours:
5.30am: Banana with 2 tbsp of Peanut Butter/ Multi Vitamin/Acai Powder
6.30am: Bike 2 hours
8.45am: Steel Cut oats/ an Apple
11am: Protein Shake
1.30pm: The Perfect Omelet and Tomato Salad (See recipe below)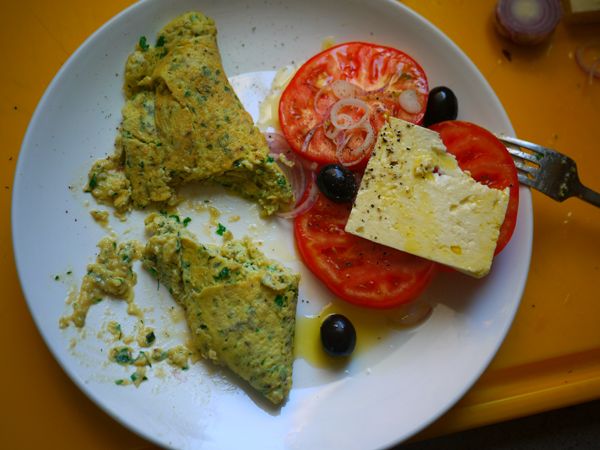 4pm: Protein Shake
7pm: Try to squeeze in another weight workout.
8pm: Steamed Broccoli with Oven Baked Fish in papillote.
During the day i will also make sure to drink at least 2x300ml glasses (that's the size of my glass) per hour.
You will also notice that i take in some protein shakes; that's mostly because most of us, especially if you work out 6-7 days a week, don't take in enough protein. If you are a body builder the rule is 1gram of pure protein/body weigh pound or much more. But since im not a body builder, i take in about 0.8grams pure protein/body weight pound (breakfast 20grams, lunch 20grams, dinner 20grams, protein shakes 60grams) – i.e a 200grams steak of chicken will have about 35 grams of pure protein.
When i run short of time i like to go to Jamba Juice and grab any of their small All Fruit Smoothies with Multivitamin and Whey Protein Boost, it's going to be about 200 calories of pure fruit, no sugar or other additives, so it's a perfect good carb replenishment!
The Perfect Herb omelet with a Thick Tomato Salad
A: Moderate Carbs for Long Cardio/ High Intensity   Days
½   c.  Rolled Oats with low fat Milk and   Bananas
½ c. Rolled   Oats with low fat Milk and Blueberries
Omelette   Variations
Banana,   Blueberry, Low fat milk Smoothie
Mixed   Fruit with Cottage Cheese
Banana   Oatmeal Peanut Butter Smoothie
Quinoa   Tabouleh Salad with Chicken Breast
Stewed   Lentils
Steamed   Fish with Coconut Milk Sauce and Brown Rice
Beans   with Tomatoes and Chilli
Any   Protein Vegetable combination
Any   vegetable
Poached   Hainanese Chicken With Broccoli
Sweet   Potato Mash with Meats
Baked   Chilli Tilapia with Quinoa
Turkey   Breast Sandwich in Whole Wheat Bread
 Add   Quinoa or Brow Rice or Beans to any of the meals
B: High Protein for Heavy Workout/ High Intensity   Loads
4 egg   white and 1 yolk scramble with turkey ham
Spinach   & Feta Egg White Omelette
Broccoli   Frittata with Cottage Cheese
Omelette   Variations
Banana   Berry Protein Shake
Shrimp   Radish and Bean Salad
Chicken   Breast Tandoori with Spinach
Lean   Beef Stir Fry with Pechay
Kangkong   with Minced Lean Chicken
Ground   Lean Turkey Larb Gay Style with Cabbage
Steamed Fish with Lemon Olive Oil Sauce with Cauliflower
Chicken   Curry (Coco Milk) with Carrots and Peas
Shrimp   Curry with Carrots and Peas
Chicken   with Tomatoes stew with Vegetables
Garlic   Chicken with Zucchini
Chickpea   Salad with Chopped Meat
Terriyaki   Lean Beef with Edamame
Glazed   Salmon with Greens
Broiled   Fish with Pea/Carrot Purree
Boiled   Sagi with Lean Ground Beef with Spices
Grilled   Fish With Beans and Tomatoes
Grilled   Chicken With Beans and tomatoes
Avocado   and Chicken Salad
Baked   Bangus with Tomato Salad
Tukey   Meat Burger (no bread) with Veggies
Turkey   Meat Balls in Tomato Sauce
Broiled   Tilapia with Salad or Veggies
Gound   Chicken Burger with Salad
Chilli   Shrimp with Salad
Almonds/Nuts
C: Low Calorie For Normal Days
2   scrambled Eggs and one apple
Greek   Yogurt with Banana
Chia   Seeds in Almond Milk with Almonds
Tuna and   Cucumber Salad
Cucumber   Salad
Greek   Salad
Stewed   Cabbage
Tuscan   Vegetable Soup
Any   Vegetable Soups (No Cream)
Green   Salad with Grilled Veggies
Seared   Tuna with Green Salad
Chicken   Breast with Green Salad
Tomato   Salad
Quinoa   Salad Variations
Avocado   Salad
Kilawin
Stuffed   Tomatoes with Minced Meat
Stuffed   Bell Pepper with Minced Meat
Lentil   Soup
Spinach   Soup
Cauliflower   Soup
Any   Salad with Oil Based Sauces
Apples