Skill Shop #3 : A Proper Green Salad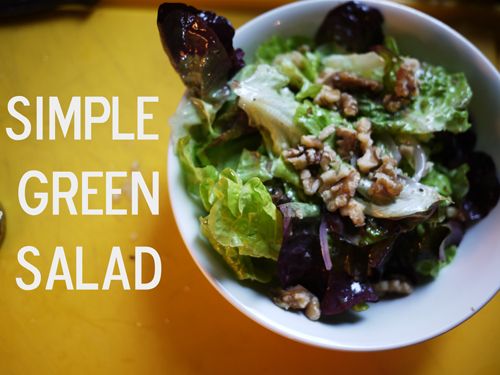 I'm usually a very calm person but certain things really get on my nerves; especially regarding the very simple and straight forward things. However, it seems the more we are exposed to an information overload nowadays, with anything and everything we need at the touch of our fingertips, we tend to lose grip on the basic standards. What do i mean? Never thought you'd ask:
– With the advent of iphone photography people don't bring their real cameras around anymore, even though the quality is better. Your memories are grainy and not high res by the end of the day.
– Running shoes have become an extension to our feet, so much that we have forgotten to land on our fore sole (a movement now being promoted). I'm trying to learn now how to run this way, its tough, but the speed increase is noticeable.
– Salads have become a meal, something i love and agree with, but with all these bells and whistles being added where does the produce shine?
I can't walk into a restaurant anymore and be confident in ordering a Simple Green Salad, because i have no idea if they'll do it right.
It's easy, crisp greens and a light sauce that coats every leaf perfectly.
This is one of the best side dishes EVER, which is why i wanted to make it a Skill Shop.
Simple: take a bowl, line it with crushed garlic, discard the garlic, put in 3 tbsp of olive oil, 1 tbsp of sherry vinegar, juice of half a lemon, salt, pepper, 1 tsp of mustard.
For the greens make sure to wash them in cold water and drain/dry them really well before adding them to the sauce. Toss lightly and enjoy.
I added a quick fish filet on the vid for those who can't just eat a salad :)