Skill Shop #2 : Home Made Granola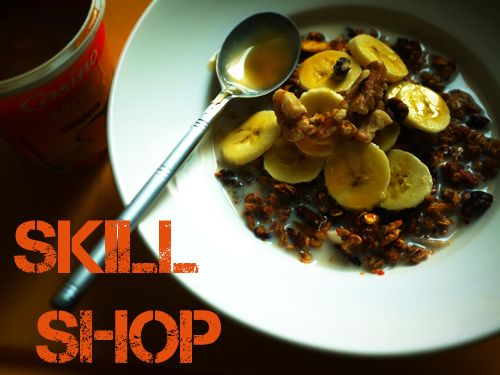 I have serious beef with sugar.
Sugar is what made me fat, sugar makes me moody, sugar is everywhere like a sneaky little ninja (in white). If you take the time to read the labels of the products you buy at the supermarket, you'll find that sugar is a main ingredient in most of them. Fine, from time to time, indulge. For example my homemade sugar has lots of sugar. But for 6 days a week, remember:
What's an acceptable value? never buy anything with more than 5 grams of sugar/serving portion.
What are acceptable replacements: Well agave, natural honey, real maple syrup (dont be fooled by the cleverly marketed maple falvoured syrup – see what i did there?), molasses; but there is no clear winner, you see the only difference between these syrups and sugar is that they are less processed. So as a rule of thumb, use the syrups, but only use a tablespoon.
Cereals, granolas, "healthy" "low fat" grain breakfast foods, instant oats, all contain heaps of sugar (great you are low fat, but why is your butt getting bigger?) so why not make them at home?
Here is my simple recipe for a home made granola which is much healthier for you than your store bought brands. My sweetness comes from some dried cranberries, fruits, coconut sugar, and just a tad bit of honey at the end.
My measurements: 2tbsp of coco sugar, 2 cups old fashioned rolled oats, 1 cup of mixed chopped nuts salted, 1 tbsp of canola oil, 1 large banana and 2/3 cup of natural fresh apple juice (blended). Mix all together and bake on a sheet pan at 350 fareheit for 45 mintutes. Add 1/2 handful of cranberries at the end and let cool completely.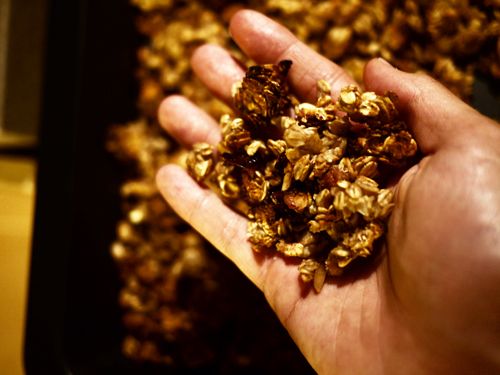 serve with a chopped banana and a tad bit of honey, if you want, and some unsweetened almond, coconut or regular milk.