Whole Wheat Rigati with a Quick Basil Walnut Mushroom sauce and Stripped Chicken
I've never really been a big fan of pasta, ever since I was kid actually, I wouldn't take much pleasure in a big bowl of noodles with sauce, it just lacked a little luster or just seemed dull to me. Another reason why I never really jumped on the band wagon was because, in the Philippines, pasta is hardly ever done right; we have come to adopt the belief that the seemingly italian dish we serve in most of our local restaurants needs to be sweet and contain some kind of processed meat.
Of course, nowadays with some very decent Italian restaurants: Carusso on Nicanor Garcia Street and Va Bene at the Petron Gas station next to the Dasmarinas village entrance, are my two favourites; people are starting to understand the art of the dish.

My eyes were only opened  during my first trip to this nation of terrible drivers, overhyped male flirts, gorgeous passionate women, and well, Monica Belluci. I was back packing around Europe with my friends at the time and we spent a couple of days in Europe. One death-defying cab ride from the airport and we found ourselves in a very local hostel, dropped our bags and headed down the street to the first hole in the wall trattoria we could find – Yes, the restaurants serve specific food, if you ever find yourself in a place that seems to have the whole of Italy's culinary heritage in one menu, run far and fast, tourist – We find ourselves in a tiny room surrounded by dinning Romans as the waiter approaches us and asks for our order. 'Could we see the menu' we ask, he scoffs at our ignorance and tells us he doesn't have one, 'well what do you have today' we persevere, he taps his watch, 'we will have 3 fettucine carbonaras and cokes per favore' we retire, I see a smirk of satisfaction creeping up his lips. I hate ordering under per pressure. There we were, two French-Pinoys and one full Belgium guy, all ordering the same thing. Talk about a target.
The dishes come very quickly and I can barely see the sauce, there's a line of extra virgin olive oil glimmering down my noodles and instead of thin bacon, I see thick cuts of smoked pork belly. I taste it. Suddenly, I get it. I was eating it wrong my whole life, pasta, is about tasting all the elements of the dish. I need to taste the fresh rolled out noodles, these are the stars of the dish, which are complimented by the earthy olive oil and subtly married to the sauce (no cream of course, just an egg yolk grazie).
This is how pasta should be treated: flavorful noodles, a balanced sauce and some good quality cheese. For those of you who still want a heavy ladle of sauce to cover everything up, let me try to convince you:
Whole Wheat Gomito with a Quick Basil walnut Mushroom sauce and Stripped Chicken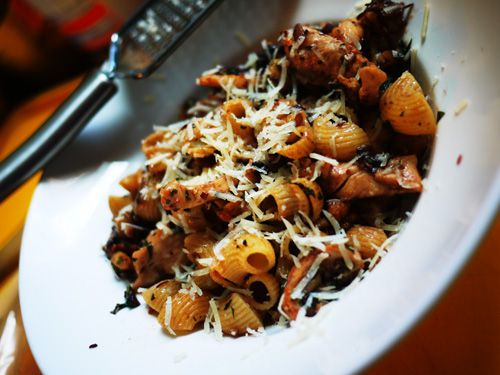 First and foremost, when cooking pasta, the water which you're going to boil it in, needs to taste like the sea, so salt that mother water. Next add a little olive oil to help with the seperation a little (some people say it helps, others say it don't, i don't really care, i just add it in case it does make a difference). Third, dont drain your pasta, you want to add your pasta to your sauce with a little of that yummy well seasoned pasta water. Fourth, do not over season, your pasta should have a strong taste already, so balance out your sauce.
Simple Recipe: Cook your pasta according to packet instructions and until al dente. Season and make slices with your chicken breast, half cook on high heat (nice colour). Next chop some basil, garlic, a red onion, some walnuts as finely as possible and fry in some olive oil. Add the chicken, with a little chicken stock to bring it all together. when it's cooked through, add your pasta and make sure the water evaporates with it. Serve immediately with some freshly grated parmesan.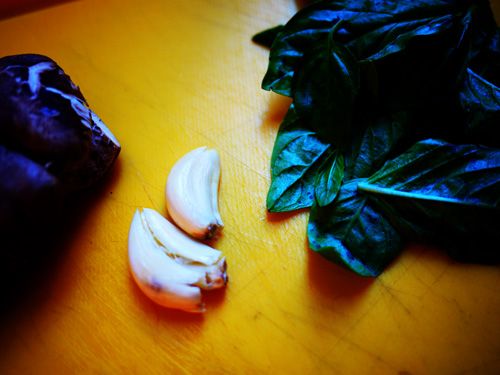 A little side note for health: Pasta is a carb, so go easy on it, whole wheat pasta is better than white flour pasta, multi grain is slightly better and there are other of other variations claiming to be better, just read the label, look for the ingredients, and the nutritional values and make an informed choice. I only eat some when i know i truly deserve it and need to recover from a tough workout. But even then im conscious about the serving size. ALL pasta servings should be kept a 1/2 cup. Yup, you heard it right, 1/2 cup of pasta is just right, that still within nutritional balance, anything more will eventually get you fat (if eaten regularly).