The Muscle Building, Fat Shredding Taco

Like I said previously, it's not only important to eat right but also to exercise quite a bit, if you are planning to lose weight or simply lead a fit lifestyle.  However, more importantly, it is crucial to eat the right things, at the right time. Remember, if you strip away the fancy words and recipes, food is a necessary sustenance that keeps us alive. All the flavourings, additives and cooking techniques are all really there to make the process more enjoyable.
This is something that you should never forget; eating is about giving your body what it needs. Let me clear something up first though, before you start thinking I'm the anti-foodie, I LOVE COTTON CANDY: It's the most useless type of food, it does absolutely nothing for you, there are no nutrients, but I want to start a relationship with it. The only reason I'm talking about feeding your body what it needs and not what it wants, is just to give you the insight needed to identify, amongst the dishes you love, which ones are the healthiest ones. So if you are really serious about losing weight, then yes you have to be strict. If you are comfortable just the way you are, or you have attained your goals, then go ahead indulge your fried-refried-double-dip-chocolate-chip fantasies.
Basically what you want to do is identify the essential nutrients your body needs to grow and become better, to more effectively complement you weight loss efforts and exercise regime.  Again, it's all about goals and planning. My exercise regime below (some people were asking for it), is formulated for me to get down to 8-9% body fat, strengthen, tone and extend my endurance.  When you've found a type of program that works for you stick with it for 4-5 weeks, then modify it by changing some exercises and making it harder. Your body is like your brain. Your brain was trained in school every year in increasingly difficult subjects to eventually be able to hold tons of knowledge. Your body has to be trained progressively in the same way, always pushing the boundaries. So I plan my exercise programs every 4 weeks and my meals vary greatly depending on what activity I have set for that day. Remember exercising should be part of your day, whether you have to work out earlier for it, squeeze it in instead of lunch or do it late at night. When people say that you need rest days, I do agree with that to a certain extent, but a rest day is only for accomplished sportsmen, for a person thriving to get in shape a rest day means easy cardio (yoga, quick run, rowing…). Lastly, time your workouts, if your sets are supposed to last 1 hour, keep it there, if you take longer, it just means you're not working hard enough. Lastly, Lastly, if you can still run a km or 2 at the end of your sport session, it just means you haven't worked hard enough, so run that final lap, or push out that last rep, until you feel your body give up.
Workout Week 5-6-7-8
Monday: Gym A (3 sets of 12 / exercise )  – Paired Sets – 1 hour
Wide Grip Barbell Deadlift
Weighted Pull Ups
Barbell Bench Press
Cable Row
Cable Diagonal Raise
Swiss Ball Dumbbell Lying Tri Extensions – Weighted Dips.
Burpees/Swiss Ball Roll Out
Alternating Swiss Ball Dumbbel Shoulder Press
Tuesday: Plyometrics Program 2h00
Wednesday: Gym B (3 sets of 12 / exercise ) – Paired Sets -1 hour
Dumbell Squat
Weighted Chin Ups
Decline Pushup
Lat Pull down
Face Pull
Single Leg Side Plank /High Knees
Barbell Curl – Cable Hammer Curl
Bent Arm lateral Raise and External Roation (V to W)
Thursday: Gym Core – 3 sets of 12 reps each. – 50 minutes
Reverse Crunch
Kneeling Stability Chop
Plyometric Side Plank
Advanced Kettlebell windmill
Kettlebell figure 8 with a hold
Kettlebell Dead Clean
One arm kettlebell swing to snatch.
Alternate with Insanity superset (3 times): Static Sprints (30 secs), Squat Diamond Jumps (30 secs), Side Jumps (30 secs), Butt Kicks (30 secs), High Knees (30 secs), 1 2 3 runs (30 secs).
Friday: Gym (3 sets of 12 / exercise )  – Paired Sets – Either Work out A or B, depending on which started the week off.
Saturday: Plyometrics Program 2h00
Sunday: Squash (1 hour ++) or Swimming 1.5 Kms + 4 Kms Run. ++(1 hour)
Now that you have a schedule set, calculate what your nutrition needs are.
For my Monday, Wednesday, Thursday, since these are heavy weight work outs, i make sure to plan my meals around High Protein, Low Carbohydrate, Essential Fats, High Fibre: Yogurt, Eggs, Avocados, Lean Meats, Fish, Cottage Cheese, Irish Oats, Cauliflower, and Broccoli…. (You can find lists online). The ingredients help muscles grow, solidify and tone up.
For my Tuesday, Saturday, Sunday, these are high intensity cardio vascular work outs, so i make sure to fuel up with High Carbohydrates (from vegetables, or whole grain options – no rice and white bread and such.), High Protein, Good Essential Fat (something like Salmon is great for protein and fat) and some natural Sugar (Apples, Bananas in the morning).
So each time your workout and your meals, remember, why are your working out, what the goal is and how you can complement it further with your food intake.
Here's my tasty post or pre work out meal:
Whole Wheat Tortilla Taco with Chopped Veal, Spicy Eggplants and an Avocado Garlic Mash.
Tortilla: (About 6-7 tortillas)
–         2 cups of whole wheat flour
–         1 tsp of baking powder
–         ¼ cup of olive oil
–         1 tsp of salt
–         ½ cup of milk
Mix flour, baking powder, salt and olive oil until mix looks like wet sand.
Slowly add the milk, mix and knead on a floured surface, until an elastic consistency arises. Add the milk little by little, you don't want it to dry or to wet, so play around with it.
Cover and let stand at least an hour.
Once rested. Knead for a few minutes and form portions (palm sized ball). Place ball between 2 wax paper squares and press until thinned out. (roll it out with a pin if you need to make it thinner, i has to be really thin (think paper – just a tad thicker)). Cook in a hot pan for about 3 mins each side, or until nice and cooked through and colored.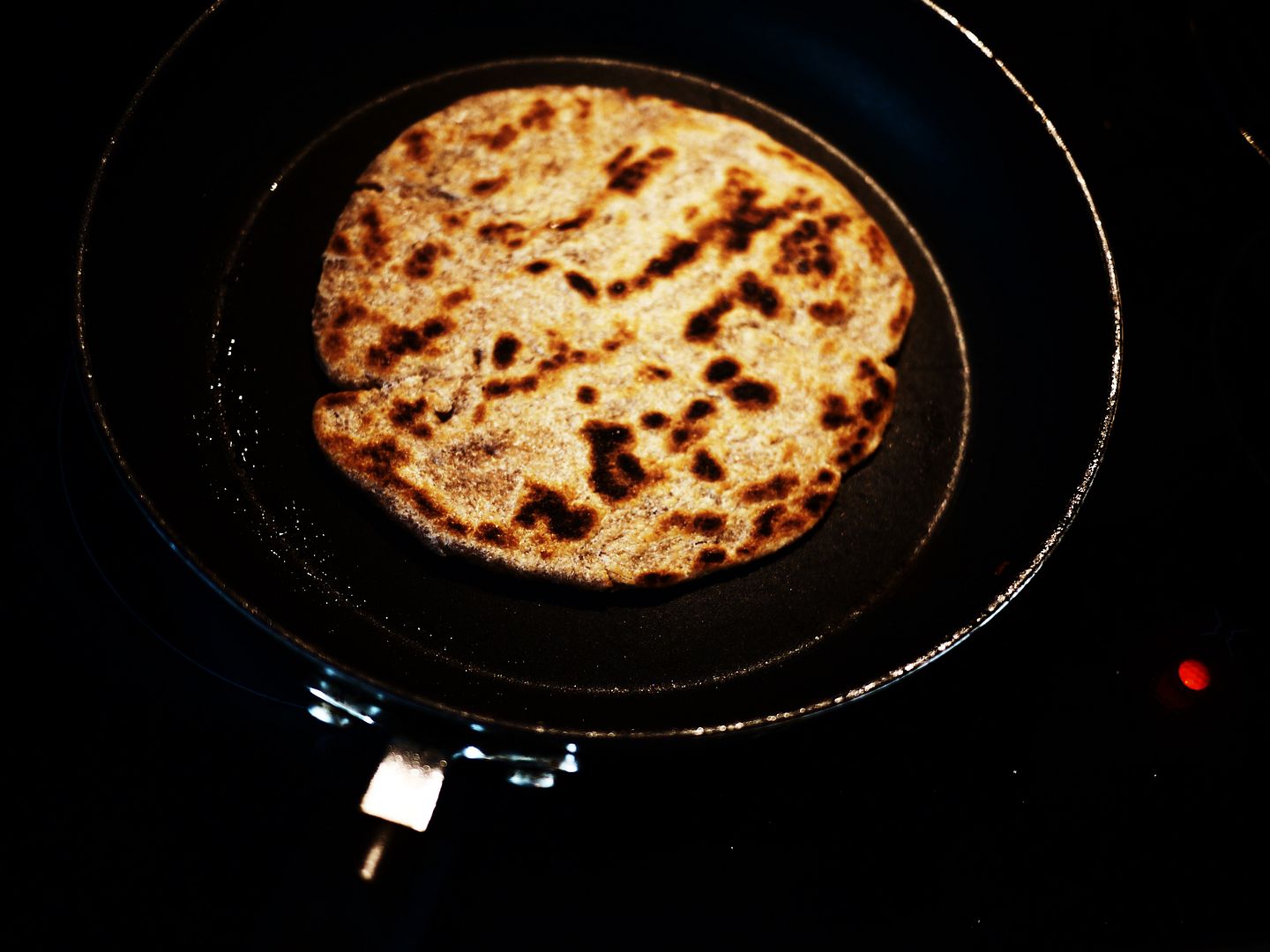 Chopped Veal: (1 portion)
–         150 grams of veal loin trimmed of fat.
–         1 tbsp of soy sauce
–         1 tbsp of rice wine.
–         ½ tbsp of sesame oil
–         Salt and pepper
–         Crush garlic head
–         For the sauce: mix 1 tbsp of fish sauce, juice of 1 lime, 1 birds eye chilli, ½ tsp of honey.
Salt and pepper on the veal, combine everything else and let marinate. The longer the better.
Once ready to cook, fry in a very hot pan until medium rare (watch video for tips).
Toss with sauce.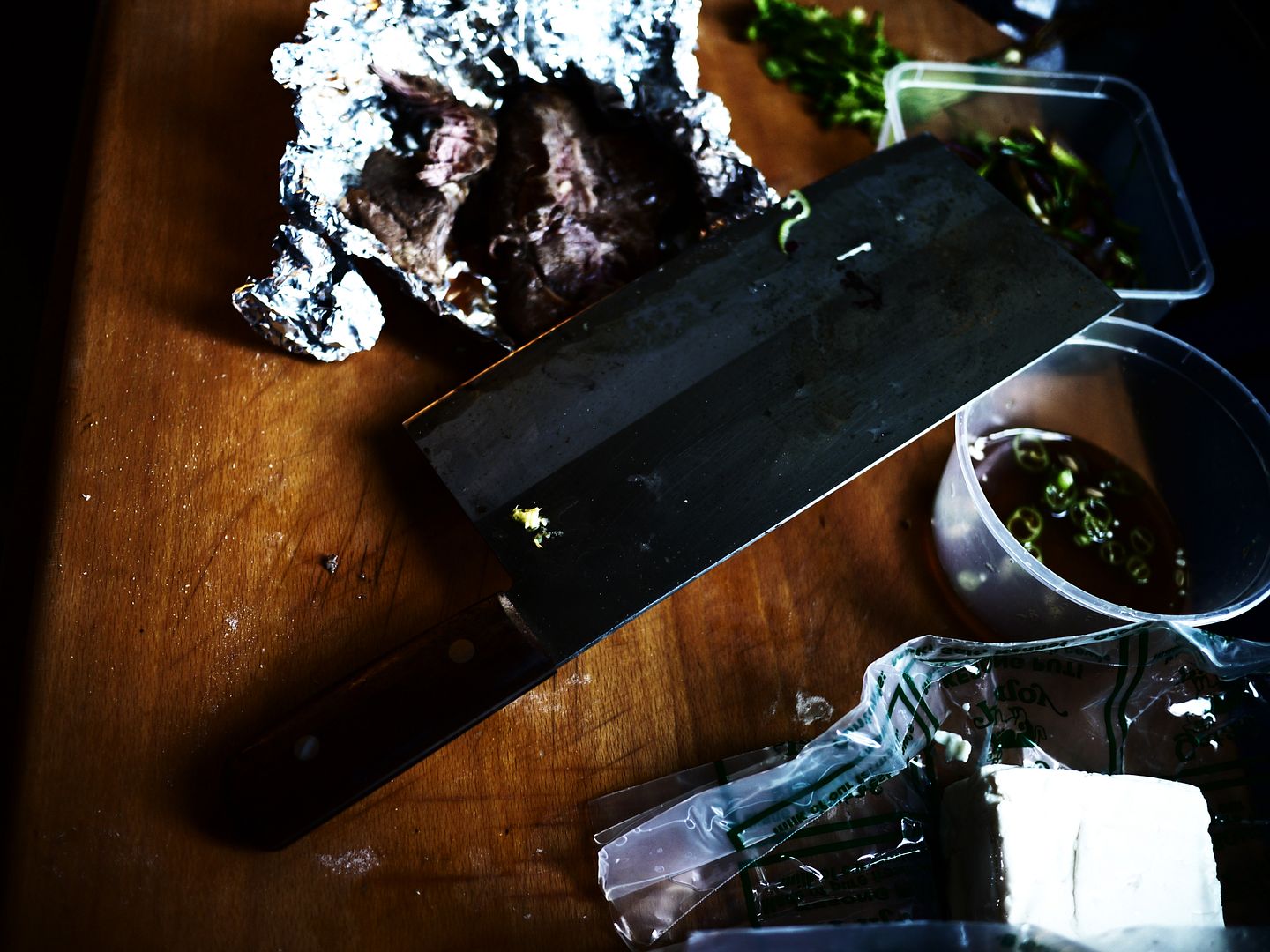 Spicy Eggplant (2 portions)
–         1 tbsp of soy sauce
–         1 tbsp of rice wine.
–         ½ tbsp of sesame oil
–         Salt and pepper
–         1 chopped garlic
–         2 small Japanese eggplants
–         1 red onion
–         Generous handful of spring onions
–         Red chilli flakes.
Fry everything in a little olive oil (garlic + eggplant + onions + spring onions +  sauces)
Avocado Garlic Mash
–         1 head of garlic
–         ½ avocado.
Take a head of garlic, chop of the tops, run it under cold water, sprinkle with salt and a little olive oil. But in a 200c oven for 15 mins or until soft. Squish out. Mix with ½ mashed avocado. Add salt and pepper.
When assembling, make sure you don't overload the wrap; you still want to be able to roll it properly. Top off with some chopped coriander, some of the chilies, and some white milk cheese.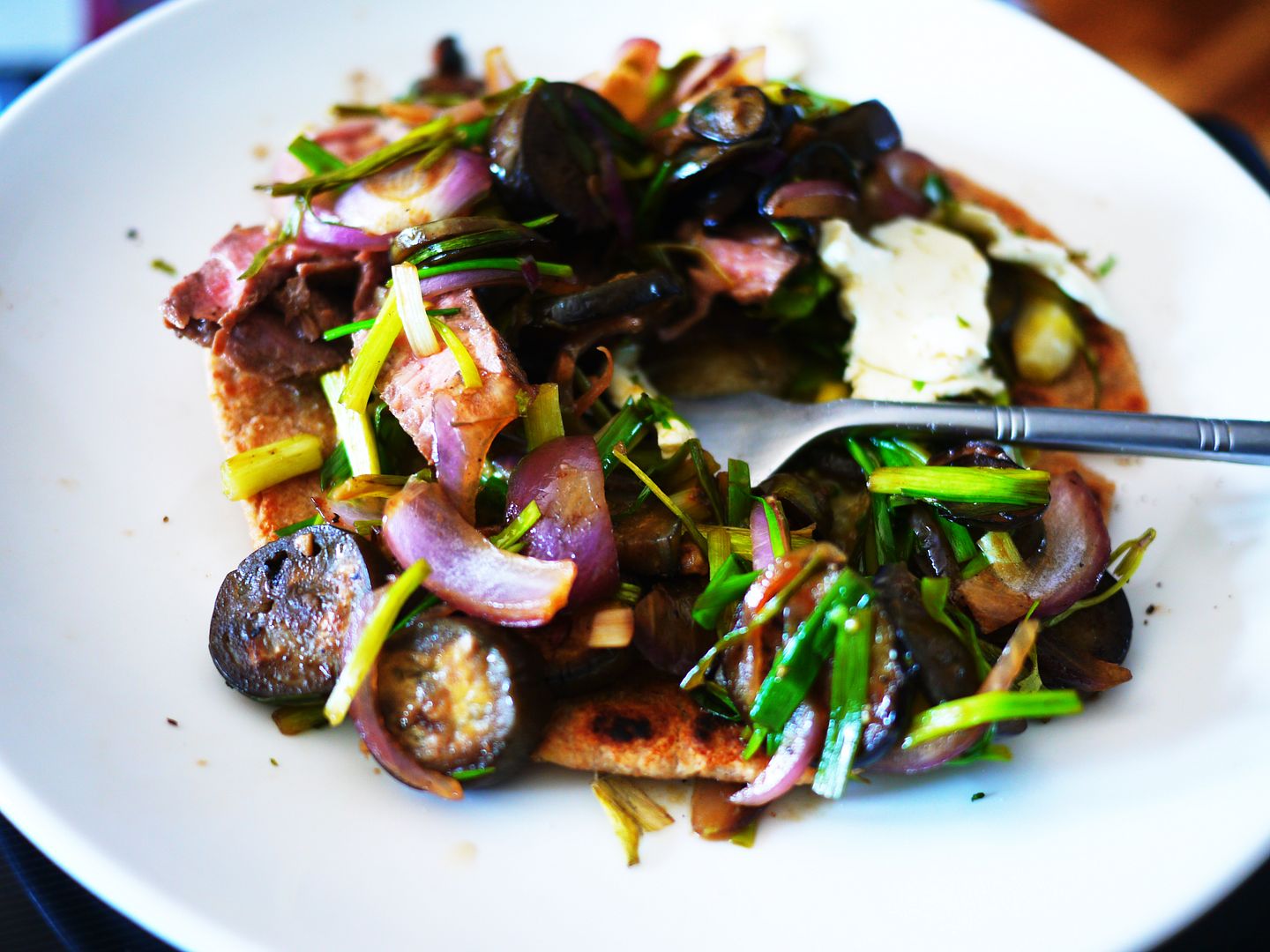 Enjoy it!