The Healthier Fish and Chips; Food, Fashion, Music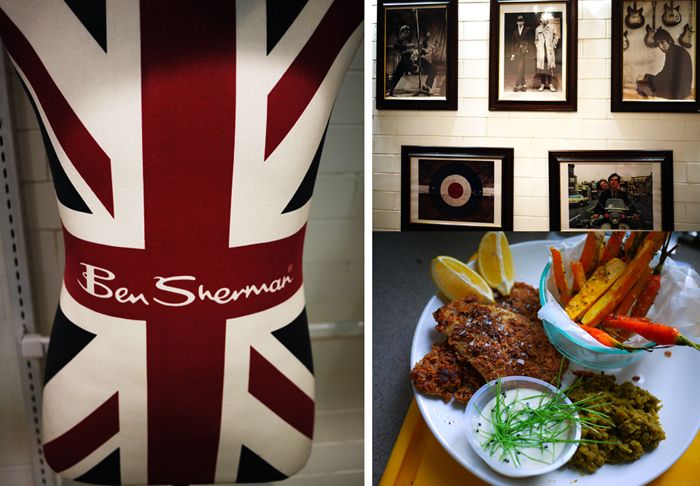 The French and The British suffer from a life long hatred/comedy amongst themselves, being half French myself, i cant help but wonder why that is (especially because we all know the French are better). I guess it all started with the 100 year war and even years before, due to issues of colonisation and land domination. As this "relationship" grew there were times where both nations had to become allies in the face of adversity (namely WWI and WWII). Until this very day this love/hate bickering is still quite rampant and is global common knowledge; mostly personified by the British calling us Frogs and us naming them Rosbifs, however on the other hand, the Brits have the positive expression "french Touch" and we have "So British".
I for one think Great Britain is great having visited it quite often when i studied in Paris, however their traditional food isn't something i crave for (their New British food is actually quite good), but if i were to say 3 things that i love GB for, they would be: Fashion, Music and Fish and Chips.
Recently i went to Ben Sherman (located in the Shangri-la Plaza Mall, Edsa corner Shaw in Madaluyong) to go buy some clothes. I actually had no idea that there was a Ben Sherman here, if i did i would have gone sooner. The brand represents the nation perfectly; they were basically one of the founders of the perfect button down shirt and this is clearly felt in their store. They mix in a little nostalgia with modernism and give you a look that is both relaxed but which can translate into more dressed up occasion (think Polo player). If you guys haven't yet, go check them out, the prices are decent, compared to other big international clothing brands here and if they have an increase in patronage they will probably expand their line more. You can check out their website too, to see their full line of products.
The second, Music, , is a powerhouse industry in the UK, they have come out with some of the best bands in the world, including and not limited to: The Smiths, The Beatles, Joy Division, Pulp, Radiohead, the Cure, U2, and the list goes on and on. I absolutely love music from the island and i'm very excited that this summer i will be attending the Optimus Alive 12 festival in Portugual, so as a tribute, this video only has the British bands that i will be seeing live this summer! try and see if you recognise them! (Except for the first song from Mumford and Sons, they will be at the festival, but they are not from the UK, but i put them because they really have the British sound, and i was shocked when i found out they were American last year).
Lastly, Fish and Chips, there is nothing more satisfying then food wrapped in Newspaper. This for me, is on my list of ultimate street food when done right, a perfectly flaky piece of fish that when bitten into releases a smoke of steaming vapor, sided by a side of crisp yet moist chips, some malt vinegar and some great mushy peas. There are countless of recipes online and im no one to tell you how to do a proper F&C, but i will attempt to teach you a healthier version.
Fish and Chips, with Sweet Potatoes and Carrot Fries and Mushy Peas
For our Fries: Cut up sticks of sweet potatoes and sticks of carrots (if you have small baby carrots, then thats better), toss with olive oil, a garlic piece, rock salt and pepper, place in a baking dish lined with aluminium foil and add lots of fresh thyme. Bake for about 30mins in a 200 degree celsius oven or until cooked through and crispy.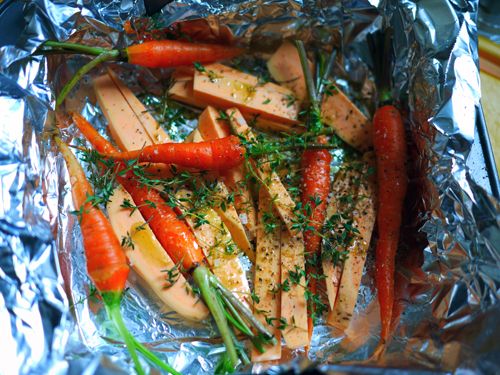 Our Fish: Take 2 fillets of fish, you can use anything from Tilapia to Cod or any white fish that is available to you, cover them in Fine Grated Almonds (Or any other kind of nut, or if you cant find any nut flour, then use whole wheat, or multigrain flour – it wont be as healthy though), dip the fish in a egg was (1 egg white whisked till frothy) and immediately quote with toasted oats (take steel cut oats and place them on a baking dish flat, in the oven at aroun 180 celsius, until crispy and before they turn brown)., coat properly. In a hot skillet use grapesee oil or any other healthy alternative (just dont put too much) and fry on both sides until almost golden brow and then place in that same hot oven for about 5 mins until cooked through).
For our light "tartare sauce": 1 tbsp of sour cream, 1 tbsp of unsweetened yogurt, 1 tbsp of capers, 1 pickled jalapeno, some lemon zest, salt and pepper, crushed garlic paste, a tsp of malt vinegar. Chop up everything and mix together. Finsih off with adding some spring onions or micro onions on top of the sauce.
For our Mushy peas, take as much as you want to eat, canned peas or forzen peas both work here, heat up in a small sauce pan with a little salt and pepper and water if you need it to be a tad more liquid, and mush up rougly as you would potatoes.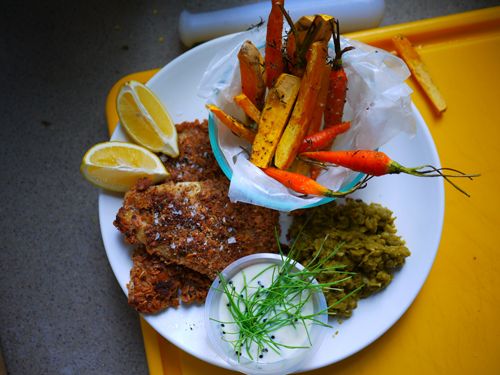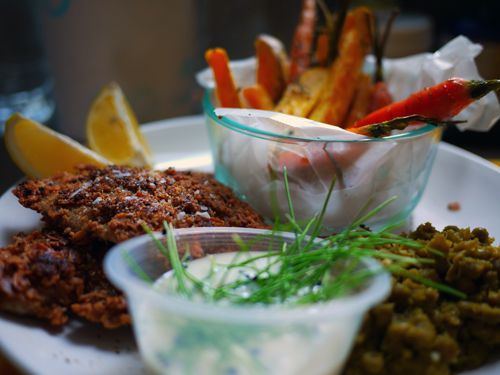 You'll love this!