Sweet and Savoury Flourless Pancakes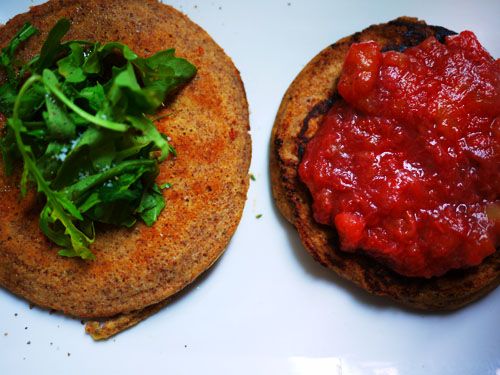 Everyone seem to have enjoyed the deception that is Cauliflower Risotto and the reactions i got were a mix of surprise and revelation. I'm glad that some of you are starting to look at food under a different light. Just because something has been done repeatedly for hundreds of year, does not mean we can't alter them to our liking a little bit. So as i push on this path of Deceptive Food, i thought, why not tackle something so dear to our hearts; my previous post about pancakes was well recieved and those were indulgent yet home made, i wanted people to realise that pancakes dont necessarily come out of a box. This time around however, i took an uber healthy angle to the recipe, without comprimising the taste. Yes, they don't taste like regular pancakes, what do you expect, but they do have an interesting flavour profile that i quite enjoy. You see i dont ever want to force myself to eat healthy, i like eating healthy and i look for this type of food because it makes me happy. At the end of the day, this is what i preach, food needs to make you smile. So stay on board, i have some more indulgent recipes as well coming your way, varitey is key and i'll always strive to give you options (just close one eye if you're trying to slim down for the beach season).
I started thinking about this post when i once tweeted that White Bread wasn't good for you, a flooding of questions ensued, asking me which was better between Whole Wheat, Whole Grain, 100% Grain….etc…
Well the answer, if we want to be thruthful is: none. Sorry :p
So wheat is a cereal grain and the 3rd largest crop in the world, i wont pretend to be an expert, but it is used in many ways:
Extract from Wikipedia: " Raw wheat can be ground into flour or, using hard durum wheat only, can be ground into semolina; germinated and dried creating malt; crushed or cut into cracked wheat; parboiled (or steamed), dried, crushed and de-branned into bulgur also known as groats. If the raw wheat is broken into parts at the mill, as is usually done, the outer husk or bran can be used several ways. Wheat is a major ingredient in such foods as bread, porridge, crackers, biscuits, Muesli, pancakes, pies, pastries, cakes, cookies, muffins, rolls, doughnuts, gravy, boza (a fermented beverage), and breakfast cereals (e.g., Wheatena, Cream of Wheat, Shredded Wheat, and Wheaties). "
Unfortunately, judging by the above, wheat can be found in most of your household goods and your favourite food, the problem is that, it, in any form (white flour, whole grain, whole wheat..etc..) contains: Super Starch — amylopectin A that is very fattening, a form of Super Gluten that is ectremely inflammatory and is super-addictive, it makes you crave and eat more.
In the Paleo community, they swear off wheat and any of its forms, others counsel to eat it in moderation, i for one, try to reduce the amount of wheat and gluten in my diet, but if i have to eat some, i stick to its purest form (in the case of bread this would be whole grains, nuts, a dense textured product, with little added sugar).
This is the old food pyramid recommended:
Notice how all the grains you want are recommended as the most important food group.
This is the new food pyramid:
Notice how grains are now seperated, only the whole grains are recommended, refined grains (i.e, pasta, white bread, white rice, other sugary breads) are now at the very top and not recommended.
The extreme Paleo Pyramid:
I for one use a mix of both the new and the Paleo pyramid, a mix of both, but in terms of percetage, my diet is mostly: 30% vegetables, 25% fruit, 25% meat/fowl/fish protein, 10% grain, 10% healthy fats.
On the other hand, if you're an athele and really need some Carbs for your endurance training. Your best bet are those that are moderate on the Glycemic Index, like semolina Pasta (remember 1/2 cup is 1 serving), sweet potatoes and the likes. Brown rice in moderation wont kill you but most breads are high on the GI and if mass produced usually contain lots of sugars that wont help you in the long run.
Sorry to be the buzz kill! but the road isnt so dark, there are alternatives to wheat flours in the form of nut flours (cashew, almond..) which are carried by most health stores (Healthy Options locally), also coconut flour and flakes work just as well. If not, buy some Almonds and whiz them through a food processor.
Here i show you how to make sugar free, wheat free, gluten free pancakes that wont leave you wanting and deliver a whoping load of good proteins and essential fats to your diet.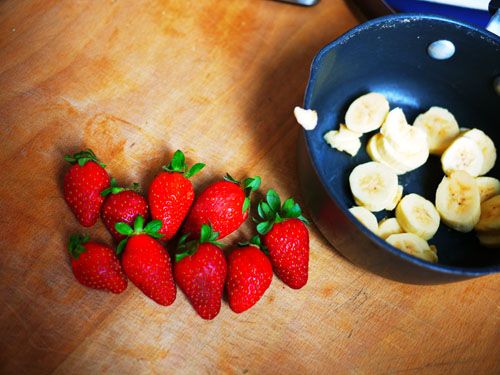 The recipe is simple, 3 eggs to 1 cup of Almond flour, 2 tablespoons of milk and some salt. For the sweet variety, add in some agave syrup or honey, some vanilla and some cinnamon. Top it off with cooked fruits with water to make a syrup. For the savoury kind i did mine with spring onions, turkey ham and cheddar cheese :)