Seafood Ceviche with Roasted Garlic/Eggplant/Chickpea Mash and Spicy Chorizo
I've been asked multiple times in the past to make a recipe around fish, so here it is finally. Fish is a great source of protein and if i could i would probably eat it everyday because it is just much healthier than any other meat overall and is packed with essential good fats and a whopping amount of protein per serving. The issue with these slimy buggers is that you can't really stock up on them as it is always best to get them as fresh as possible and having them pass as little as possible through middlemen. Secondly, there is a problem of provenance, in certain countries, like the Philippines, it is important to know where your produce is coming from because locally we have an issue with the Red Tide phenomena that usually affects shellfish mostly but also can affect fish, so please make sure you always clean your catch thoroughly and remove all the guts before cooking them.
That was my Public Service Announcement of the week.
Enough of that, on to the good stuff. When i was in Tokyo for New Years i was lucky enough to slip in unnoticed by the Police into the Tsukiji Market at 6 in the morning, i guess my thick framed black glasses, the blue navy quote and my boots convinced them momentarily that i was Japanese and belonged there (they try to enforce that tourist are not allowed in, in the wee hours, giving the locals more time to buy goods before the hordes come in buying nothing but clicking away none the wiser. After my stint as a super spy ninja, we proceeded to one of the many restaurants located at the outskirts of the market and this is where the comedy begins.
The Ninja: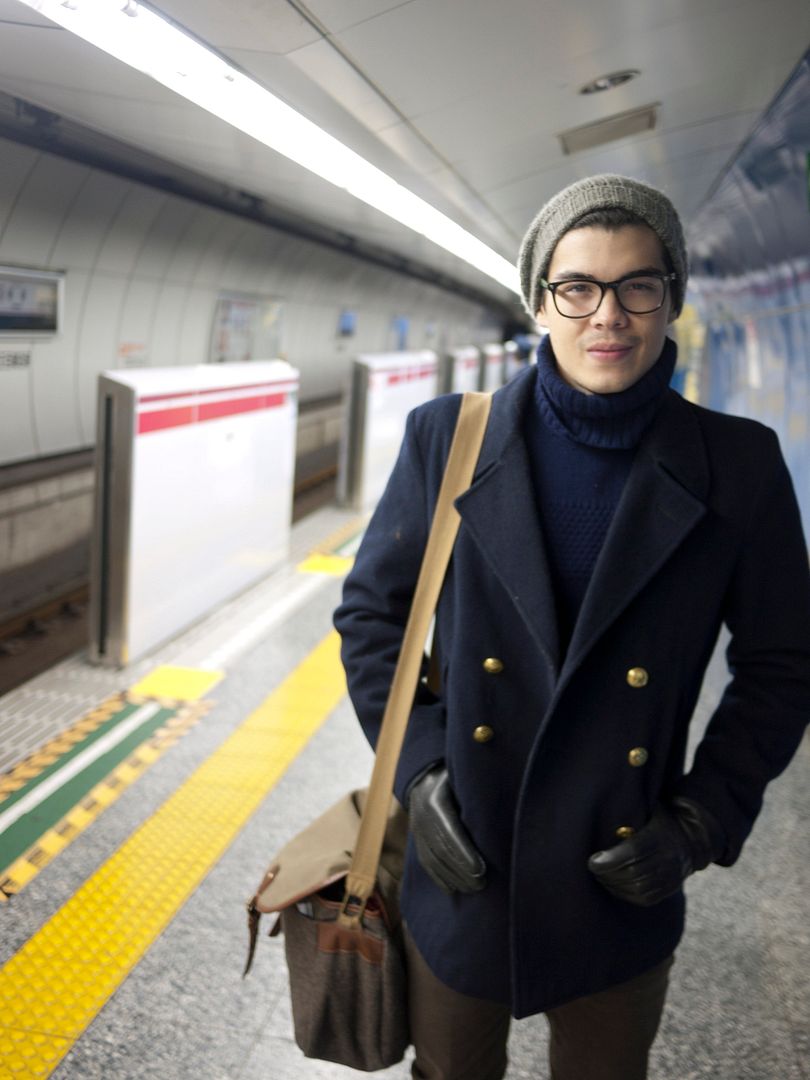 Numerous guide books say that this Restaurant or that Particular restaurant is their favourite and they suggest us (the readers) to definitely try out. The problem is the guide books put the "english" names (really just the pronunciation of the Japanese characters), so when you show up there, you are absolutely clueless staring up at these signs. So the search begins for that one restaurant that's better than the rest, your strategy? go to where the most people are lining up; well, you've just fallen into the trap of the blind following the blind. The line is only long because of people like you who have no idea where to go and follow others, you see the vicious cycle here?
The Restaurants: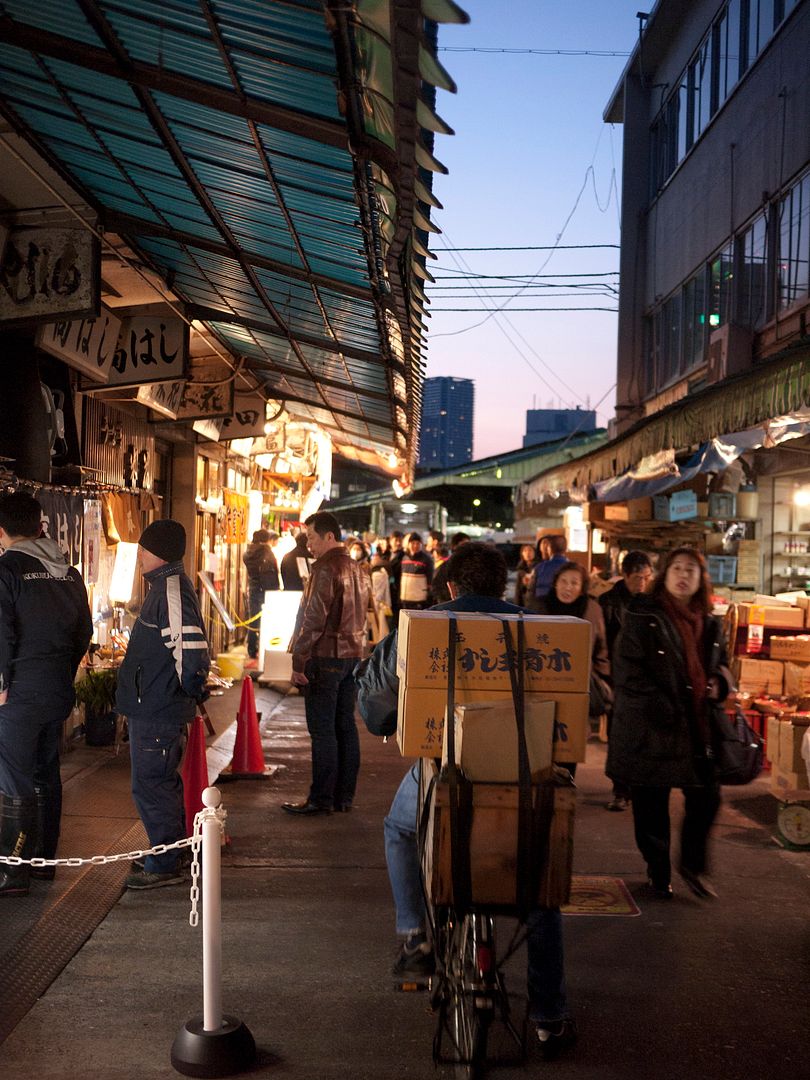 I suggest that you look for a restaurant with mostly Japanese nationals, people who look like what they should like at 6am, these are either people coming from a night out, fishermen, business people and odd mix of students and athletes. Find that one place and even if the line isn't long, it doesn't speak to the quality of the place; wake up you're in a fish market, these places serve only sushi/sashimi, the most important element of these dishes is fresh catch, you're sure to get that here, anywhere. Don't expect dynamite rolls and the likes, if you do, don't bother waking up early.
Here i take fresh raw fish and shrimp and use the classic ceviche technique: slightly "cooking" raw ingredients with the help of acids (vinegar and lemons). This recipe has nice asian twist and is balanced out with a beautiful smokey chickpea/roasted garlic and eggplant mash that makes it not only an appetizer anymore but elevates it to a complete nutritious meal. O and added Chorizo, The Fat Kid told me to.
Seafood Ceviche with Roasted Garlic/Eggplant/Chickpea Mash and Spicy Chorizo
Seafood Ceviche: Clean, skin, remove the red parts and cube (1cm) 200 grams of Spanish Mackerel, also known as Tanigue. Clean 5 large shrimp and slice. In a big bowl mix with 1/2 sliced red pepper, 1 chopped chilli pepper, 1 chopped sliced green chilli pepper, juice of 4 lemons, juice of 3 slices of pomelo (or sweet grapefruit), chopped 3 slices of pomelo (or sweet grapefruit), 2 tbsp of rice wine vinegar, 2tbsp of grated ginger, 1/3 cup coconut milk, 1 1/2 tsp of coco sugar, 1tsp of fish sauce, a sprinkle of salt and lots of black pepper. Place in the fridge for at least 15minutes.
Roasted Garlic/Eggplant/Chickpea mash: Take a can of chickpeas (garbanzo beans), or the equivalent mixed in with Pinto beans, mix it with 2 tbsp of EVOO, salt, pepper, 1 tsp of sesame oil, 1 roasted garlic meat (see video), 1 roasted eggplant meat (see video) and pulverize together, keep on tasting and add, if needed, some lemon juice, olive oil and some salt and pepper.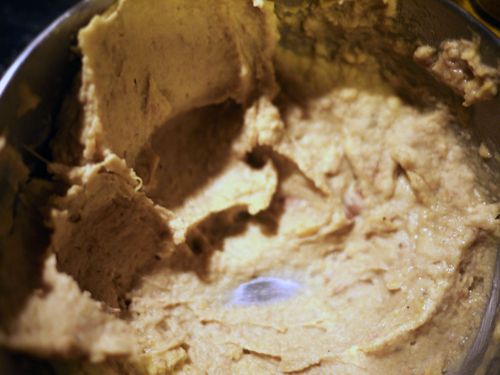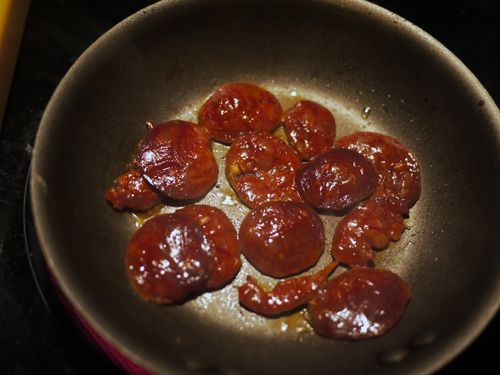 Fry off a couple of slices of spicy chorizo, or bacon, or pancetta and plate the whole dish together with some coriander a lug of EVOO! enjoy!