Leftover Roast Chicken Salad – Avocado, Green Beans and Almonds
Skill Shop #14
I am one of those (if there are more people like me that is) who actually goes out-of-the-way to make a roast chicken, not to eat after it has been freshly cooked with painfully moist meat, skin crackling heavy the crunch of sea salt and running natural oils at the bottom of the pan where each careful bite is dipped, tossed, rolled and bathed to be consumed. No, sometimes, i make a beautiful roast chicken so that i can let it cool, remove its carcass and strip its flaky meat piece by piece. Something about the possibility of cold chicken meat is so alluring to me: you can slap it on a sandwich with some fresh greens and just a tad bit of mustard or pair it with a Vietnamese style vinegar dipping sauce, some fresh cucumber, a little chilli and glass noodles to make a fresh little noodle salad, or you could go for a fail proof mix of greens.
What am i going on about, i know a lot of you feel the same way, in fact i made this dish because i saw a twitter conversation between fellow gourmands, @stephaniezubiri (Owner and Chef of soon to be opened Atelier 317 around Rockwell – check it out soon!!!) and @inkd_chef (head Chef over at People's Palace) that left me wanting. They were talking about leftover chicken dijonaise style (french sauce), and just like that, I started salivating. Chicken + Dijon mustard = America + Obama = Green Mango + Bagoong=  Parokya + Edgar . #PerfectCombo
Now the difference with leftover chicken is that it may lose some of its juice and will be a tad bit dryer than if you were to consume it right away; so it naturally looks for a thick sauce to counterbalance that effect. Second, it is best served cold. If you reheat it, you will be doing yourself a disservice, so play around with the temperatures of the other ingredients. Lastly, it'll be a little stringy, which is why you want to add some texture to your dish, maybe something really soft and creamy, something wet and finally something with a bite.
Here is my go to recipe
Avocado, Green Beans and Almond Salad with Leftover Roast Chicken
VIDEO WILL GO HERE
Clean a handful of green beans, chop 2 cloves of garlic and fry them together on medium heat with some olive oil. You want to get them tender but still with a bite. Season with salt and pepper and when you see that the garlic starts getting brown, add in 2 tbsp of almond slivers.
To make the sauce, take 1 egg yolk and beat with a pinch of fine salt and 1/2tsp of dijon mustard. Make sure your yolk is cold, and the bowl you mixing in is cool too. Add in 1/2 tbsp of white wine vinegar and 1 tsp of lemon juice and 1 tbsp of extra virgin olive oil (out of 1 cup), whisk until it starts getting whiter and thicker. Then slowly trickle in the rest of the 1 cup of EVOO while whisking constantly. When you have a mayonnaise like consistency, add 4 tbsp of chopped parsley, 1tsp lemon juice, 1/2 tbsp of vinegar, 2 tsp lemon rind, pepper and salt. Keep in the fridge.
Halve and pit out 1 avocado, slice thinly. Slice 2 shallots thinly. String out 1 whole cold chicken breast and a little dark meat too. Assemble everything. Top with Lemon juice, salt and pepper. Start with 4 tbsp of sauce and then add as much as you desire after tasting and mixing it.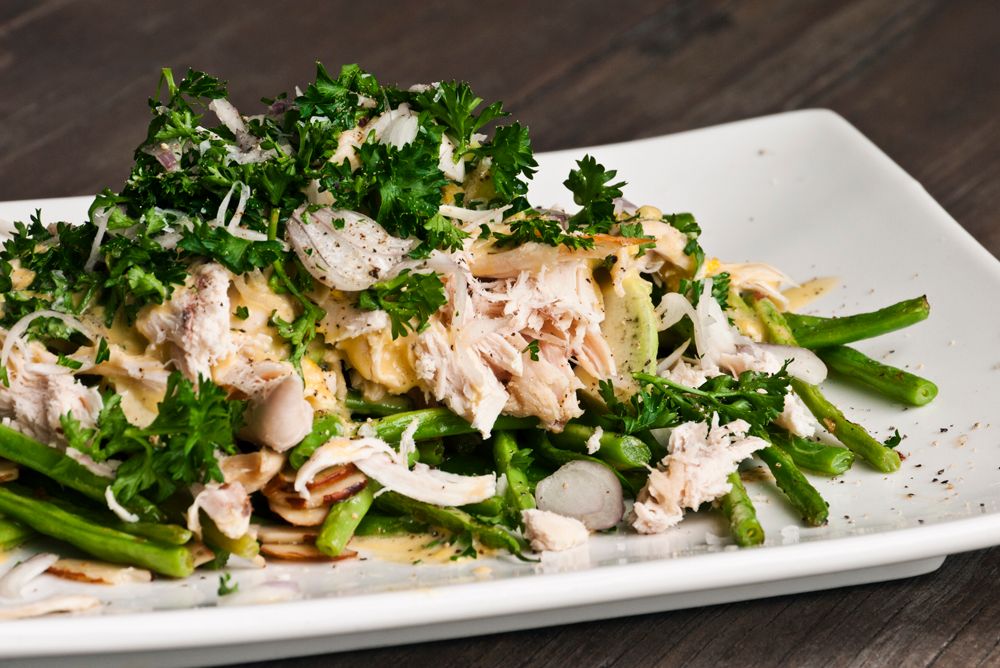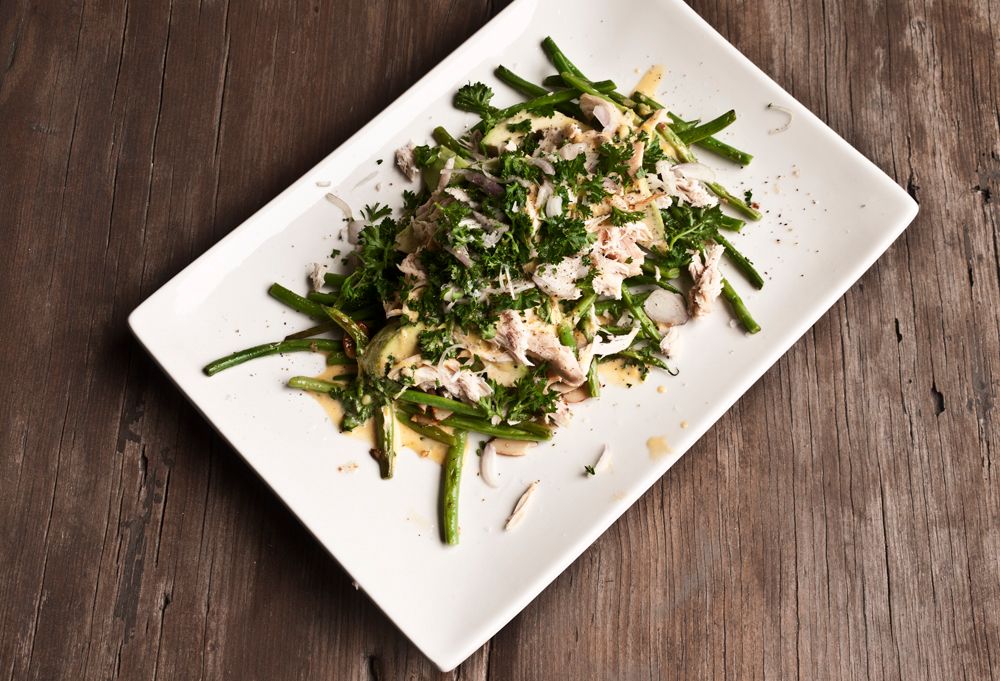 SONG: CHAD VALLEY – FALL 4 U