Kimchi Eggplants and the 3 day Vacation Hangover Detox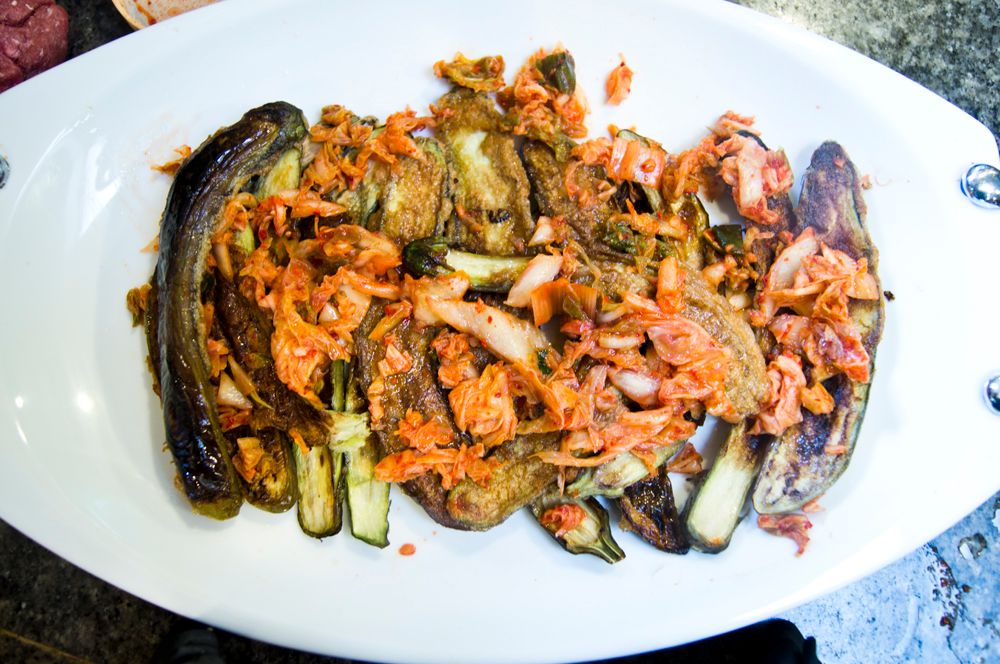 I just came back from a long weekend wedding celebration in Sri Lanka. Just like any proper celebration, there was lots of eating and drinking involved, creating a somewhat heavy demeanour when you get back to work right after. People always joke that sometimes you need a vacation from your vacation before heading back to the rat race.
This actually makes sense because unless you are out for a relaxing trip of staying in one resort, detoxing, doing yoga every day, humming 60"s soul ballads and drinking spring from the fountain of zen, your vacation will probably be filled with lots of sun, booze, food, travelling, trekking, running, and basically squeezing any activity you can in a short amount of time, to ultimately justify your days off.
I find the best way to get over a vacation is to come back a day or two before you go back to work, sleep and do absolutely nothing but sports, hydrate and eat clean during that time frame. You will feel rejuvenated and fresh in no time.
If you don't have that luxury (just like I don't), I find that a quick, cheater's detox does the trick. Basically a combination of lots of water, sweating, sleep, light meals, fruits and vegetables, clean protein and common sense.
Here is my 3-4 day quick detox. I hope it works for you:
– The day you arrive, if you've been eating and drinking a lot, your digestive system needs a rest. For 24hours, try drinking only water and eating greek yogurt and fruits for your meals. Don't eat before sleeping. Sleep really early.
– The next morning, wake up slightly earlier before work and go for a medium 1 hour of exercise to revitalize and awaken your senses.
– After your exercise, drink a freshly pressed fruit juice (carrot, orange, apple, grated ginger, honey, chia seeds, flax seeds…). If you take vitamins, take a multi, vitamin c, some anti-oxidants and some fish oil. Do this for the next 3-4 days. NOW FOODS is my brand of choice.
– During the next 3-4 days eat a lot of fruits (morning and afternoon), vegetable soups, lots of vegetables and fish once a day.
– Stay away from all grains (if you really need some, take a small cup of naked oatmeal at lunch), sweets, most fats (olive oil is ok), dairy, carbs, stimulants (coffee, cigs, alcohol…), meats (with the exception of fish) completely for the next 3 days. You might feel weird at first, but you'll feel great at the end of the detox.
That's it.
When you are done you'll feel great, light and can go back to your regular eating patterns.
And no, this is not a crash diet you can do whenever you binge eat, this is really just to help you regulate from a couple of days of partying, eating, drinking, back to your normal conscious eating lifestyle.
Here is a dish I like to make when I detox.
Eggplant Kimchi
Poke holes in your sliced eggplant pieces. Dip them in an egg wash and leave them there for about 3 minutes. Fry off in a little olive oil until golden. Top with some chopped kimchi, lemon juice and fresh herbs.
This can be eaten as a side dish, served with white fish for example (wrap the fish in aluminium foil with some chillies, ginger, salt and pepper, herbs, tomatoes, black olives, onions and garlic – place in the oven or steamer until cooked through (15-20mins))