Keeping Resolutions. Tasty Chicken Breast with a Cauliflower Curry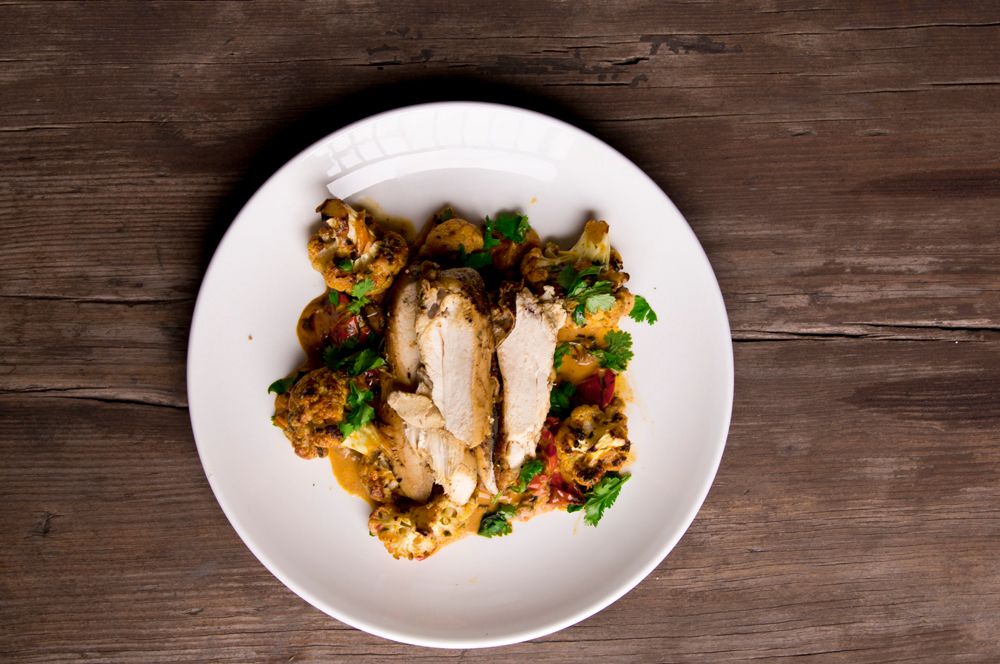 I'm sure everyone has already started their resolutions and has declared that this year would be different from all others. You start off hard headed and dedicated to whatever goals you've set out, you do good first the first couple of weeks or months and then you slowly start letting go little by little. Next thing you know 1/3 of the year has whizzed by and you find yourself back where you started.
I'm sure a lot of you have made the "quit smoking" "lose weight" "get fit" or "exercise more" resolutions and I'm only going to refer to these because I have successfully done all 4, but not through stupid resolutions.
A resolution is a weightless self-approving statement that will make you feel good for a little way and will light a spark in you. Unfortunately, after a while, this spark becomes nothing but an ember.
A resolution is just that, a great resolution, but it is not a plan in itself. Firstly, you need to understand WHY you have committed yourself to this goal. Is it just something you just want to try out or is there a deeper meaning behind it. You saying "I want to lose weight" is not enough. You need to ask yourself why you want to lose weight. Is it because you're fat? Do you feel insecure? Are you not happy? Once you attach a stronger, meaningful resolve to a goal, it becomes that much more important. Case and point, if you are not happy with yourself and you really want to change, then you have no excuse not to do it. If you do quit after trying a little while, then you were lying to yourself, because maybe deep down you are content in being mediocre? (I know, harsh, but that's how it is)
Secondly, to be able to succeed you need to PLAN how you will achieve what you want. Do this not on a yearly basis, but on a monthly or even weekly schedule. Keep your goals in check. This could be a daily food and exercise diary for example.
Thirdly, its ok to make mistakes. LEARN. Don't kill yourself or quit completely because you slipped once or twice, all that should do is motivate you to get back on the horse.
PROGRESS. More likely than not, you will have told friends and family about your resolution so they will tell you after a while if they realise that you've lost weight and since they love you so much, they might over exaggerate things and say that you look so good that you don't need to continue. I'm speaking from personal experience here; you are the only one that should be able to tell yourself when to stop; only when you are happy with what you see in the mirror. Take a picture right now and then take one once a week (same day, same time), this is the only process you can trust.
Finally, a good resolution is not one that ends when you've accomplished something; it usually becomes a part of your LIFE. You don't start eating fast food again after losing all your weight, because healthy eating would have become a lifestyle. Of course you can reward yourself from time to time, but these should all be part of your plan.
Seriously, if you can't keep a resolution, how else are you going to tackle the harder things in life? If you want something then get after it.
For those of you who want to lose weight and exercise more, watch these videos and read my previous blog post. It's all there in front of you already. What are you waiting for? Why are you still making excuses?
http://www.youtube.com/watch?v=sgjdMHmZyYk&list=FLoTrrnpqNOqR_yhrv6KIHiA&index=1
http://www.youtube.com/watch?v=2PdJFbjWHEU
http://www.youtube.com/watch?v=4rNm4kSl3Og
http://www.youtube.com/watch?v=tzD9BkXGJ1M
http://www.youtube.com/watch?v=sh9WsqHTkms
http://www.youtube.com/watch?v=Um-a61rClSs
Remember its 80%diet 20% working out. Abs are achieved in the kitchen as well. That doesn't mean that a walk is a workout. Your workout should give you the joyful pain of screaming muscles, renewed energy and a sense of possibility. You're not competing against anyone but yourself. Keep getting better and stronger. You are your only progress monitor.
If you want a good fitness program, that's fast, convenient and will help you lose weight, I suggest you join the CrossFit Program. Read about it here: www.cfmnl.com and maybe we can exercise together there!
If you want to join some Triathlons like i do, that's fun too. Just remember to vary your program. Oh and you don't need rice, bread, grains, etc to do endurance sports contrary to popular belief. You can get your carbs from veggies, fruit and for really intense days just take supplementation.
The best way to lose weight is a combination of intense sessions with weights (weights can be body weight as well: pull ups, push ups, etc…) and some cardio as well. Always mix it up and try to do 4-7 days a week. There is always time and a way to work out.
For food: plan your food, keep a moderate fat, very low carb diet. Cut all the sugars (read the labels, a lot of things have sugar) and processed stuff (only eat fresh and natural). Remove every grain from your diet. Eat low GI foods. Do your own research. Follow the Paleo principles. I might sound like a broken record, but people keep asking me: "Erwan, how do I get fit?". It's all here; all you have to do is read and start.
Here is my first recipe of the year. I'm trying to cut down to get back to my race weight and ready for my next sports season, so most of the recipes you will find here for the beginning of the year, will be healthy and will follow the principles i always talk about when asked about dieting.
Nonetheless, from time to time i still will post indulgent posts because some of my readers who don't want to lose weight and who are happy how they are already exist too haha!
It is also a Skill Shop because i talk about my technique to make moist chicken breast all the time. I chose chicken breast because it seems to be the most accessible for everyone, but people always seem to complain that it gets too tough and dry.
Tasty Chicken Breast with a Cauliflower Curry
For 1 Person
Chicken: Take one whole chicken breast, skin on and bone in. Cut a little of the mid bone and flatten it out a little (watch the vid, pound it with your knife). Pat dry, season generously with salt and pepper. Massage in some dried tarragon and smoked paprika. Fry skin down on a hot skillet with olive oil. Once you put the chicken on, reduce to medium high. Get a nice colour on the first side then flip it. Get a nice colour on the back side. Reduce to medium. Cover and don't touch it for 10mins. After the 10 mins, take off the fire. Keep the lid on and let it rest for an additional 10mins. slice the inside and check if there is not pink. If its still slightly pink just cook a little longer on medium.
Cauliflower Curry: Take one whole medium cauliflower head and separate the florets.Slice one whole medium bell pepper. 2 cloves of garlic and a handful of whole cherry tomatoes. Fry off with a little olive oil and salt and pepper to taste. Take of the heat when everything is well tossed in oil. Place in a 180-200c oven. When they are not too brown yet add in the flavour maker (crush together: 2 tbsp of coriander leaves, 1 tbsp of coriander stalks, 1 tsp of cumin, 1 tsp of tamarind powder, 1 chopped red chilli – if you like it hot, 1 tsp of chopped lemongrass stalk, 2 tsps of grate ginger and a couple of peppercorns). Toss everything together and place back in the oven. When the cauliflower florets start getting almost dark brown and caramelizing take them out of the oven. PLace on medium on the stove and add in some coconut milk, just enough to deglaze the pan and mix in with all the ingredients (about 1/3 cup should be enough). Taste and season if needed.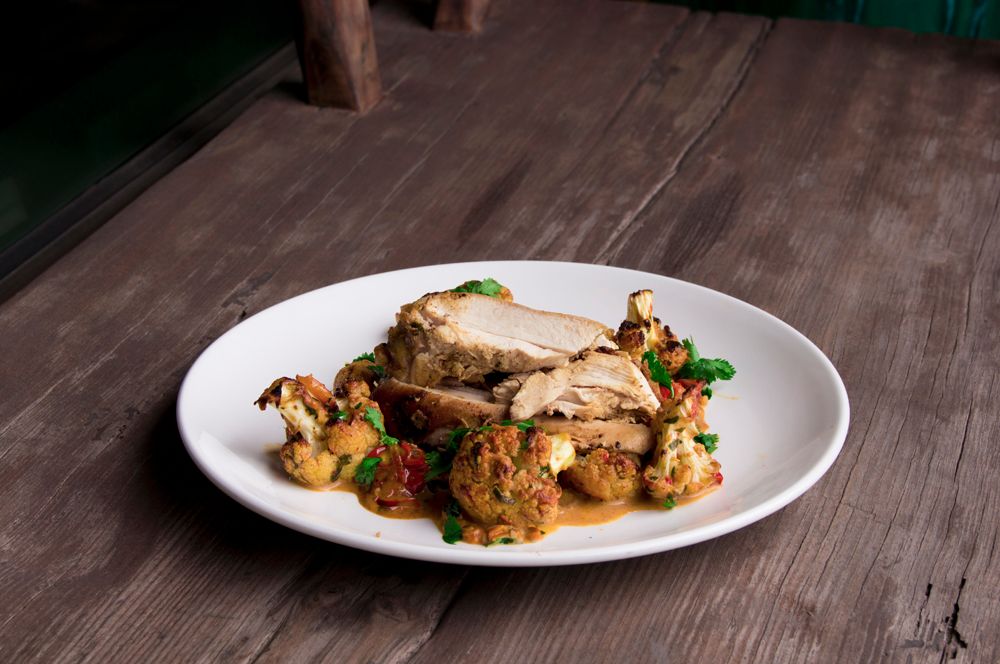 Debone the chicken breast, slice and serve everything together with a little more coriander leaves and the juice of 2 calamansis (of 2 tsp of lemon).