Healthy and Festive: Guacamole with Chips and Ground Beef CLICK MORE FOR CONTEST MECHANICS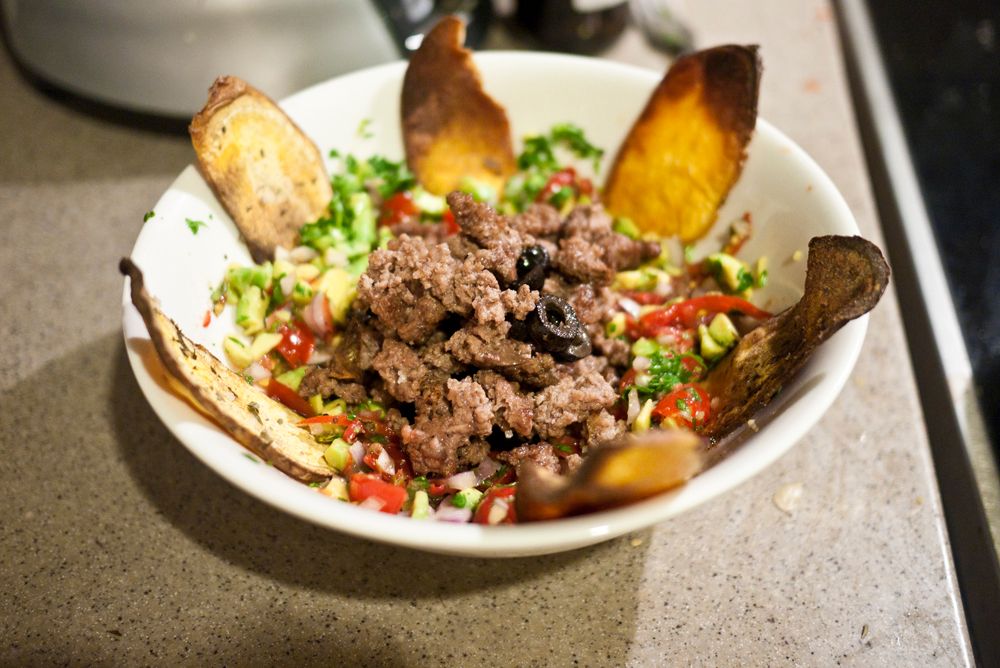 People keep blaming the holidays for their weight gains and it makes me laugh.
So I'm going to prove you wrong by keeping it short and concise.
Here is a dish that is festive, can be shared with lots of guests and is completely paleo.
Enjoy!
Oh and click more if you want the recipe and to learn how you can win some New Balance Shoes, a basket full of food and products and some NOW foods supplements and vitamins. It's so easy I'm practically giving them away.

All for one hungry person
Song: Multo – In Sum of the Sacred (from Numberline records www.numberlinerecords.com) Support local artists!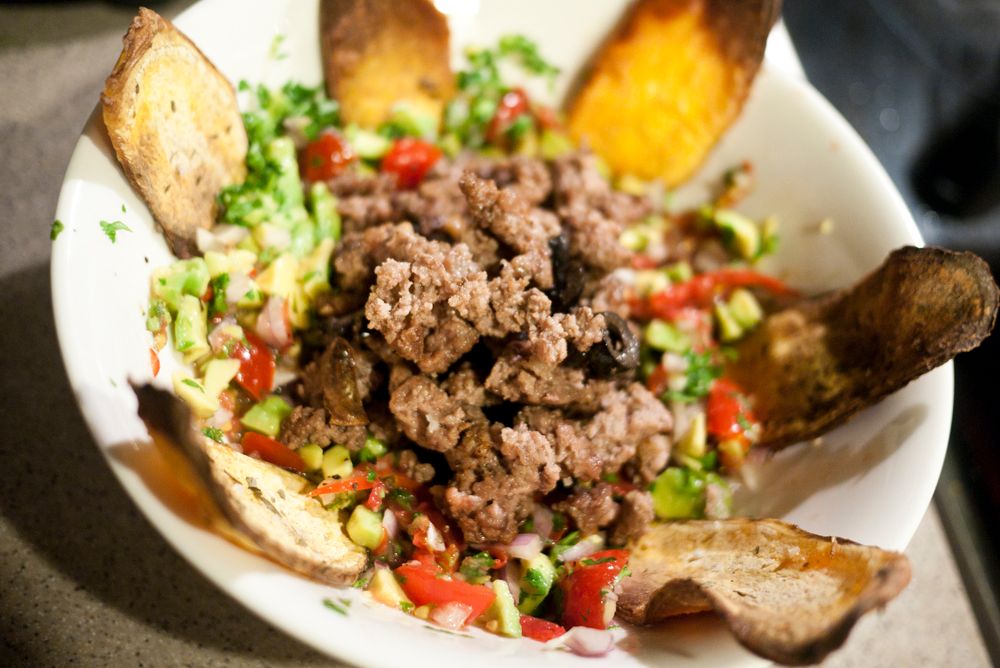 Ground Beef: Sear the ground beef (200 grams/per person) with olive oil and crushed garlic cloves, add some salt, pepper, dashes of cayenne pepper and paprika. a tbsp of black olives.
Chips: Take 1 large sweet potato, slice very thinkly (skin on), to about 2-3mm. Spread them out flat in a large pan covered in a lilttle olive oil. Dust the slices with salt and pepper, onion powder and dried tarragon. Put them in the oven (180 c.) until slightly brown and hard, 10-20mins (keep checking – they will over cook very easily). Cool down to let crisp and crunch up.
Guacamole: 1 large avocado, 1 small red onion chopped very finely, 1/2 red chilli pitted (or 1 not too spicy jalapeno) 1 large juiced lemon, 1 tsp of lemon rind, 1 tomato or 10 cherry tomatoes chopped finely, salt and pepper, a handful of coriander. Chop everything into tiny little pieces. Mix. Mash with a fork. Season to taste.
Top the guacamole with the beef and serve with the chips. Finish with some grated cheddar cheese or some sour cream (optional – not really paleo)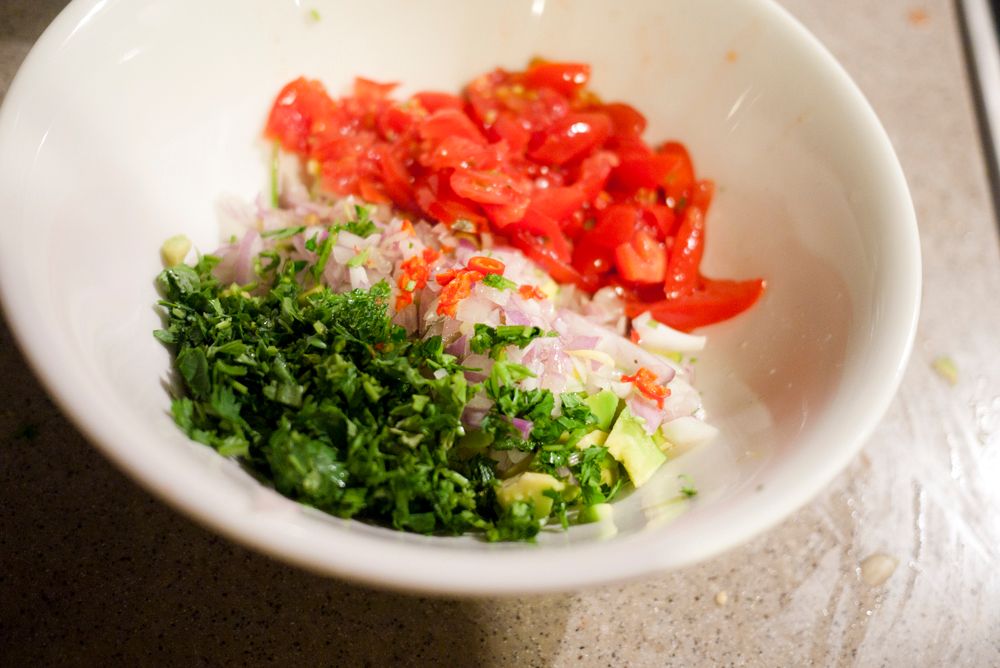 Contest Mechanics:
1. Subscribe to my Youtube Channel http://www.youtube.com/user/erwanheussaff?feature=watch
2. Like my Facebook Page www.facebook.com/thefatkidinside
3. Subscribe to my blog
4. (yes I can check all the above info to pick a winner)
5. In the comment section below write down the answer to the following mathematical conundrum
My Ex Fat Kid Weight – My Current Weight + Weight of My Sister Solenn Heussaff  (you can google her) – The Number of Days since my very 1st blog post on this site (COUNTING FROM 19/12/12) = ??????????
I know the answer, the people who get the closest will win.
6. By December 26th I will consider the contest closed and the gifts below will be appropriated and sent out to you in January.
7. You need to live in the Philippines.
Winners:

– 3 people whose answers are closest to reality will each win: 1 Pair of New Balance Shoes, 1 Basket of Goodies (with all my favourite brands Hunts, Nutella, Filipo Berio, Loacker, Barilla, Simply Oils) and some supplements from NOW FOODS.
– The next 4 will win 1 Basket of Goodies each and some supplements.
– The next 5 will win 1 Basket of Goodies each.
That's 12 Winners total!
Here are the prizes:
either one of these models: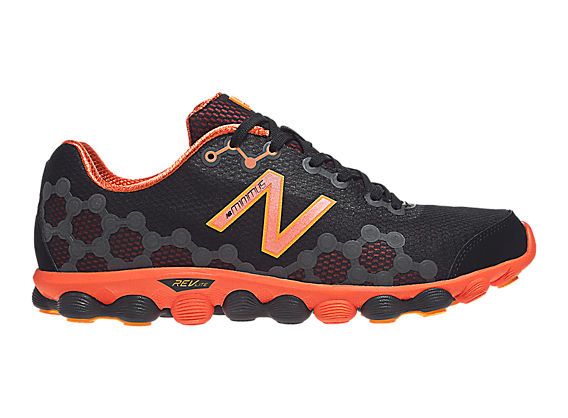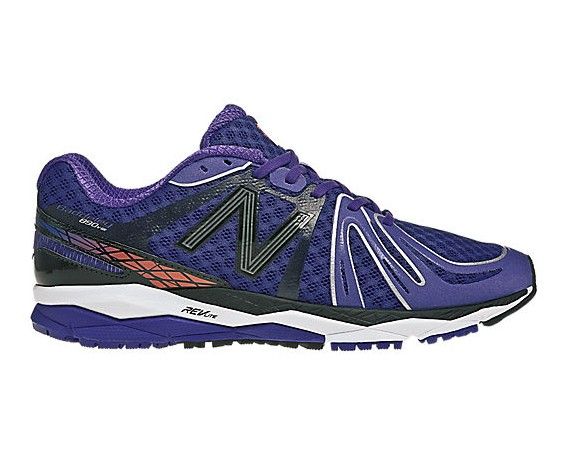 These are acutally the shoe styles i use when i race.
colours will vary