Chicken Pandan with Squash Stew
Squash is one of those ingredients that you wouldn't  automatically associate with asian cooking. You don't see it in many dishes, yet it is grown widely and used here and there. In the Philippines one of these dishes is the Pinakbet, a vegetable stew with lots (i mean lots) of different vegetables, all muddled together. I really enjoy Pinakbet, my problem with it is that its too ambitious, it has a good number of vegetables fighting for the shinning spot, only to be overpowered by shrimp paste ( a staple in these parts). Remember on one of my previous post, i talked about how certain dishes get lost in translation, this is one of those, we can't expect this cuisine to translate well, if it doesnt have any true definition (by definition, i mean defining flavour), so why not take some traditional dishes, revisit them, strip them down to bare essentials, and make a tasty alternative? This is what i did here, because i want to show people that even if its not done in the "proper" way, it can still be good, and still represent our nation's flavour. Squash and Shrimp Paste, a little surprise, lots of love.
This recipe stemmed from a one minute conversation i was having with my pal when we were talking about our favourite vegetable dishes, he said: "i love pinakbet, but okra and bitter gourd (ampalaya) suck". Well my friend, here is something you'll love, without the "sucky" parts (i for one love okra and bitter gourd).
Chicken Pandan with Squash Stew
Marinate your chicken: I use pieces of chicken thigh with the skin removed. Pieces need to be about 2inch wide and thick. For about 500g of chicken, 2 tablespoons of chopped coriander root, 1tbsp of coco sugar, 2tbsp of chopped garlic, 1tbsp of rice vinegar, 2 tbsp of soy sauce, 2tbsp of milk, sesame oil and white pepper. Warp in washed pandan leaves and close up with a toothpick. Marinate at least 2 hours, or overnight. Fry off in oil. To keep moist, when you flip them, add a little water and cover to help cook the other side a bit quicker. right before serving add in some chopped spring onions and toss around.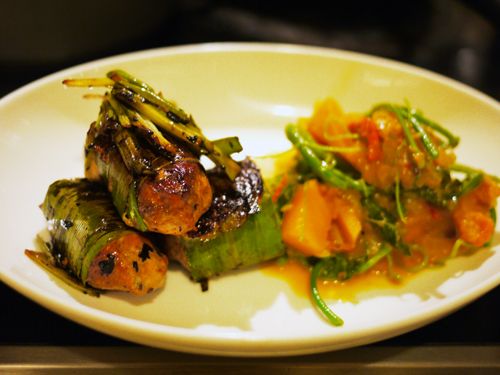 For the Squash: Take about 1/4 of a squash and chop into square pieces. Fry off in a pan with 2 chopped tomaotes, a chopped onion and 2 cloves of garlic. Once translucent add in the squash and a chopped green chilli and 2 heaped tablespoons of shrimp paste . When everything is cooked through, add a handful of chopped greens (chayote tops, chinese spinach…), 1 tsp of coco cream (optional) and 1 tbsp of fish sauce (or 2 to taste).