Banana and Pineapple Whole Wheat Sticky Cake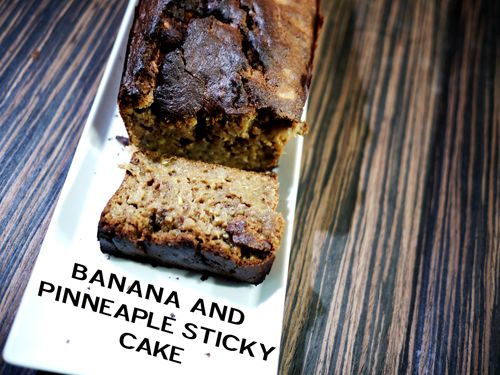 There is one thing that i hate more than badly cooked eggs and that's rotten bananas.
Life seems to always come with these unexplainable conundrums, like how come hot dogs are always/usually sold in packs of 8 and hot dog buns in packs of 10?
How come the letter W isn't instead called a double V?
Why do we look in the mirror after crying?
Why haven't we gone back to the moon?
Why is Yoda Green?
Why did i spell Pineapple wrong on the picture above?
With all our technology, why can't we find the lochness monster?
Is the real Paul McCartney really dead?
Ok I'm off track.
The point of this post is to approach the problem of, always buying too many bananas, and having them rot before we can eat all of them. Does this happen to you? Well it does to me. ALL THE TIME.
Here's my solution.
Banana Cake has always been a favourite for me growing up. There was something about the dark bread and sticky moist interior that paired so well with milk and never failed to make me smile.
Until recently I had stopped eating regular banana cake, bought in store and shops, because people tend to oversweet them and use too many bad for you ingredients in one loaf, making it a sugar ray death nuke bomb from hell.
In my version, I try and work up the sweetness (and overall stickiness) with the addition of pineapple, honey and some molasses. This makes for a less sweet, more hearty and deep flavour that pairs perfectly with morning coffee or late night milk. I've replaced the white flour with whole wheat flour, given the choice I would have used multigrain or almond flour, but I ran out, and was too lazy to run to the store. Deal with it.
This is the perfect food for a pre-workout (good carbs + vitamins…), spread some butter on it if you want some good fat; or to munch on during a long session (its portable enough for those long rides, and replaces a power bar beautifully) or even for a recovery meal if eaten with a glass of milk (for protein) or after some scrambled eggs (to feed those tired muscles of yours)
Banana and pineapple Whole Wheat Sticky Cake
Take 4 large and very ripe bananas, bash up with 2 tbsp of honey and 2 tbsp of molasses, 6tbsp of chopped pineapple with juice, 6tbsp of unsweetened yogurt. Preheat oven to 180 degrees celsius.  Throw in 2 eggs, mix. Boil 1 tbsp of milk and add to it 3/4 tsp of baking soda. Add in 2 cups of whole wheat flour, 1 tsp of baking powder, 1 tsp of flake salt. Mix well. Add 1 handful of chopped walnuts.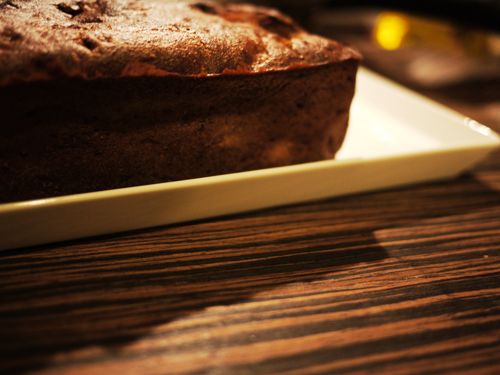 Put them in a loaf tin and bake anywhere from 30mins-1hour, keep checking by making sure a wood skewer when inserted, comes out clean.