Almond/Peanut Honey Butter with Blueberry/Strawberry Jam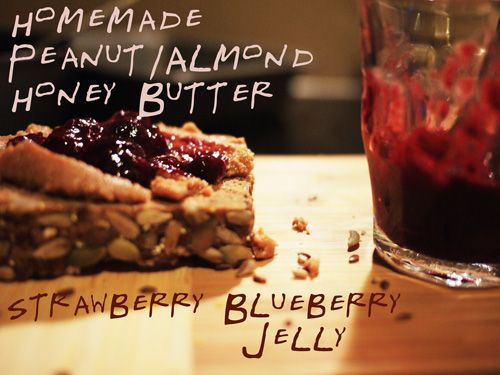 Life is food. Food is life.
It's impossible for me to distinguish the two. My brain is so attached to food that I think in flavour. I know that sounds absolutely ridiculous, but it came to me one day when I was reading an article about how people who have been born blind think and dream using sounds, touch, taste and smells . Mull it over for a while, we process things through images, our thoughts, though you can argue are based on words, sounds, experiences, are littered by thousands of images that we can place together to create whatever idea/thought we have.
Imagine dreaming without images, complete darkness, just sounds and heightened sense, yes no words, because words are in truth symbols and rely on sight. So our subconscious searches for other means to "see". In come sounds, smells, taste and touch. I can close my eyes and feel a dish, just by remembering all of its intricate characteristics.
This is the point when every bite becomes love, a thorough complete experience in one lousy chew, that when finished will leave you feeling sad and unsatisfied, that first bite which proves to be the most troublesome as it will open the flood gates to the impending feast looming in your mind.
Here is my affair with Peanut Butter, with the taste of its sweet earthy abundant flavour, the overwhelming texture which sticks to every possible nook of my mouth, a light smell of savoury decadence with a hint of light caramelisation and the glorious sound of how it spreads ever so lightly on toasted bread. When that first bite reaches your lips, you cant help but feel a moment of excitement with the memory of what it should taste like and the flaky thick warmth which is about to take you over.
When you truly enjoy food, you need an understanding of the work and ingredients that go into that tiny little seemingly insignificant bite; once achieved you will fall in love with cooking; what other art form can stimulate you mentally and give you physical bliss?
Almond/Peanut Butter with Blueberry/Strawberry Jam
Makes enough for 3 days for 1 peanut butter lover.
Start by taking 2 handfuls of skinless raw peanuts and roast them in the over with a little salt. (200 c. for 10mins – dont let them get brown)
For the quick jam, take a big handful of sweet plump sliced strawberries, an equal handful of frozen blueberries and cover with water in a pot, bring to a boil and leave on medium, waiting for the water to reduce and for the mix to become one sticky jam like mess. The best. Taste. If need be add some coconut sugar.
In a food processor, grind the peanuts with 1 cup of peanut flour and 1 cup of almond flour and let grind. Add 1/2 tablespoon of organic honey, some cinnamon, a little pinch of salt, 1 tsp of agave syrup and a tbsp of peanut oil. Let mix for 2 minutes. Check, if too wet add some more flour, if too dry: more oil, if too salty: more honey or agave, if too sweet: a tad bit more salt. You get the point.
Cook it the way you love to eat it. Isnt that what cooking should be about?