Cauliflower "Riceless" Risotto with Flank Steak
I'm not a fitness guru or a health expert, but i am someone who has read a lot and tried changing my lifestyle choices constantly to find a balance that works for me. People ask me all the time, whats the best way to lose weight, what should they eat for lunch dinner, what should they cook, should they eat fast food.. Most of these questions can be answered by themselves already, but they are just looking for validation. What do i mean by this? Simple: Be Natural. Your body knows how to be natural, we have so many instincts, reflexes and common knowledge that are instilled in us at such young age and even on a genetic level, that we don't even realise they are there, inside of us, continuously imparting us with knowledge.
Let me explain this a little further:
Regarding exercise, in Baz Luhrmann "Wear Sunscreen", he says: " Enjoy your body, use it every way you can…don't be afraid of it, or what other people think of it, it's the greatest instrument you'll ever own..". That's it, your body is an instrument, its programmed to move in a certain way already, it knows its limitations, its capabilities and can be trained to get faster and better. For thousands of years, we used our bodies in everything we did. When our ancestors were once a nomadic civilization, the body used to be their greatest tool, they used it to go to work, they used it at work, to survive, to eat, to run, to express themselves, to communicate. Now, in a world of Ipads, computer, cars, supermarkets,…, our bodies don't do as much anymore. In come Sports. Sports is a great way to, in a sense, go back to our roots, and start using our body actively once more. So if you were ask me what the best way to stay in shape is? I'd tell you to move naturally: Run, Swim, Body Weights, Pull Ups, Core Exercises, Push Ups, a mix of all these things, that mimic movements and muscles you might have to use in your everyday life.
How about Food? Well use the same logic: Eat Natural as much as possible. I know from time to time its hard to stay away from that Ice Cream, that slice of Cake, or some candy, but if you're doing the sports thing right, then indulging and rewarding yourself is fine. Look,, i don't follow any strict diet philosophy. I like the Paleo Diet, because it teaches you to eat only what was found before in the caveman (meat and veggies for example, no rice or grains) era, also known as Primal Eating, but i disagree when they say we shouldn't eat Legumes (beans..), Dairy and Tubulars (Sweet Potatoes, etc..). I also appreciate the Low Gluten diet, basically staying away from anything with gluten (pasta, bread, most starches), which i managedto do most of the time, but when i really do feel like eating something with Gluten, i go right ahead.
The trick is moderation, and understanding when you are allowed to indulge and break your rules, because you know that you've worked hard. For example, because of my triathlon training i workout close to 2 hours everyday, burning a minimum of 600 calories per hour. So i know, that if i want to, i can break my cycle from time to time.
This bring me to another point, when training for triathlons, we are talking long distances and extended amounts of cardio. As we 've discussed in the past, when in weight training and muscle growth phases, high protein intake is important to build, maintain and recover your muscle. On the other hand with high cardio, carbs are very important for that extended energy. So when people see that i usually follow a gluten free diet they think im not getting enough carbs; you see a lot of long distance athletes believe they need pasta, bread, rice to survive in the sport. But they really don't. Its very easy to get carb content from other sources: fruits, vegetables (edamame, beans, peas, tubulars, squash, leeks, onions, kale, carrots). Also, long distance practitioners, think they don't need much protein, again WRONG, you need protein for your recovery. Where a body builder will need 1.2 grams/pound of body weight, a long distance athlete probably needs 0.8 grams/pound.
Here is a great little recipe that shows you how i usually replenish after a long session and has a perfect balance of carbs, protein and fat, without having to eat any gluten and follow the Paleo at the same time, more or less, its one of my hybrid meals and this is usually how i eat everyday.
Cauliflower "Riceless" Risotto with Flank Steak
Take a whole cauliflower head, cut and clean it, separate all the florets and put it all in a food processor to grind everything up, if not available, chop up really small until the size of rice grains. Steam over you're boiling chicken stock for 5mins. In a pan stir fry 3 garlic cloves, 1 leek and 5 shitake mushrooms, add in a little water and season.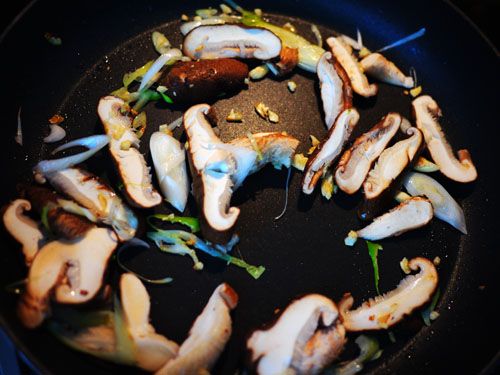 Take your cauliflower and squeeze out all the water. Put in the same pan (without the other vegetables), with some garlic and olive oil. Add in about 1/3 cup of chicken stock (or more) and cook until soft, add some nutritional yeast and almost without liquid, take off the stove, add in salt and pepper, some olive oil, about 1/3 cup of shaved parmesan cheese and 3 tablespoons of cottage cheese. Serve.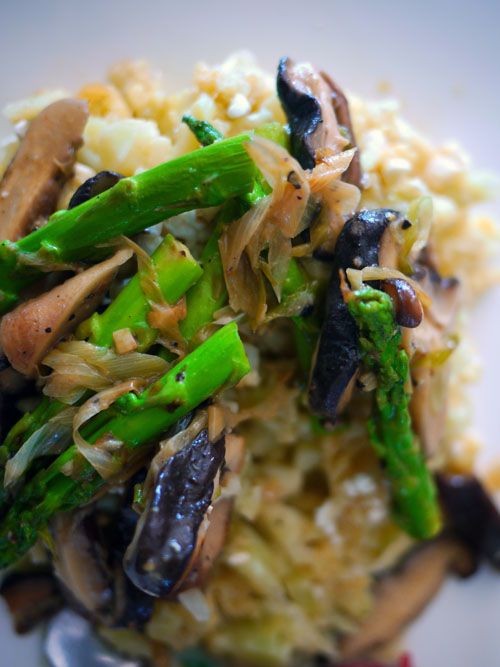 Take your Flank steak and remove all sinew and fat on it, until you have one red piece of meat, bash in some seasoning and fry very quickly until preferred done-ness. Since flank steak is really flavorful but a little though, i don't recommend cooking over medium rare.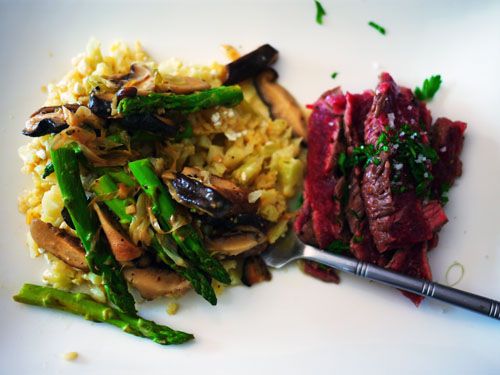 Combine and ENJOY!!!