Lamb Kebabs with Parsley Coconut Salad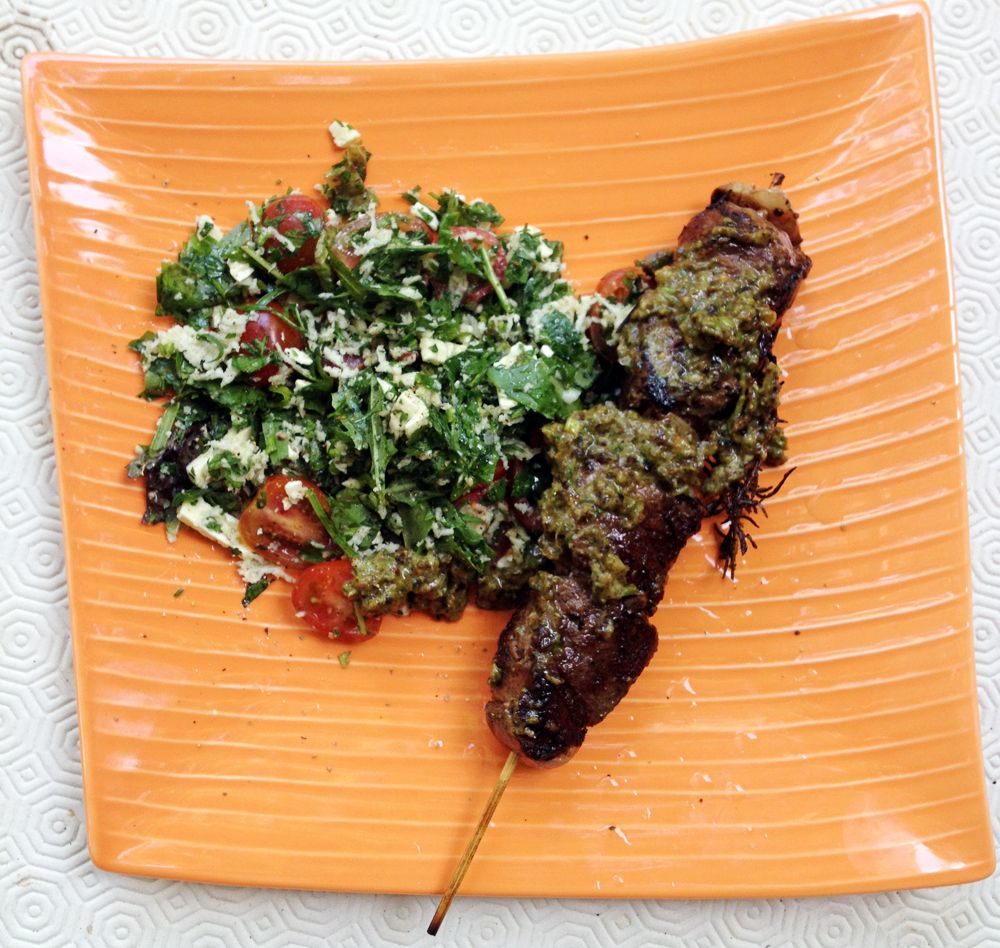 I want to start off by saying that i am actually terrified by the quality of the camera i used for this post.
Once again, i was rushing between work and thought i'd do a quick 15mins meal post. Silly me, my SD card was plugged into my computer at work. So i rummaged through my junk to find a camera that could shoot some kind of video. Well, never again, lesson learned, always keep an SD card at home.
I was just recently in Sri Lanka and while i was there, i ate some great dishes, from the ever famous egg hopper, to the roti canai variation and some great lentil stews (dahls). My fondest memory is roaming the barren streets of Colombo,at 10pm, after what seemed the longest car ride of my life, where I (this being my first time ever in Sri Lanka), had to give directions to the taxi driver (thank you Google Maps). My girlfriend and i were famished and this being a new city, instead of just settling down and eating in the hotel restaurant, we decided with the comforting thought that this was Asia, that there would surely be some sort of street market where there would be an ever bountiful amount of hawkers and wafting smells of foreign food. Sadly, it wasnt meant to be. After walking up and down the main avenue, our hope dwindling into the night, we decided to take action and put in action plan B. Plan B is to ask a taxi or tuk tuk driver to take you to a local place; the problem here is that they usually take you to their friends restaurant or can consider you a naive noob at travelling and bring you to a dark corner and ruin your vacation. Thankfully, this driver took us to his friends spot. Fortunately, this seemed to be a place with lots of locals, but no seats in sight, people there would drive by, park on the side and wait for the waiter to come to them, some kind of warped drive through/50s dinner drive in concept. Sure enough the waiter came along, knowing the driver's first name, of course, and didnt really give us a choice of what to eat, his only question was: "do you like chicken and lime juice", how can i argue with that. 10 mins later he came along (by the way the meter is still running) with what seemed like a pile of food on a plate. In fact, it was a pile of chopped roast chicken fried on a flat top with chopped roti and cheese. If i was drunk, i'd be the happiest person ever. Nothing refined, but oh so comforting. The driver took us back to our hotel, asked us how much we were paying and said that he knew place that was cheaper by half, i bid him good night and proceeded to bed.
Another food memory, probably not as eloquantly put as the last one, was when, after a good beach run, i found myself starving for something fresh. In front of me at the table was this bowl filled with what seemed like Taboule. Strange, i didnt know Sri Lankans would eat Taboule, but i was wrong, to my surprise instead of semolina grain with parsley, it was freshly grated coconut (not the meaty part but the dryer sections), tossed with different herbs and spices. It didnt taste anything like Taboule, but it got me thinking, this would be the perfect grain alternative for people who like adding ingredients like barley or couscous (semolina) to salads.
Talking about substitutions. My next post will be about which ingredients can be used for easy substitutes to make a dish healthier. So stay tuned.
Also, i'm still looking for writers/contributors to join me on thefatkidinside.com. You don't need to be a writer, but you need to know how to write properly and engagingly about anything related to food or drink. Send me an essay at thefatkidinside05@gmail.com
Lamb Kebabs with Parsley Coconut Salad
Parsley Coconut Salad: 1 big handful of parsley, 1 big handful of grated coconut, all minced finely. 2 tbsp olive oil, 50 grams of chopped feta, handful of chopped mixed salad leaves, 1/2 tbsp of honey, salt and pepper, juice of 2 limes, 10 sliced grape tomatoes.
Kebabs: On a barbecue stick, skewer thick lamb cubes and separate them with onion cuts or green peppers. 3-4 cubes a stick. In a hot pan heat some olive oil, drop a whole crushed garlic in there with some fresh rosemary. Fry off the sticks, about 4mins each side, until cooked but still pink. Rest.
Sauce: in a blender; handful of coriander, arugula and spring onions. 4 chopped pitted dried plums. a lug of olive oil. tbsp of thick balsamic vinegar. 1 tbsp of greek yogurt. Whiz it all together. Gently stream some olive oil until the mix is somewhat liquid.
Plate and spread sauce on kebab.
Dress with more lemon juice, salt and pepper.