Summer Chicken Salad
Inspiration.
Inspiration changes everything. Cooking is all about being and getting to the point where you can look at ingredients and see them as paint on a board with endless opportunities of flavor profiles. I get a lot of emails from people who say that they love to eat but are terrible at cooking and ask for quick easy recipes. To be honest, if you can follow a recipe you probably wont be as bad in cooking as you might imagine, just like assembling Ikea furniture (thank you Sweden) if you follow the rigidity of the instructions you'll end up with a fully furnished home in no time. Inspiration is different though, this requires you to look at ingredients differently, to understand their texture and flavors and picture what you want to do with them. Before i cook a dish, i always know what its going to taste like in my mind, i make sure to project it, smell it and feel it already even before starting. So imagine the possibilities? I started thinking about all of this when i recieved the following email from April Jan Stephanie:
Howdy, Erwan!I just want to let you know that I've been following your blog since day 1–the first ever time you tweeted about putting it up. Was it 2009 nearing 2010? And the very first video I watched was the one with Solenn. Heehee. Anyways, I like you to know that I love what you're doing in this blog. Keep it up! Although the kitchen doesn't love me, I'd still want to try some of the "easier" recipes here in the future. I don't have the guts yet to do them. LOL. Btw, I also like to say that I love all the music you're using in your videos. And I commend you, too, because some of them are Filipino indie bands which I honestly doesn't know such exist. And I gotta say I fell in love the moment I heard their songs on mediafire. So, thank you for that. I'm such a sucker for indie music but all I know are foreign. Now it's time to know more within our local artists.
It's already 230am and I'm still reading this blog which that makes my tummy growl so I think I should sleep already.
Bonjour, Erwan!
Merci for replying!:D And, thanks for the encouragement as well. Btw, may I suggest for your new post? Can you make a new Filipino dish that uses "gata"? My family's from Bicol and as Bicolanos, we eat almost everything with gata but I'm getting sick of the same old dishes. Any new ideas? ;)
All the best!
Sincerely,
April Jan Stephanie
What are ingredients? they are just the starting point, so just because you are used to using them in a certain way, doesnt mean you cant try new things. We are so lucky that with the internet (my love of Google), we have access to information 24/7 (unless your cable company is as bad as mine – yes Sky Cable, im talking to you), before this would of been a luxury and was mostly passed down by word of mouth or a trip to the library (i wonder how many kids nowadays below the age of 18 actually pull out books in the library?). So if you find yourself in a slump where you feel like you've exhausted all varieties pick up a recipe book, type the ingredients in google or email me and you will see how much you've been missing out!
So find your inspiration, April here is cooking for her family and that's one of the noblest and motivational causes.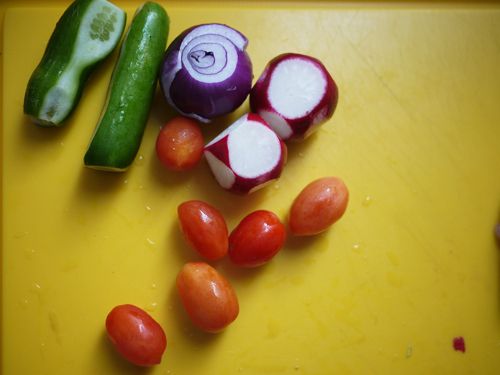 Here i take the most basic ingredients, that EVERYONE can find easily: tomatoes, cucumbers, lettuce, chicken, herbs, … and make something accessible, quick, healthy and so tasty.
Summer Chicken Salad
1. Cook a whole chicken breast season with salt and pepper, thyme, rub it all in and bash it together. Fry in a small pan (same size as the meat) and place another pan on top and weigh it down with cans of your arm strength. Cook 3 mins each side or until cooked through.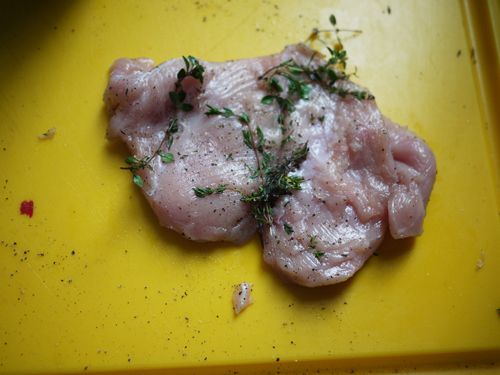 2. Cut your 6 cherry tomatoes, 2 small cucumbers, 1/2 red onion,2 small radishes as seen on the video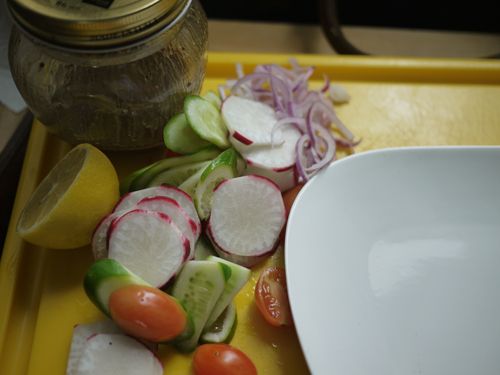 3. Make your dressing. In a jar shake out 3 tablespoons of extra virgin olive oil, 2 tablespoons to balsamic vinegar, s&p and juice of half a lemon.
4. Take a romaine lettuce heart and char with a torch or on a grill.
5. Assemble and Enjoy!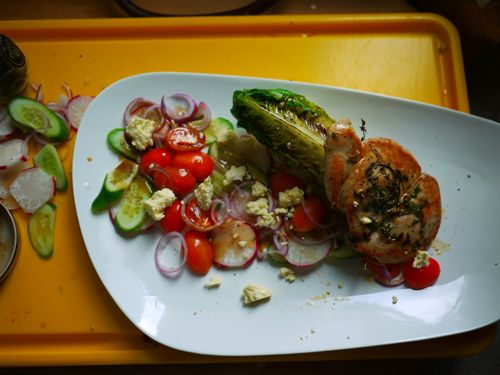 Do it.