Of Mushroom and Eggs

When you browse through many cookbooks, watch the all the disambiguated cooking shows on TV and get impressed by little kids on Master Chef that would probably make you look like an incompetent human being in the Kitchen, most of you will get discouraged to even attempt to prepare your daily dishes. My question is, when did aesthetics become more important than taste? Well in this recipe you will see how food doesn't need to necessarily be pretty and look like a garden or a skyscraper, i understand that they do this in restaurants, but if you're at home, you're already hungry, so you don't really need to whet your appetite further (well its always a plus though).
Since I've opened my email lines to you (thefatkidinside05@gmail.com) , I read through everything you send me and then I post the interesting questions with my answers on my facebook page (www.facebook.com/thefatkidinside), but those which I've read that I REALLY find interesting and beneficial to all my readers I want to tackle here on the blog. 
So this post was inspired by the following mails:
Hi! I'm not a chef, I didn't have any degree in culinary arts or whatsoever but i do enjoy and love cooking,and right now cooking is one of my concerns. sometimes I manage to hook up some great dishes for my family but most of the time I always just stick to the normal filipino dishes since that's the only dish our house help knows what to do, our refrigerator always consist of the normal ingredients (pork, chicken, fish, potatoes, carrots, cabbage, kangkong, eggplant, calamansi, ginger)the result of that is we tend to eat the same dishes every week (sinigang, nilaga, adobo,mechado, fried fishes, etc) my sisters who are ages 15 and 8 are fed up with our 'ulam' so, tendency is we result in frying hotdogs, nuggets, buttered mushrooms, instant noodles and soup etc.(easy cooking) which I know is not healthy. My 8 year old sister is already obese and more and more I've been really bothered.My mom as well is obese, and I really want us as a family to start eating right before we regret losing control of our body. Can you suggest any recipes consisting of the normal ingredients I mentioned? (we also follow a budget) how can I spice it up and make it interesting yet healthy and not boring for my family? I hope you answer my email, it would really mean a lot to me. Thanks so much! much love. – Cath
bonjour!ahm im following you on twitter and one of ur tweets is a video with your sister ms.solenn,actually i follow u because ur the boyfriend of my SUPER idol,ms.anne curtis.yun lang po not because crush kta or wat ever.haha assuming ako.but after watching the video wow your so cool,handsome,classy and good cook.pasensya na po if dami pang adlib,dami ko pa nga po gusto sabihin eh.since kakasubscribe ko pa nga lang po,i observed that more on your sangkap po in food is kakaiba,kung baga di po kilala maybe because sa ibang bansa po or pang mayaman hehe.request lang po if do you able to cook filipino dish na in a classy way but inexpensive,kasi like sa katulad ko na theres no enough money to prvide those things or ingridients.i lovr food,ilove to eat,i love to be inspired by people like you.i really appreciate your response,MERCI!Godbless and plus de puissance.
-margarita:))831
This shows me two things; one that people think cooking is time consuming; just to give you an example: I make my breakfast in 5mins, lunch in 15mins and dinner in 20mins, every day. Secondly, it shows me that people are "afraid" of trying something they are not used to working with because they think that the ingredients are either too expensive, not available, or they just simply don't know how to use them. This is why I want to invite you as much as possible to diversify as much as possible all the ingredient you are using, visit the farmers markets we have sprouting around your city, talk to the actual growers/farmers of the produce and ask them how to cook and use the ingredients in a dish, they are the best source of information because they are proud of what they are selling and of the quality they are able to achieve. Once such conversations I had was with Marco Lobgregat from Ministry of Mushrooms, last Saturday at the Salcedo Market, where he has a permanent stall; excerpt from their site:
"Ministry of Mushrooms is led by a dynamic team of young entrepreneurs, Marco Lobregat, Jose Javier Ortoll and Victor Sala, passionate about mushrooms and mycological solutions. Whether developing products of the highest quality or building client relations and customer satisfaction, Marco, Jose Javier and Victor help hone each other's skills to be a fully optimized team. Jose Javier Ortoll and Victor Sala bring together their knowledge of mushroom cultivation and engineering to develop the green, efficient and sustainable mushroom farm. Marco brings his market knowledge and expertise in project management and international sales to ensure that the daily operations drive the company to continuous growth and success. We can make a positive difference through mushrooms." (http://www.ministryofmushrooms.com)
Supporting local farmers will ensure a diversification of all available produce here, as this will motivate them to try and bring in new strands of vegetable and try to grow them locally, making for a more diverse and exciting food scene. In the below recipe, I use their Fresh Oyster Mushrooms, to make an interesting yet quick and affordable meal.
A golden rule for myself is, each time I am in the supermarket and I can't recognise a fish/meat/game/vegetable/… I buy it and figure out how to cook it (yes a little google goes a long way).
Buried Eggs, Warm Oyster Mushroom Salad 
Quick Recipe: Take 2 handfuls of oyster mushrooms, clean them, chop them roughly, fry them in a couple of lugs of olive oil, salt and pepper, add some garlic and onions, until is a nice caramel color and softened. Add some dried herbs (ie. celery flakes or dry rosemary, dried thyme, Provencal herbs, anything you like)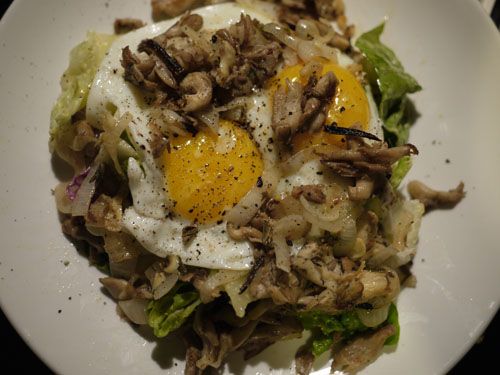 Salad: Take some iceberg lettuce, grated carrots, fresh basil and chop roughly (or any other salad leaves you fancy). In a small bowl (that will fit all the leaves later), put in 1 heaped tsp of dijon mustard and slowly stream in the extra virgin olive oil and whisk vigorously until you get a good texture; then mix in juice of half a lemon and some salt and pepper to taste.
Eggs: Fry two eggs in a non stick pan of the same size. Watch the video for tips on how to cook eggs properly.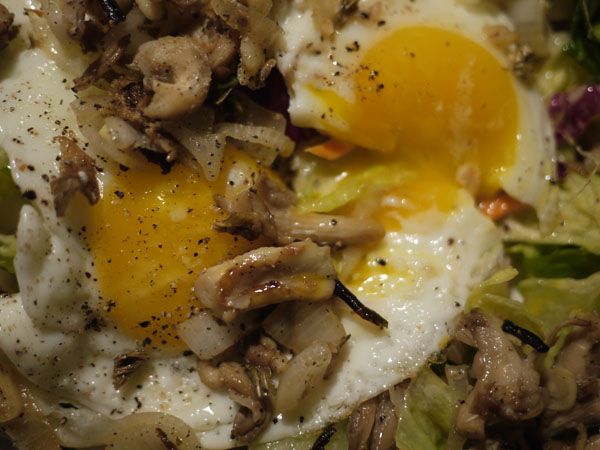 Combine it all in a messy heap and enjoy!