New Beginnings: Chicken and Eggs

I know its taken me forever to get back online, but I was simply trying to give the site a fresher, more professional look for 2012. A new year brings with it budding aspirations, restored hope, exciting uncertainties and continuous inspiration; it also reminds us that everything we want to accomplish has to be thoroughly thought through and taken step by step.
This is true for our government, who if they want to progress and make the country a better place for its people and future visitors, needs to invest in the basic simple necessities before venturing out and doing the impossible. This is true for your career, where shortcuts are always looked at lightly and become problems in the long term. This is true for that wall you've been meaning to repaint over last year but never got to, and suddenly decide to just put on a fresh coat, without mending first the cracks or the true source of why it looks terrible; start off by finding the root cause, then buy the tools and materials you may need, set a game plan, execute and assess. Use this mentality in everything that you do and you'll become a more efficient person. All this to say (I know you've missed my superfluously strangely enlightened and always somewhat relevant-to-the-recipe, introductions), that I want to start my blogging year with the basic.
My friend, Mark, is absolutely obsessed with Eggs. He spends some time a year in Paris (more than me, its unfortunate, I know, I'm a terrible half French man), and when there, the food capital of the world, the birth place of classical technique and the initiators of the notion and importance of the 'terroir' for food and wine; well Mark eats, Omelettes. I know, you don't even have to say it. But there is, like with most artist, method to his madness. Because eggs when prepared properly and creatively remain a staple, a favourite and a reason to celebrate even if it isn't the New Year anymore.
Here are my favourites: I like to have concept behind my dishes, and I've always found the predicament of the chicken and the egg a fun and confusing one, if you really think about it hard. It ties in great with this new beginning theme, which is why I decided to make this quick, healthy recipe, the first of the year.
Oeuf (eggs) en Cocotte with Mushrooms, Spinach and Smoked Chicken Breast.
1. Boil some water in a pan. Preheat your oven to 220 c.
2. Thaw out about 1/2 cup of spinach in a tbsp of olive oil (no, dont use extra virgin), once thawed, add a quarter of a white onion sliced then chopped, 1 sliced smoked chicken breast and season with salt and pepper.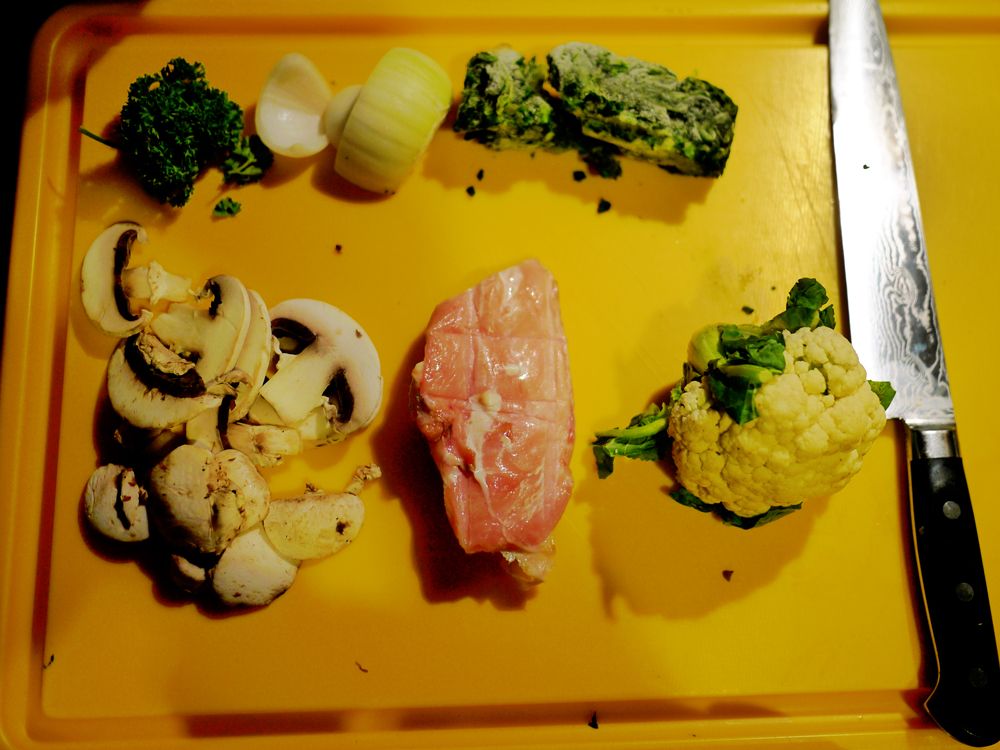 3. Put the mix in a ramekin or small oven proof bowl mix in 1 tbsp of sour cream, make a small well in the center and crack in two organic (if possible) eggs and make sure everything is submerged in the whites. Season.
4. Place small bowl in a bigger baking dish, and fill dish with hot water until 3/4 of the smaller bowl is submerged.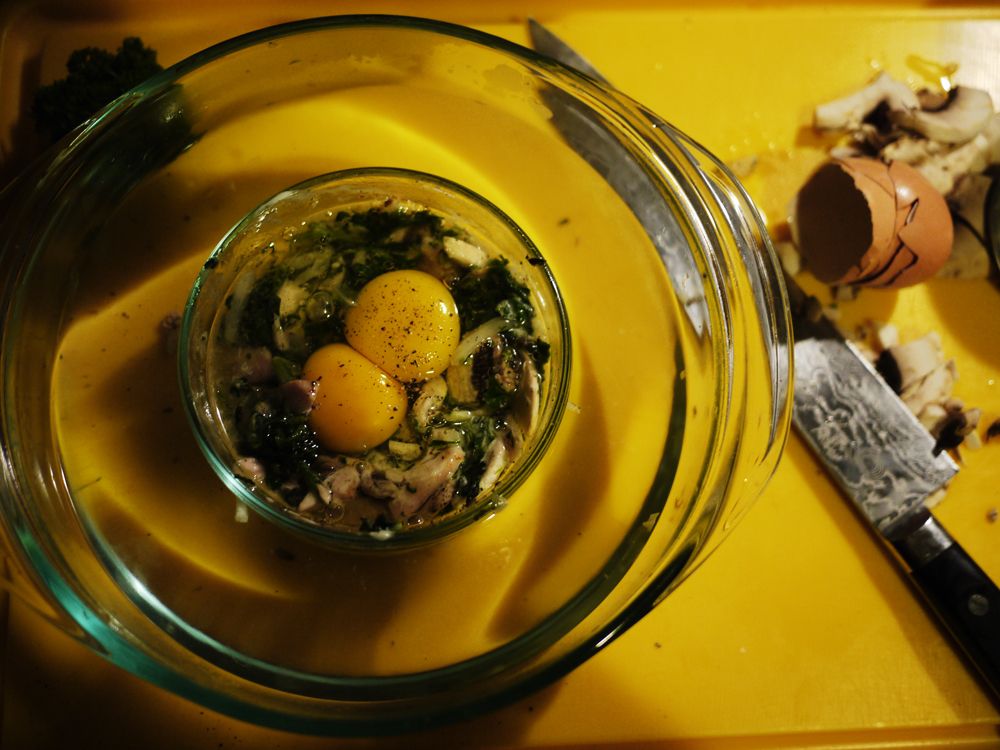 5. Place in oven for 10-13 mins (depending on how runny you like 'em eggs) and eat immediately.
The yolk will break in an astonishing, luscious and unctuous fashion making anyone around you jealous of your 15mins culinary prowess.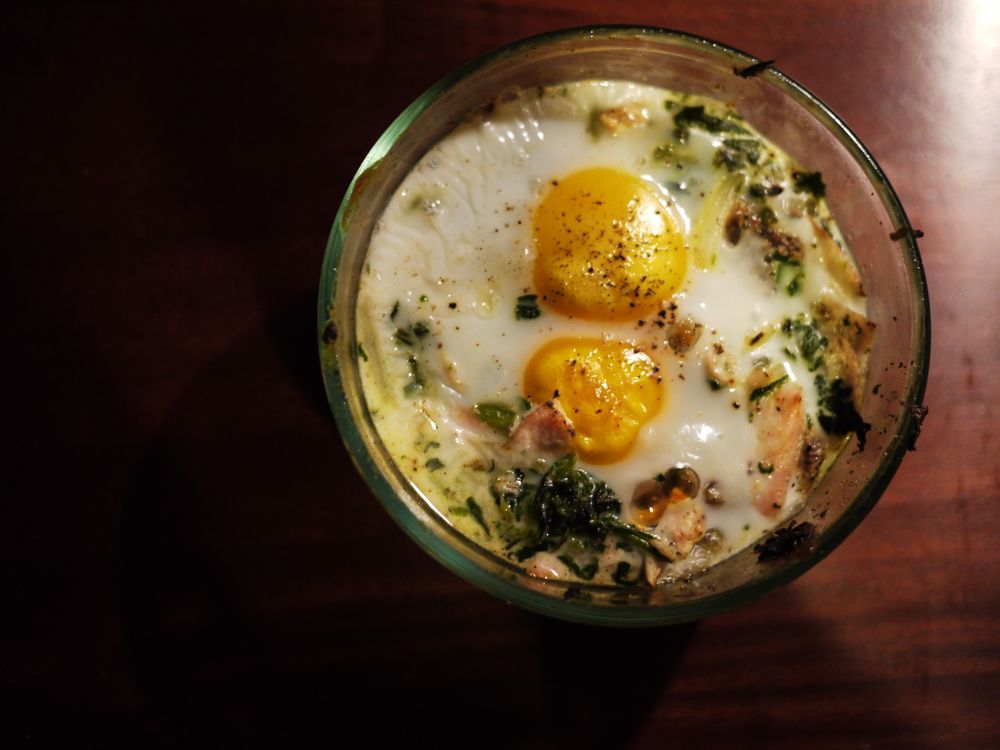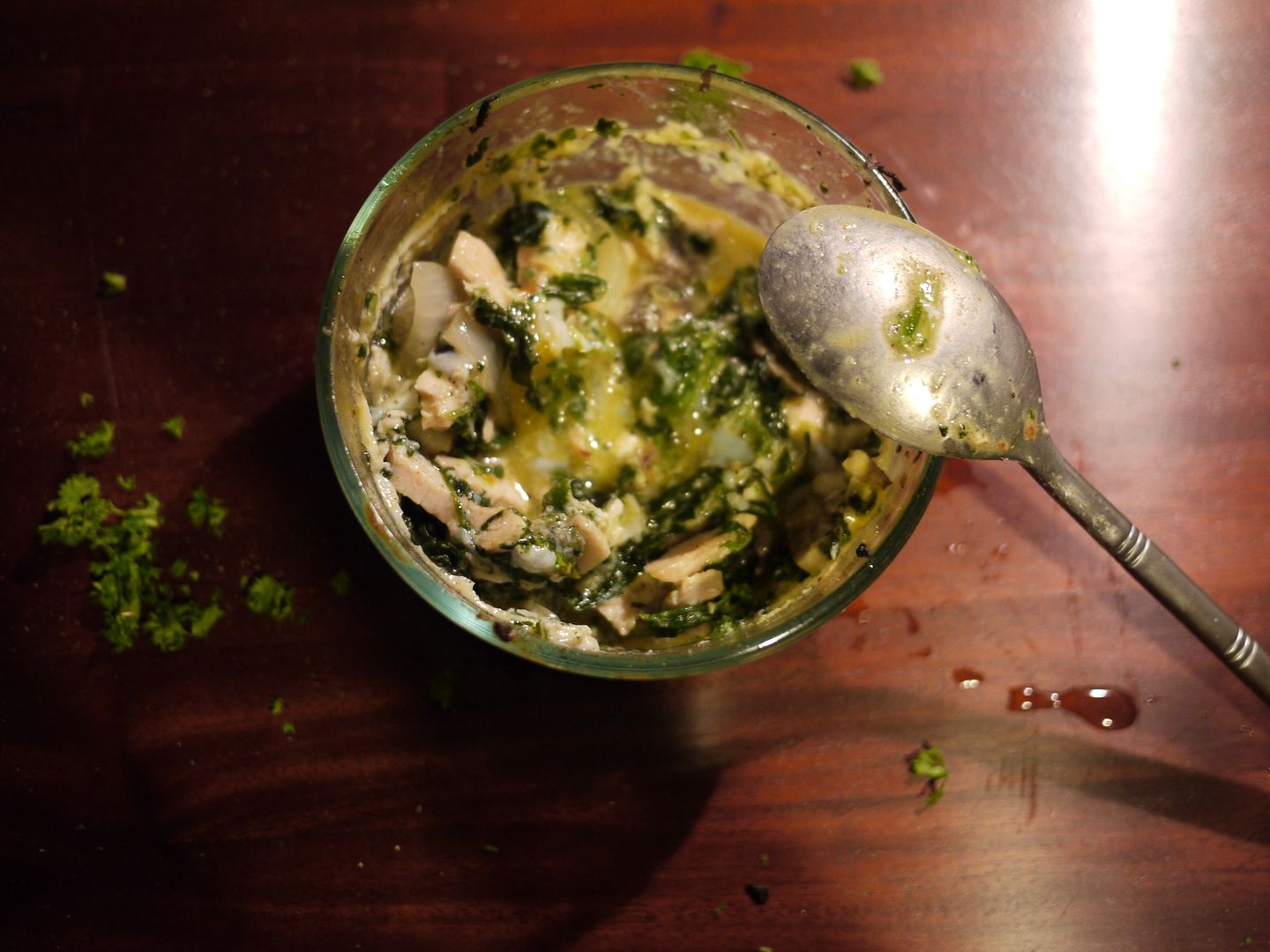 Enjoy!