It's like warm apple pie.
Sorry for the 2 week delay!!! Last week i went to Splendour in the Grass, a music festival in Brisbane for 3 days and saw some of the best bands! So i couldn't prepare anything to post up.
Yesterday, as I was doing laps in the pool and running around a 1k track, attempting to enjoy an intense Sunday workout, after having woken up following a dismal 4 hours of sleep at 9am, having shopped for ingredients to prepare lunch for my family by noon; i saw some children, on the field, flying kites. For some reason the sight of them made me angry.
Doesn't start thinking I'm a heartless Grinch or the devil incarnate, I love children, I really do! However, i envy their freedom with such fervour. There they were, giggling about; while I laboured through a painful workout, to burn off said lunch, already thinking about what I had to do right after to be ready for work the next day.
When I was kid, I couldn't wait to grow up, be like my dad and some now defunct action heroes. At the tender age of 5 I had wild dreams about what i may become, at 10 I started wondering what i would look like when adult and at 13 I couldn't wait to have many girlfriends. It's funny actually; i think it was at the age of 16, when everything changed. All of a sudden I started wanting to become tiny, small, young and useless (useless is good sometimes) again.  Not that the age of a 16 yr old is the toughest thing, but when you're a teenager everything seems to be the end of the world. Now, hopefully wiser, I still have those moments where I wish I could just shut off, shut down, do nothing and be a responsibility ridden child all over again. There are many ways I deal with this need for regression:
–          I listen to music from back then. I read somewhere that the music you listened to when you were about 14, will be music that you can listen to your whole life onwards, without ever getting sick of it. I can see the validity in this statement. At 14 I was listening to Billy Idol, Metallica, The Offspring, Live, Bob Dylan and the likes; and until this day I still do listen to it. However, when I was 18 i listened to Let me Love you by Mario (I still get shivers thinking about it). Thank god i grew out of that one.
–          Sports such as tennis and golf remind me of my tireless lessons and the constant reminder: one day this will come in handy for business meetings/deals. Fast forward to today and i still haven't played either golf or tennis with a business associate; only squash has proven successful.
–          I'm sure you guessed this last one: Cooking. Well this is a cooking site. So if you were expecting any other deep meaningful conclusion to my rant. Go Away.
McDonald's was always a reward when were younger, never a convenience or a necessity. My mom wouldn't allow fast food or snacks in the house and we would only go to these places for birthday parties and good grades. THANK YOU MOM. I never got hooked to fast food and i actually can't stand the smell or taste of it. Yes you might have seen me with some McDonald fries in my hands at one point, but it was probably 3am, with lots of my peers inhaling burgers and some remnant of alcohol still in my system. But i don't look for it. In the past 3 years I've seriously probably only eaten fast food 4 times. Call it ego if you will; i just think i can cook better burger/fries/pizzas then most of those joints.
One item I'll give mad props (yes it's the 90's all over again) to the Golden Arches (U.S. slang), Mickey-D's (U.S. slang), Macca's (Australian slang), Mackey-D's (British slang), MakDo (Filipino slang), MacDoh (French Canadian slang), McDo (French slang), Makku or Makudo (Japanese slang), McDoof (German slang), McD's (Scottish slang), Meki (Hungarian slang), Mec (Romanian slang), Donken, "Mackid nnkan" (Swedish slang) (WTF?).; Is their Apple Pie. Remember that steaming, deep fried, hunk of moist, dripping dough, apple sauce hot enough to burn but you could help but keep stuffing it in your mouth. Well I do and i crave for it. So here's my spin on this now defunct menu item. I hate you McDonalds.
Fried Apple Pie
Makes about 7-10 portions
Dough: (healthy options)
– 2 3/4 cup all-purpose flour (or wheat flour)
– 1 tablespoon granulated sugar (or coco sugar)
– 1 teaspoon kosher salt
– 1 cup unsalted butter (2 sticks), chilled and cubed
– 1 large egg, whisked with enough ice-cold water to make 1/2 cup
Mix all together in the order above. Until everything looks like wet sand. Knead in the egg mixture and work dough to a smooth and elastic consistency. If you have an automatic mixer, do everything a medium speed with a kneading hook. If not, work those biceps.
Filling:
– 4 tart apples peeled and cubed.
– 1 or 2 mangoes.
– 4 tbsp of rum
– 2 tsp of lemon juice
– 1/2 tsp cinnamon
– 2 tbsp of butter
– 4tbsp of sugar (or coco sugar)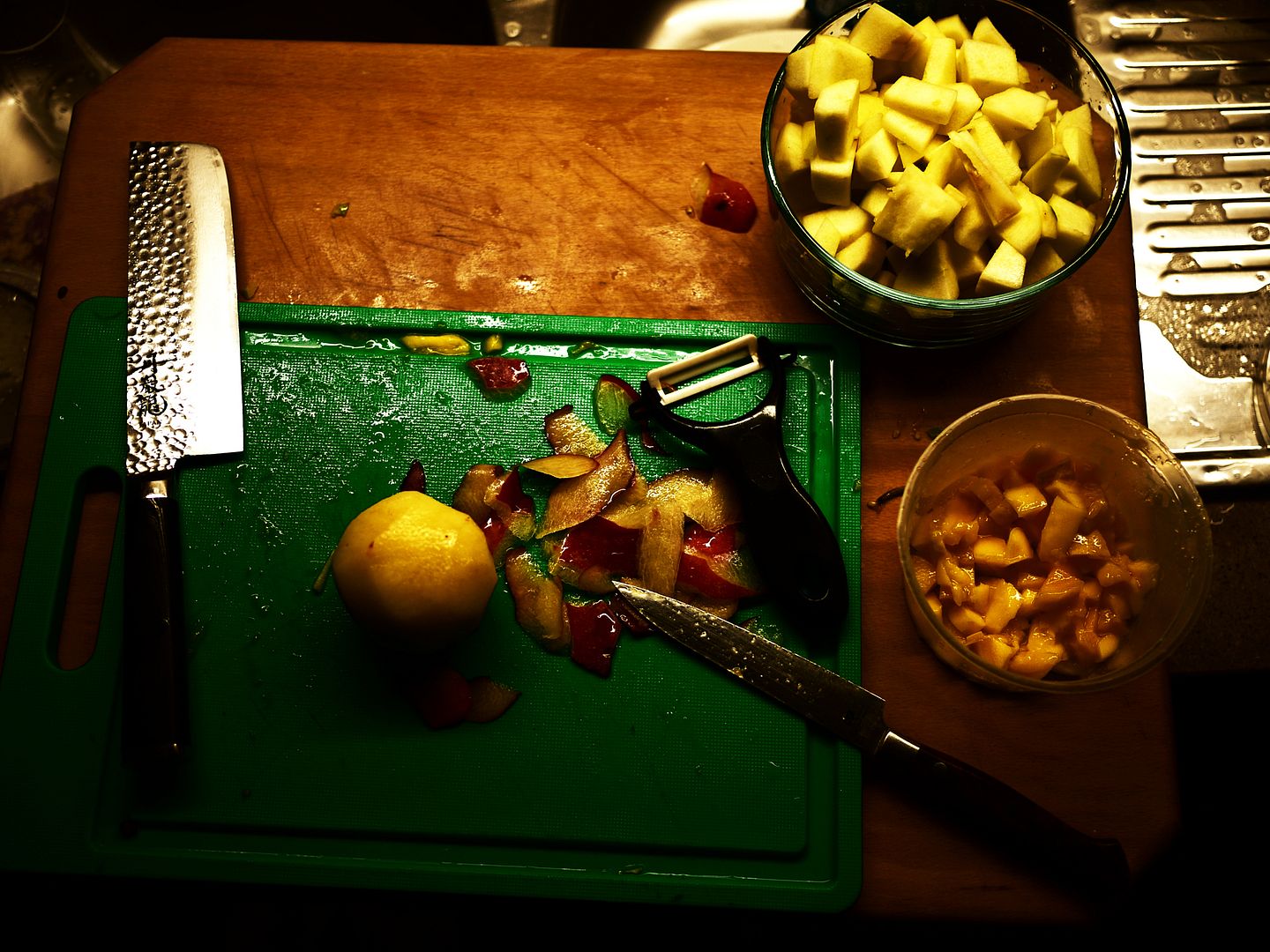 Fry the apples in the oil and add all ingredients, cover and let simmer. Remember, you want this to be a gooey thick mixture. Depending on your apples the yield will be very different. the most important is that its a liquid/solid texture, a very thick and unctuous texture. If its too dry, add butter, water, or rhum and let simmer, to get where you want it to be. then add any sugar or lemon juice you want, to get it to what you want it to taste like. In this case, what you are going to taste from the pan is what the end result will taste like even if it still has to go into the oven. Therefore, you NEED to be happy with the filling before you put it in the dough. Let rest in the fridge covered and portioned in aluminum or plastic wrap for at least 45 mins.
Assemble: flour your working surface and rolling pin, roll in circles the size of your hand, it has to be quite thin (3mm), then put a nice spoonful or two of the mixture in the middle and close up in a half moon. remember that the shape needs to be full with mixture, you don't want it to be off balance. Cut out the unnecessary dough.
Coat slightly every pie with a dab of milk, some white sugar, some lemon rind, cinnamon and brown sugar, for that extra uuuummmppphh.
Fry in very hot vegetable oil (350 F) until brown, bubbly and crispy. (6-8mins)
Or bake at 375 Fahrenheit for about 20 mins or until crispy. On a baking sheet lined with oil.
Sauce (for 1 serving):
– 2 tbsp mascarpone
– 2 tbsp cream
– 1/2 tsp lemon rinds
– 1/2 tsp agave syrup (or maple syrup, or bio honey)
mix all together until you get a uniform sauce.
Plate it all up with a dollop of the sauce, a dash of cinnamon and spurt of agave/maple/honey.
Enjoy and thank fast food for making me angry enough to blog this.