Food Porn and Hangovers 1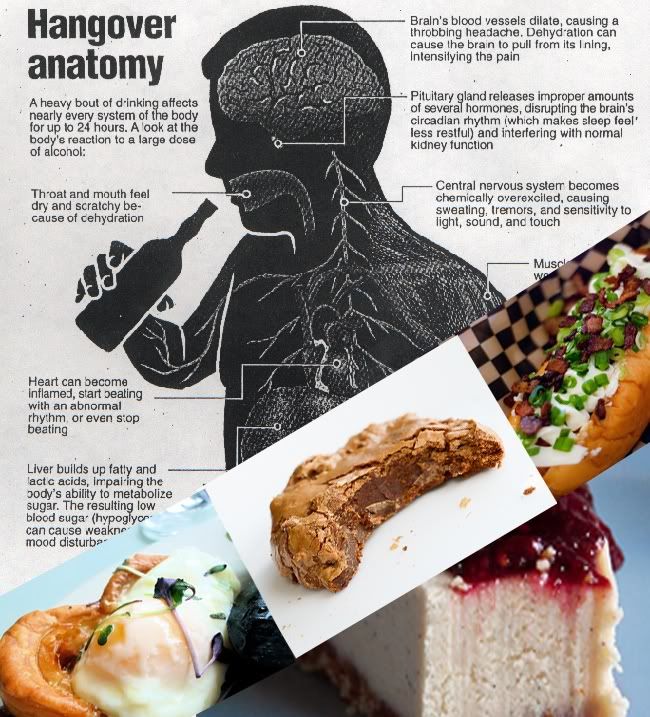 Food Porn 
Pronunciation: füd  pȯrn
Function: style 
Usage: often attributive
Etymology: food from the latin pascere "to feed", porn from the greek  pernanai "to sell", poros "a journey"
Def.:  the depiction of food in a sensational manner so as to arouse a quick intense emotional reaction/hunger.
Def.2: Carrots getting it on with each other.
Dipsomania Dish (DD) 
Pronunciation: ˌdip-sə-ˈmā-nē-ə, -nyə ˈdish
Function: Serious disposition 
Usage: often attributive 
Etymology: from greek dispa "thirst", and from the latin mania. Dish from the greekdiskos "plate"
Def.: food prepared in a particular way for those who have an uncontrollable craving for alcoholic liquors.
Def.2: An attractive or sexy meal that cures all hangovers, temporarily.
Def.3: The Morning after Gossip.
These are two of my favourite types of meals to cook. Simply because they rely on hardcore #iwanttoeatthisnow cravings.
Food Porn is all about luscious, sexy and effortlessly thrown together meals that make you go Uhmm (yum in this case). What I call a Dipsomania Dish, is our sporadic wants and supposed body needs, after a long night, that are usually very specific and detailed.
What are we cooking fat kid? 
During my travels and having lived in different countries, I always found it fascinating to understand the food culture, more specifically street food. Let's face it when drunk or recovering, we want it dirty, greasy and coming from a cheap cart. These videos are the instructions to making these dishes, all my recipes are original, I very rarely use standard ones since I like to modify depending on my mood/taste. Even with certified classics I like putting my own little twist.  The following post will have recipes + intro for dipsomania dishes hailing from Greece, Japan and Canada.
Greece: In the wee hours of the morning in any island you might find yourself in, the streets will be littered with young people helmetless driving their scooters towards their favourite Gyros spot in the city. The smells and sounds emanating from these holes in the walls, with neon lights and ketchup stained tables, are hard to describe. You go up to the counter and order gyros (chicken, lamb…) with everything (tomato, onions, salad) sauce (spicy or white) and with the option of fries (rolled into your pita bread). Once you bite into this little delight, your first reaction is that you want to order another one (which is usually what you will end up doing) and your second, you will realise that you can actually count the 3,50 Euros in coins that you are handing the gyros maker; yes my friend, you are on your way to sobriety. Here's my take on the Gyros:
Gaga for Gyros: Chinese marinade beef with Blue cheese potato croquettes with thai chilli sauce and served with a light salmon and avocado ceviche.
Prep: 
Beef: 250g per person of striploin, rib eye or tenderloin marinated in 1tbsp soy sauce, 1 dash lea perrins, 1 tbps balsamic vinegar/glaze, ½ tbsp oyster sauce, cumin, paprika, nutmeg, mustard seed, 1 diced onion, 1 clove of garlic, salt and pepper.
Filling: Chop 1 tomato, a couple of lettuce leaves, 1 onion, basil leaves.
Tzatziki: 1 greek yoghurt, 1 chopped garlic head, ½ cucumber, juice of 1 lemon, salt and pepper.
Red Pepper Spaghetti: The end product is in the video, didn't explain it though. This is just really to add some texture. So not compulsory. Take a can of pimientos, boil it in water. Use a grinder to turn it into a soup, strain, boil the liquid again. Add gelatin quickly fill a syringe and a plastic tube, insert the contents. plunge tube in ice cold water, wait 3 mins. Fill the syringe with water and press out in the tube until your solidified red pepper spaghetti comes out :)
Potato croquette: Boil then mash 2 potatoes, add fried garlic in 100grs butter (2 cloves), 100grs blue cheese, fresh parsley, nutmeg, salt and pepper to taste.  Roll out 2 inch large balls, dip in whisked egg and cover with flour.
Salmon Ceviche: 1 cut kesong puti (or feta ~ 100 grs), fresh basil, fresh walnuts, fresh coriander (all chopped), freeze  raw salmon with no skin or bones (300 grs) in tight cling wrap then cut it thinly in long strips, juice of 2 calamansis, juice of 1 lemon, 1 small chilli, 1 tsp of muscavado sugar lemon zest, ground ginger (1tsp), ½ avocado sliced, 2 diced shallots, salt and pepper to taste. Mix all together.
Cook:
Spot Fry garlic in high heat with olive oil until brow (medium), flambee, fry croquettes in olive oil until golden, heat pita in skillet. Cook the beef in a hot skillet with olive oil very quickly, just to caramelize the exterior, remove and sever immediately. Open pita place in 3 spoons full of tzatiziki a hand full of the filling. Place beef and croquettes on top, drizzle with thai chilli sauce (bought in stores). Dress with paprika and some of the ceviche.
Stop. Admire. Eat! 
Next week preview:  " I was lucky enough to have a layover in Tokyo one day on my way to Russia. It's early in the morning (1.30AM) there are bunch of restaurants in the airport and I was in heaven; me and Japanese food are in an intimate relationship you see. So I see this sign Okonomiyaki…….."