Chocolate and Cream – The Slutty Food
Most people have a torrid love affair with chocolate, luckily enough, i am not one of them. I do not have a sweet tooth, nor do i ache for a dessert after every meal, i remain content with a coffee or a glass of wine. However, i absolutely love to cook with chocolate, strange i know, but fact nonetheless. As i say in the video, it is probably one of the most forgiving ingredients, to expand on this, unlike desserts that have for components fruits, flours, eggs… when melted chocolate is involved you can basically add anything to it without altering its viscosity or the texture/density it has to be at for the dessert to turn out properly. I know the bakers or pastry chefs out there will say that is complete BS, because they will be citing tempered chocolate and under such delicate goods as examples. Good thing I'm not talking about that, I'm talking about chocolate desserts you would make at home. Some of favourite combinations include: citrus, pepper, chili, ginger, paprika, salt, caramel…
My one guilty pleasure that lurks in the grim places of my mind is ice cream. I love the stuff and I'm waiting to find the perfect ice cream machine before i delve into why i love the body persecuting stuff. Just as a preliminary warning though, beware, once I have that machine, this site will be filled with weird ice cream combos.
The next best thing, would be simple cream (not iced), which is almost as great. As a kid, i loved cream where the vanilla beans where physically present, the richness of it can just bring me back to that simpler time. Cream also reminds me of christmas for some reason, I don't know if it's because of all the TV shows brainwashing me with the thought of Egg Nog being an essential beverage during the season or my mom's creme brulee, a dessert that i associate with festivities. Well for one, being from a French father, Egg Nog is a ridiculous concept, so it's probably the creme brulee. In short, eggs + cream made sense to me at a young age. In France, during the winter season, we indulge in Marrons Glaces (Iced Chestnuts), which are basically chestnuts that have been soaked, cooked, coated in a coma inducing sugar syrup.
If you are actually reading this (god, i hope you are), you are probably asking yourself right now, "what is this fat kid going on about?". Well, i just wanted to show you my weird and time travelling thought process that usually happens prior to coming up with a dish. Chocolate and Cream to me are slutty because they go with practically everything, making this recipe a now essential part of your arsenal, in those "shit, i need to make a dessert now" moments.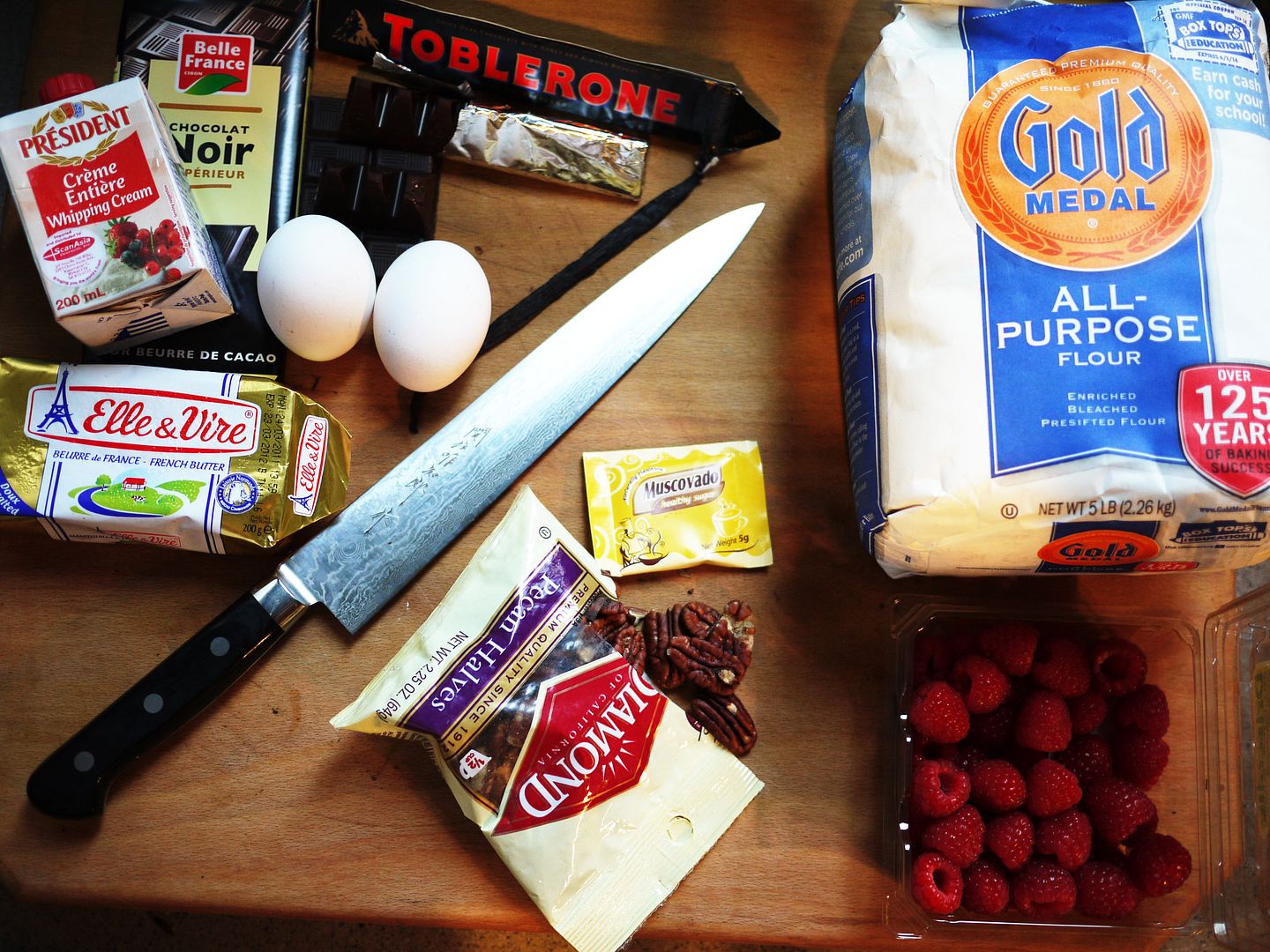 Dark Chocolate Peppered Toblerone Fondant with Creme Anglaise aux Marrons
Serves 2
Creme Anglaise
1/2 Cup of Milk
2 tablespoons of Full Cream
15 Grams of sugar
1 Vanilla Bean
2 egg yolks
1 tablespoon of crushed chestnuts
Split vanilla bean and scrape out seeds to add to your cream + milk mixture and bring to a boil.
Beat egg yolks with sugar until the mixture becomes pale.
Slowly pour the cream mix into the eggs while whisking quickly. Put into a pot.
Put the pot on top of another pot of boiling water (double boiler). Stir constantly in an "S" shape to make sure the bottom doesn't scald or the eggs curdle. Once the mix is thick enough to cover the back of your spoon, it is ready. You can strain the mix to make sure there are no unwanted bits in there. Whisk in the chestnuts and let sit cool.
Chocolate Fondant
50+10+10 grams of butter
50 grams of toblerone (dark)
25 grams of sugar
20 grams dark chocolate unsweetened
3 tablespoons of flour
1 pinch of salt
1/2 teaspoon of pepper
1 egg
Melt 20 grams of dark chocolate + 25 grams of toblerone + 50 grams of butter + salt, in a saucepan in a double boiler. Heat your over to 200 degrees c.
Butter and Flour your ramekins with 10 grams of butter + a little sugar +  a little flour.
Whisk Egg + Sugar until combined and pale in colour and add flour.
Combine chocolate mix + egg mix. Now called chegg mix (choco+egg).
In a saucepan put the rest of the 25 grams of toblerone + 10 grams of butter + pepper and melt over the double boiler. Now called the Pech mix (Peppered+choco)
Take you ramekins and fill them half way with the Chegg, then add a tablespoon of the Pech and cover with the rest of the Chegg. Ramekins should be filled to 3/4.
Put in the oven for no more than 10mins, once they start cracking they are ready. Delicately flip ramekins with a help of a board and serve immediately with your creme and some rhasberries or some roasted pecans.
Enjoy!