Chicks and Bricks
I really wanted to change the theme of my dish this week but the weather had other plans. Once again, I present to you one of those dishes that exudes comfort and that recurrent warm fuzzy feeling associated to rainy days.
I've been somewhat obsessed with roast chicken the past few months, searching it out in menus and looking up recipes in magazines. What attracts me to this preparation, is its diversity. A roast chicken can be found in most brasseries or bistros in Paris, a Michelin star in England or a street hawker here in the Philippines. When a roast chicken is well cooked, regardless of the recipe or the establishment it always hits the spot. It's one of those dishes that translates internationally and makes lots of us loyal non-vegans happy everyday. There is also something so extremely primal about putting a chicken in a heated environment and tearing off that juicy leg before chomping down on it.
This recipe is so simple it hurts, i actual didn't do much editing with this video, to show that in 20 mins i can get this meal ready. It's one that's great for family lunches or for a last-minute diner when your friends forget to tell you they are coming better. The sage and thyme give such an awesome to the tender meat and the baguette soaked salad, inspired by the bread dipping my father religiously carries out after a meal drenched with sauce, will bring a smile to anyone's face and unbutton a few trousers. I love the textures, colours, flavours in this recipe because they create such an authentic experience. And as we are all aware, or should be aware, authentic is the new trendy. We are looking for our roots and i suggest we start right here, with the food we feed our souls with.
I apologize for the increase in chicken slaughtering/consumption this video may cause.
Peasant Roasted Sage and Thyme Chicken with Rustic Soaked Baguette Salad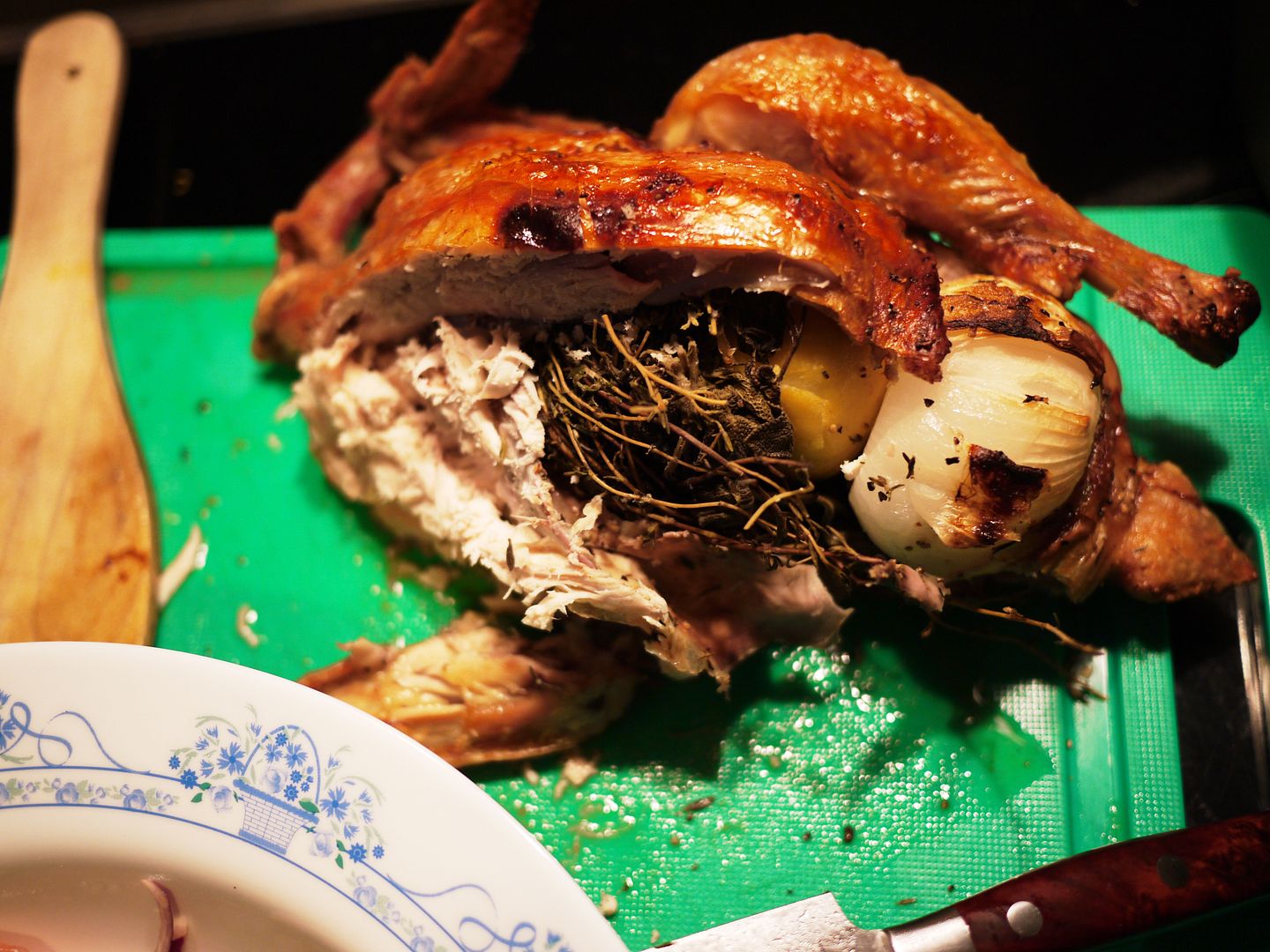 Roast chicken
1 free range chicken
3 tbsp Butter (not room temperature)
Generous Salt and Pepper
1 bunch of thyme
1 bunch of sage
1 white onion
1 lemon
1 whole garlic
rub the chicken with salt and pepper all over including cavity. Remove from the fridge 30 mins before preparation
Boil lemon in hot water for 10 mins.
Insert herbs, 1 tbsp of butter, crushed garlic clovers (skin on) and lemon (poke holes all over it) into the cavity. Close it up with the onion.
Preheat oven to 250 Celsius.
make 15 little slits between the skin and the meat all over the chicken and stuff it with the remaining butter. Pat chicken dry with towel and smear a little more butter all over the chicken.
Place on an oven rack with a pan below. Once oven door closed reduce heat to 200.
Cook for 45-60 mins or until 170 Fahrenheit inner meat temperature, basting once at the 30 mins mark, using the drippings or flavoured olive oil.
Remember i can't see your chicken, depending how big, cooking times will vary, use common sense, if it bleeds put it back in.
Once you've carved your chicken, put all the ingredients that were in the cavity and place them in a cheese cloth, squeeze the life out of them and put all the juices on top of the chicken.
Rustic Soaked Baguette Salad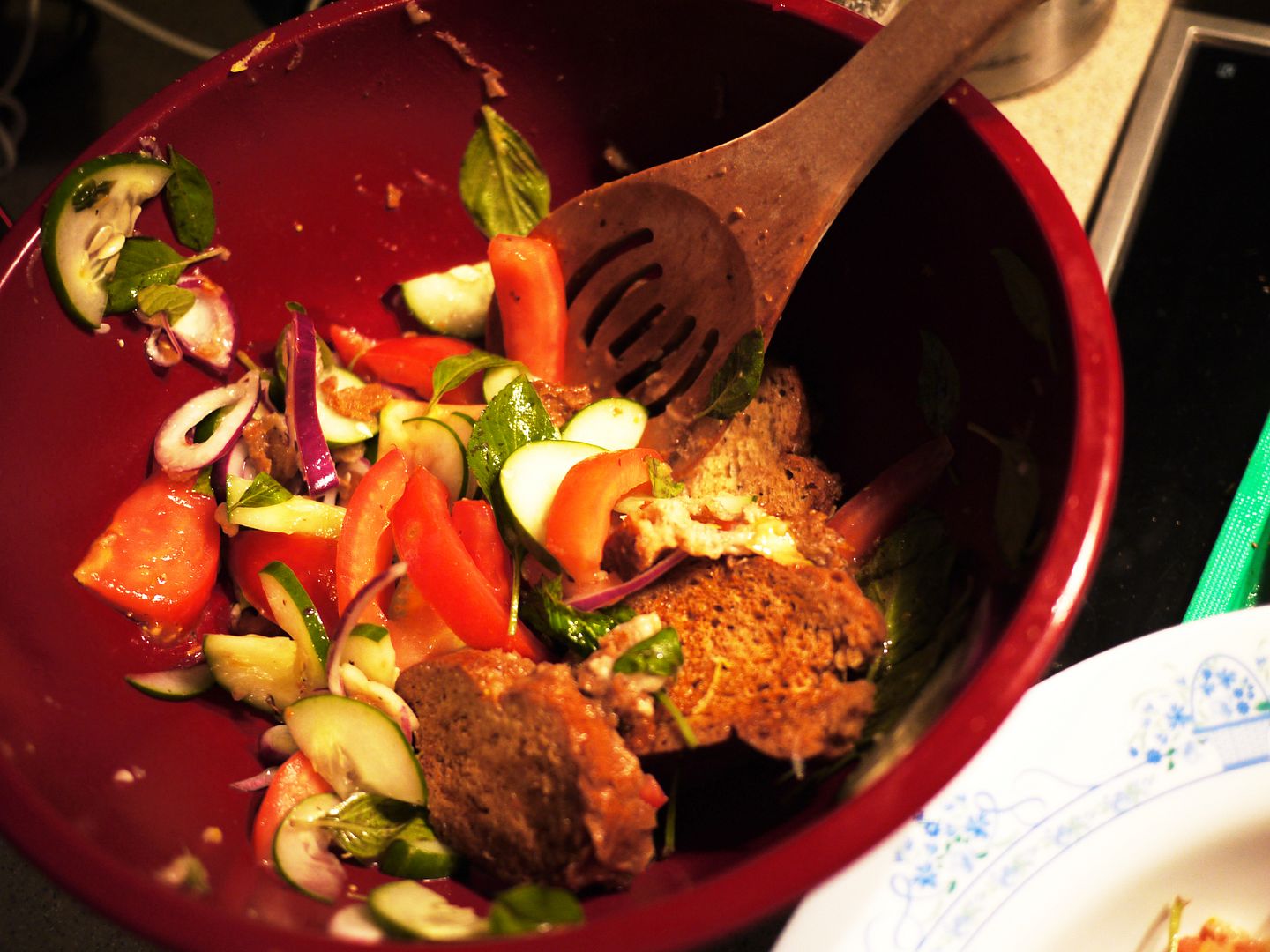 2 large heirloom tomatoes
1 medium red onion
1 cucumber
juice and rind of half a lemon
3 tbsp of olive oil
1 1/2 tbsp of jerez vinegar (to taste)
salt and pepper.
1 half whole wheat baguette (or other bread, 12 slices needed)
1 cup of sweet basil
Cut tomatoes and cucumbers, add sliced onion and mix with olive oil, vinegar, a pinch of salt and pepper and basil. Let sit in fridge.
20 mins before the chicken is cooked, add the bread slices to the pan below the chicken and make sure they are well placed to absorb all the cooking juices.
They should come out crispy and wet.
10 mins before serving add the bread to the salad and toss around.
Add lemon rind and juice, as well as more olive oil, vinegar or salt and pepper needed.
Get ready to embark on your chicken love story.
Soundtrack:
Jamie T – Money
Airborne Toxic Event – Changing
the National – Exile Vilify
The civil wars – i've got this friend
Joan As Police Woman – The Magic
Mayer Hawthorne – A Strange Arrangement