Blue Marlin with a quick (cheaters) Dahl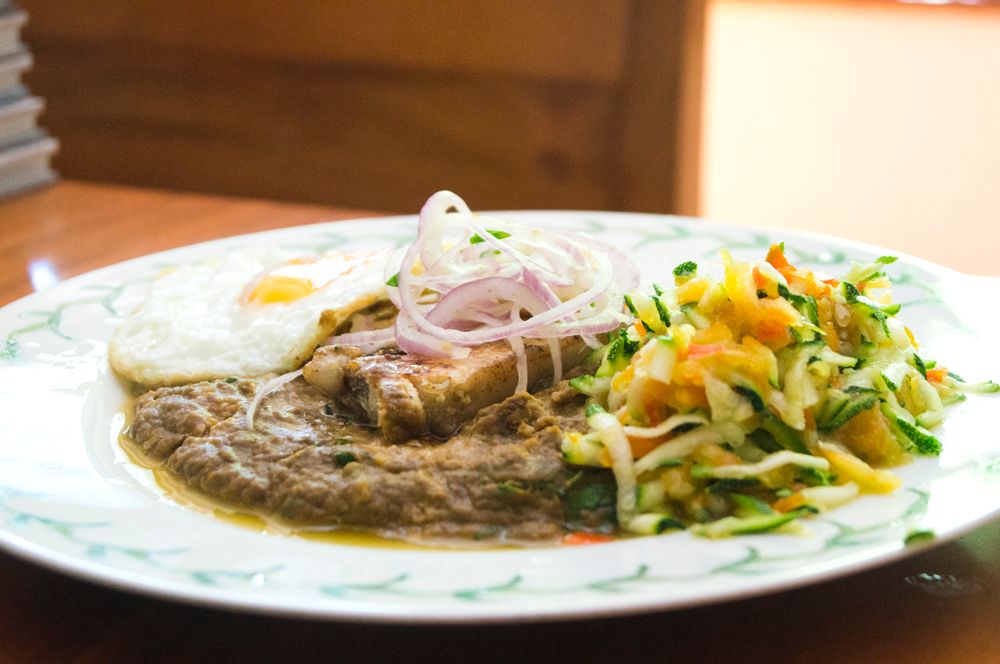 Many people may notice that I enjoy substituting ingredients. I do this for three reasons. Firstly, sometimes it is quite difficult to find certain ingredients here locally that we are obliged to adapt and find a replacement. Secondly, I believe that, like in life, it is important to adapt to any situation. I find quite difficult to follow regimens that are extremely strict and I much rather a smart approach to eating. As you've noticed by now I enjoy eating everything and I also enjoy eating healthy, therefore substitution is a good middle ground between both of them.
Finally, I like variety; I find it boring to always eat the same thing. This is my problem with "essential" carbohydrates (i.e rice, bread, grains, wheat…) that plagues many countries in the world. In the Philippines for example everything is served with white rice, while I've already expressed my opinion on why you should reduce or remove your rice intake if you are looking to be healthy, that's not my only qualm. I feel that if there is a staple on a certain diet that is so prevalent and omnipresent, it leaves no room for exploration with other ingredients. If rice wasn't so "important", maybe we would have more vegetable vareties in restaurant menus or maybe we would be able to purchase a wider diversity of roots and vegetables from our supermarkets because the demand for them would be higher.
In a nutshell, this is why I believe in substitution.
If you are looking to lose weight and get healthy, do me (and yourself) a favour, substitute the following ingredients with the following replacements. Start tomorrow, do it for one month and tell me about your progress.
Whoever does this and sees results, I will post your story on the website.
Rice
Potatoes
Sugar
Soft Drinks
Oatmeal
Bread
Juice
Frappuccinos
Milk Tea
Ice Tea
Deep Fried Food
Vegetable Oil
Noodles (any kind)
Beer or any kind of alcohol
Any dessert with flour or sugar
Cream
Chips

Vegetables
Sweet Potatoes
No Sugar (Fine, Stevia)
Water
Fruits
Fruits or Vegetables
Fresh Fruit Juice (no added sugar)
Coffee (Iced but with no sugar)
Tea (Iced but with no sugar)
See above
Grilled or Steamed
Olive Oil
No wheat, gluten free noodles
Red Wine
Fruits
Coconut Milk
Nuts
You get the gist of it, if I forgot something unhealthy that we encounter daily, just replace it with something smart.
(I forgot to say that most flour needs can be replaced with almond or coconut flour)
Here is a dish I made today in 15 mins during lunch a while ago. Instead of rice, I used a quick shortcut to a Sri Lankan Dahl made out of Lentils.
For the people who always say to me: " but I worked out I can eat anything I want right? Like Rice, because I need the energy!!"
I say to you: "I ran 10km worth of intervals this morning, worked about 9 hours and then I have a crossfit class later tonight. Guess what? I'm still alive and still have the energy to do more should I need to."
Stop complaining J you are the only thing coming between how you are now and what you want to achieve.
Blue Marlin with a quick Dahl
Fry off 2 tbsps of chopped garlic, 2tbsp of chopped ginger, until slightly brown.
In a blender put one can of cooked lentils (1 cup), 1 tsp of curry paste, 1 tsp of garam masala (or turmeric), 1/3 cup of coconut milk, cooked ginger and garlic, pulse together. Place back in a pan on medium and let thicken. Add in 2tbsps of chopped basil, salt and pepper. Mix.
Take your blue marlin fillet and cook it in 1tbsp of grapeseed oil and 1 tbsp of butter, with 3 cloves of crushed garlic and 3 bruised lemongrass stalks. Salt and pepper. Cook until cooked through on medium heat. Baste with the oil from time to time.
Grate 1 whole zucchini, grate 1 whole red banana pepper, mix with a half of a lemon, salt and pepper, 1 tsp of red wine vinegar, 2 tsps of olive oil.
Plate and enjoy. (add very thinly shaved red onions on top of the fish when serving, oh and a crispy fried egg if you want to as well)