Beef Salpicao with Roasted Garlic and Buttered Vegetables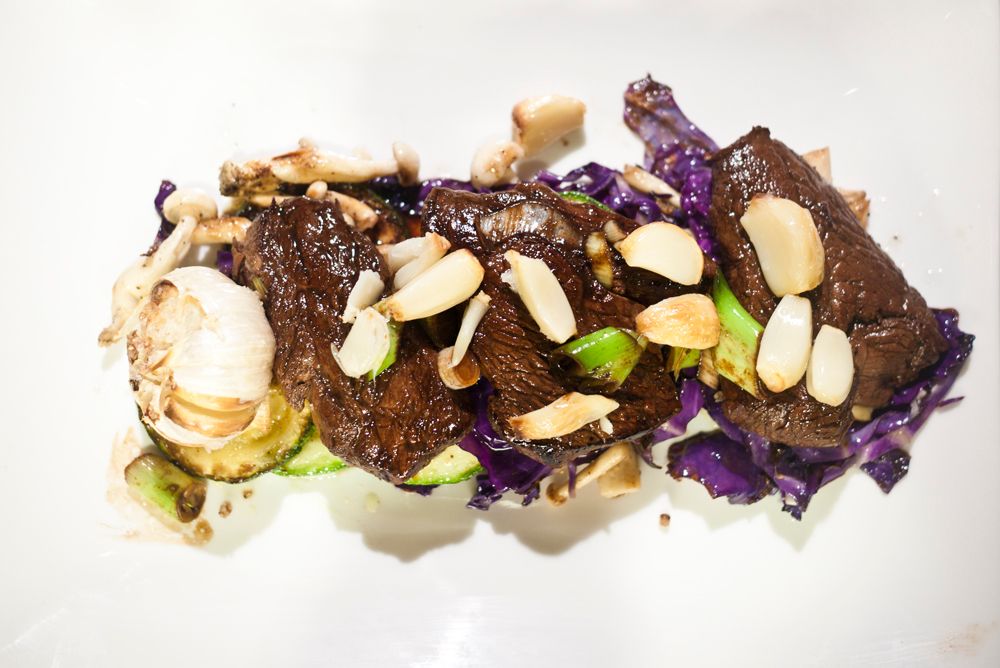 Beef salpicao is one of those dishes that always hits home for me. Take some good quality meat, salt it with some soy sauce and then finish it off with strong garlic. It is a typical filipino dish, however it has so many variations, it's hard to keep track of all of them. As i've said before, traditional cooking is not about having one mother recipe and then following that to the bone. I guess that can only be the case with recipes that are known to have been created by one cook only (like a Caesar's Salad for example). However with recipes that just came to be (most Filipino dishes), the most important part is to get the flavours right and then the technique or intricacies are yours to play with. Look at what the Australian's are doing; using fresh ingredients with certain techniques and flavours, which they coin as Australian cuisine. From that point on the possibilites are endless. I believe that Filipino food is an assembly and interaction of flavours, the rest is up to your interpretation. So here is my take on a simple Salpicao.
Beef Salpicao with Buttered Cabbage and Vegetables
Click more
These instructions are clearer if you actually watch the video.
For 1 very hungry person or 3 female models
Marinade:
200 grams of Top Sirloin sliced into thick pieces
1 tbsp of soy sauce
1 tbsp of worcestershire sauce
1 tsp of paprika
1 tsp of cayenne pepper (optional)
cracked pepper
Marinade the beef for 2 hours or overnight. Fry at high heat until well browned on both sides (about 1min 1/2 per side depending on the thickness of the meat or until medium rare). reduce the heat completely, add in rest of marinade and 2 chopped baby leeks.
Two whole garlic bulbs, sliced tops, washed, drenched in olive oil, salted and roasted in a 200c oven for 15mins or until soft.
Stir fried vegetables in olive oil in batches: round slices of half a zucchini fried until browned, season, then fry a handful of japanese mushrooms until browned, season, then fry off 2/3 cup of sliced red cabbage with a tsp of butter until soft but with a little bit still, season.
Assemble everything together.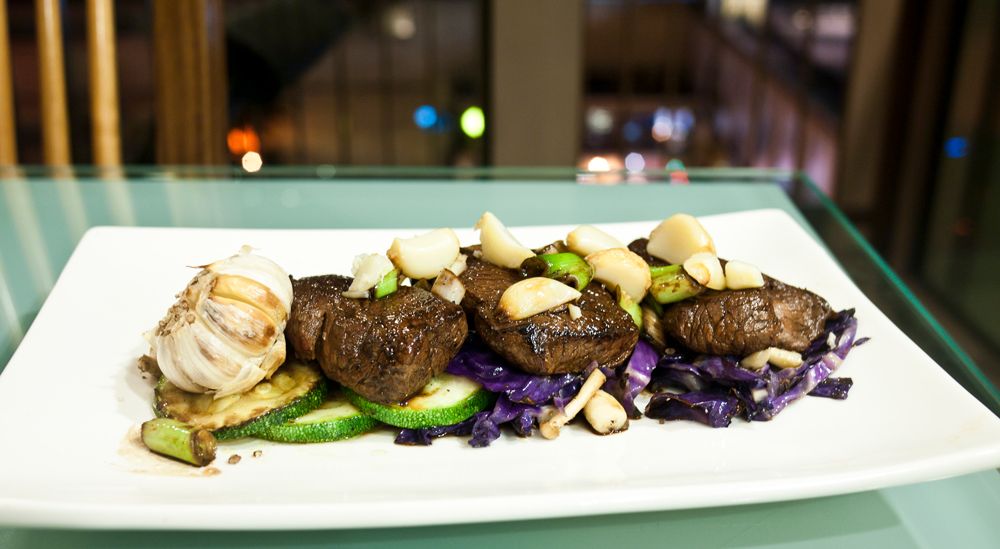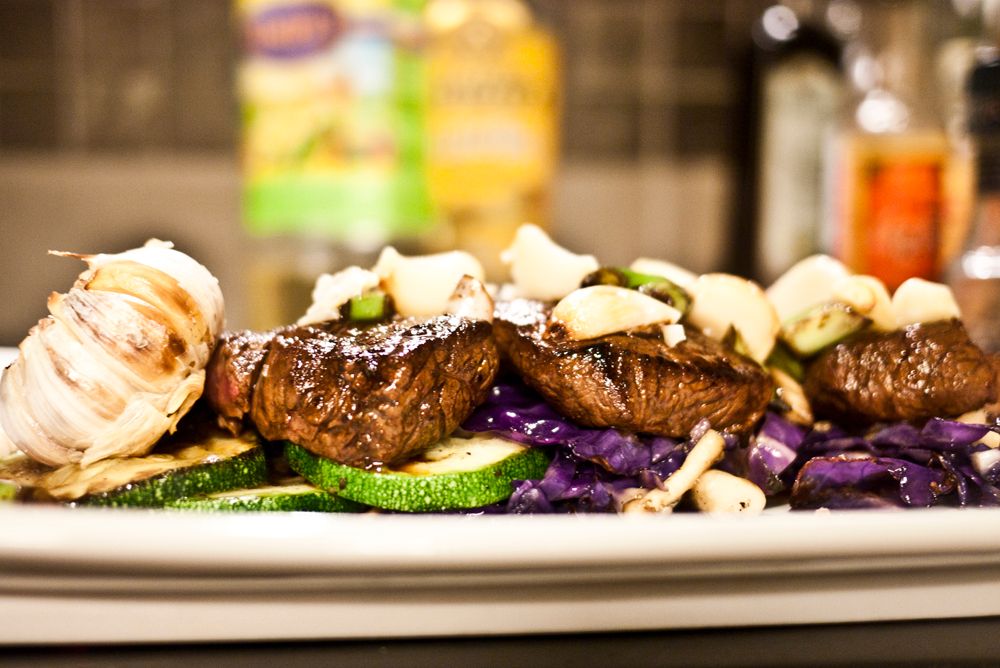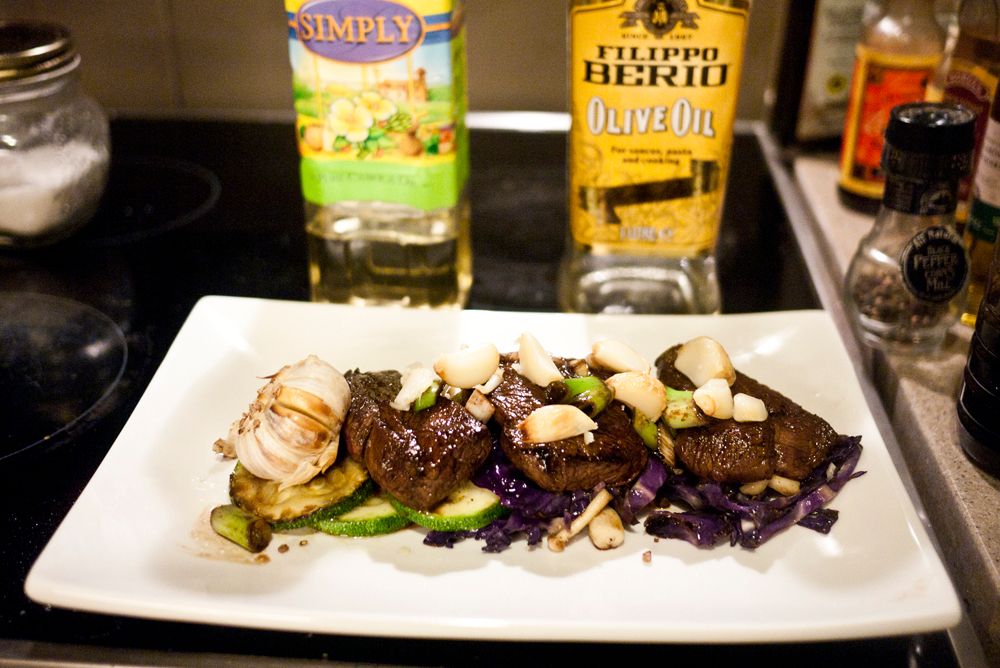 SONG: Baby, covered by Ariel Pink's Haunted Graffiti