Baby Anchovy Spread (Mini Boquerones)

Bread is one of those things that are difficult not to like. From the moment of its conception to its baking, the smell, feel and sound of it, is just so pleasant. Asides from being an international staple, it also comes in quite a variety all around the globe. Personally I prefer a nice sourdough, whole wheats or multi grains, not only for the health aspect but simply because it has more complex flavours and textures.
Regarding this health aspects, it pisses me off, excuse my nationality, when people say that they don't eat carbs or are on very low carb diets "except for wheat bread". Ok my friend, wheat bread and white bread pretty much have the same carb content (just like any starch white vs brown), the major differences are things like fibre, vitamins, etc…  If you are serious about being on a diet, or if you really want to lose weight, it is not something you can just decide to do, you need to READ and GET INFORMED. With discipline, rigidity and education comes success. This applies to everything, weight loss included.
Moving on, the other aspect of bread I so adore is all the different things you can do with it, sandwiches (the love of my life), bruschettas, pain perdu, salads and use them as a vehicle for spreads and pates.
In the markets here in the Philippines, we come along some strange ingredients that sometime leave us perplexed as how to use them. The other week my mom picked up some dillis which are basically baby (tiny) anchovies caught in rivers. We then remembered that there was this spread made with them, that was simply so authentic and delicious using Filipino flavours.
Upon tasting it, it reminded me of one of my favourite Spanish Tapas, Boquerones, so what i wanted to do is try and merge the two. No this is not fusion food. This is just seasonal food, borrowing from different cultures.
Mini Baby Boquerones Spread
Makes 1 big Jar, keeps for 2 weeks.
Ingredients
–          500 grams of baby anchovies
–          ¼ cup + ¾ cup super duper extra virgin olive oil
–          8 cloves of garlic
–          4 tiny shallots
–          1 red onion
–          6 cherry tomatoes
–          1 cup of black pitted olives (not greek or dried)
–          Juice of 1 lemon
–          ½ cup semi-dry white wine (rule of thumb is don't cook with what you wouldn't drink)
–          1 cup of Palm Vinegar
–          Salt and Pepper to taste.
–          Dried Rosemary or Bay Leaves
–          1 Red Chilli
–          1tsp Red Chilli Flakes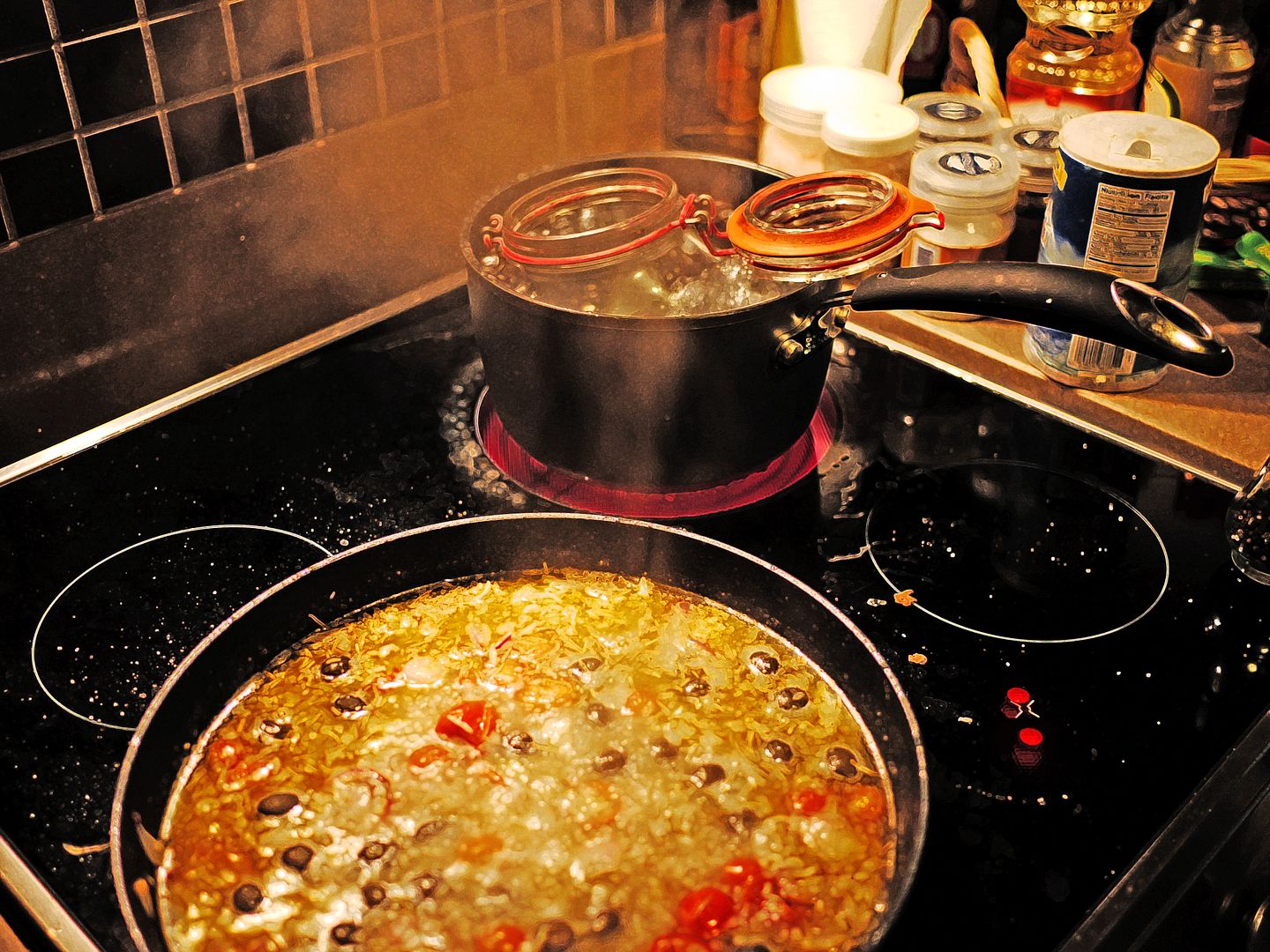 Boil Glass Jar for 30 mins.
Strain your baby anchovies with running water and then strain again a cup of palm vinegar, until the fish becomes slightly looser and loses its initial smell.
In ¼ cup of olive oil fry off your sliced garlic, diced onions, whole shallots, sliced cherry tomatoes and black olives. Do not colour just let infuse and soften on medium hit.
When slightly caramelized add your anchovies and mix well.
Add lemon juice, rosemary, chilli flakes and a whole (punctured) red chilli.
When you see that the mix has dried up slightly, reduce the heat to low and add the rest of the olive oil and let simmer for 5 mins.
Leave it cool down overnight in the fridge before using.
Serve with pasta, whole grain breads, tomato salad, chips or whatever else you like to dip or top.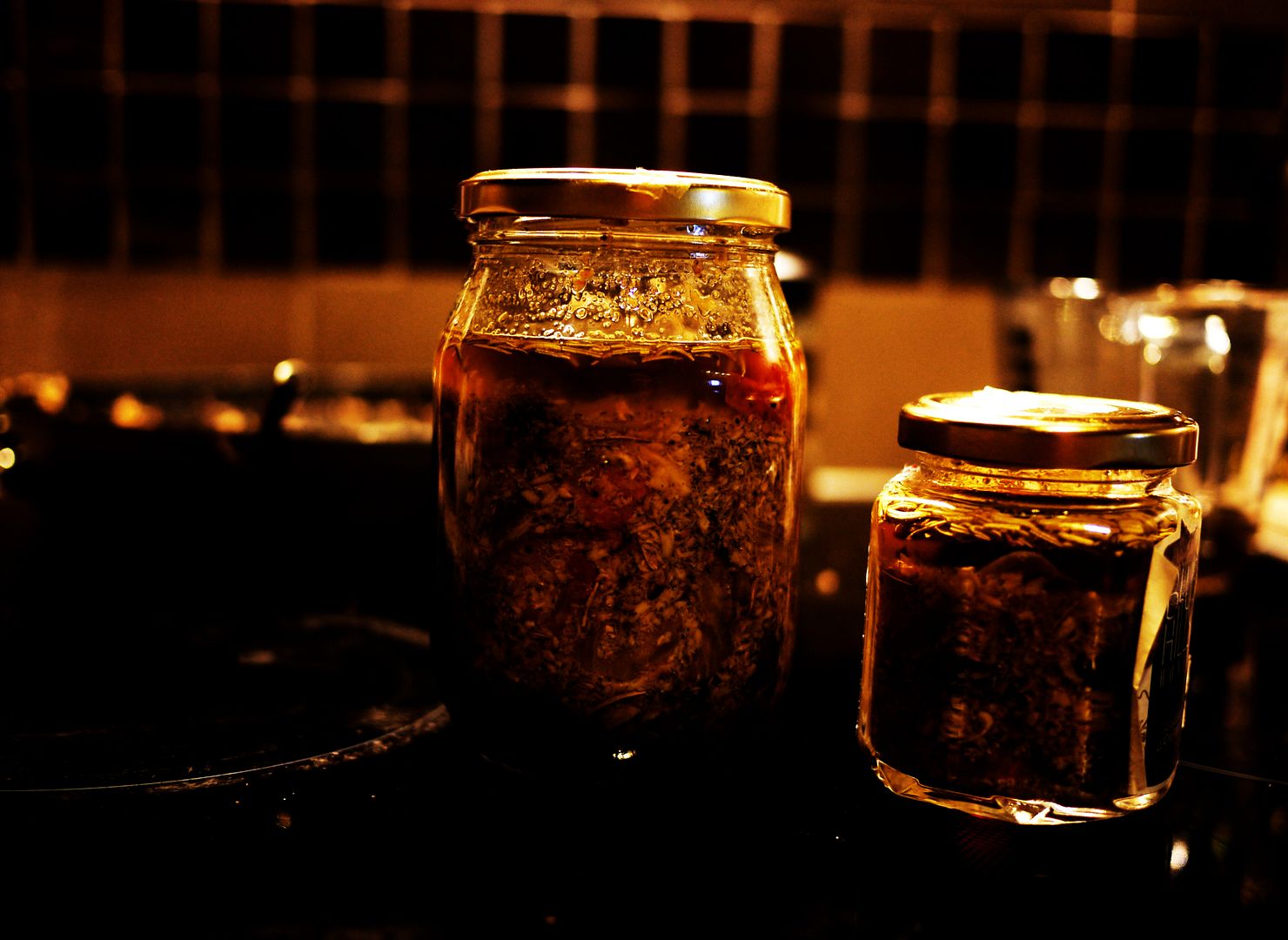 Great Dish to serve at parties and when inviting people to your house; you know those moments where everyone is trying a dip or a spread and goes, wow where did you get this (because its nicely presented in a jar or something) and you wish that you were able to keep it at secret? We all feel that way don't worry. Well now you can say you made and no one can copy (unless they also read my site, which would be an awesome conversation starter by the *wink*).
Just remember next time that you are in the grocery, when you pick up something pre-made, stop, drop and roll and ask yourself if it's something you can do from scratch at home?
Enjoy!!!!!!!!!!!!!!!!!!!!!!!!!!!!!!
The Fat Kid Inside.