Summer Pairings: Asian Chicken and Cabbage Salad with a Berry Purple Basil Mojito

It's getting hotter every day not only here in the Philippines but probably also in the western hemisphere, given that the term and intensity of the heat may vary, hey let's just be happy that it's not rainy season anymore (for us) or winter (for the rest of you).
When I think summer; I'm reminded of days spent in a dazed like state lingering fool heatedly and with absolutely no purpose around a lake, or splashing around in the open sea tasting the sea crystals form on my lips or even shouting as loud as my lungs can carry into a wild array of nothingness at the top of a mountain with a breath-taking view of an society empty valley.

On the other side of the spectrum copious amounts of freshly and expertly prepared cocktails and light fresh food come to mind. Since a lot of you have asked me about more chicken recipes (which proves that this is possibly the most researched ingredient since it's so relatable), here is another great quick salad that draws inspiration from our friendly Korean neighbours and mixes in a whole lot of Asian fraternal love. What screams Korea (insert taekwondo shout here) for me is the use of sesame oil and black pepper, don't ask me why but it just does, probably because of the sauce they usually serve with their grilled meats, so I try to focus on this flavour profile here.
To wash it down, I show you how quickly a great cocktail can be made, even while your dish is cooking. All this to prove that being lazy and making good food/entertaining this summer will not be hard if you follow simple steps.
This is the type of dish you can make for a bunch of friends and place the food in fun takeway containers (even if you are at home) with some packaged chopsticks; and place the cocktails in a large pitcher with a big block of ice, trust me, they will be really impressed with the attention to detail and the will to please.
On the next posts I will make a fish dish since we are from the islands after all. I guess people don't eat as much fish because it can be quite (a smelly) hassle to cook at home and to clean up after. But I simply adore fish and will go through the trouble anyways; to make my tummy happy, as well as my readers.
Summer is of course never complete without great music, and since i'm so incredibly excited to see THE Morrissey live on May 6 here in the Philippines, so random!!!! but i love it!!! i decided to use only Morrissey songs (and some The Smiths songs), in this video.
Asian Chicken Barbecue Cabbage Salad
Marinate your 2 pieces of chicken breast filet with 1 tbsp of soy sauce, 1 tbsp of oyster sauce, 1 tbsp, of rice vinegar, ½ tbsp. of brown sugar and a little water. Let sit for an hour.
Shred 1 ½ handful of white cabbage, slice ½ of a white onion and toss together.
Fry the cubed chicken breast in 1 tbsp of peanut oil until caramelized and tender. Season.
Fry 1 handful (1 cup) of Japanese brown beech mushrooms (Buna Shimeji) in the same pan as the chicken until tender and colored. Season.
Toss the cabage with 1 tbsp of sirracha, 1 tbsp of sesame oil, lots of black pepper (2 tsps), salt and 1 tbsp of rice vinegar. Plate up. (you can add some fresh watermelon cubes to the salad, it'll take it over the top, I was supposed to, but forgot, and then got lazy to reshoot it)
Garnish with some Kimchi, Cucumbers with a little Agave Syrup and some Mustard Leave Sprouts.
Berry Mojito with Purple Basil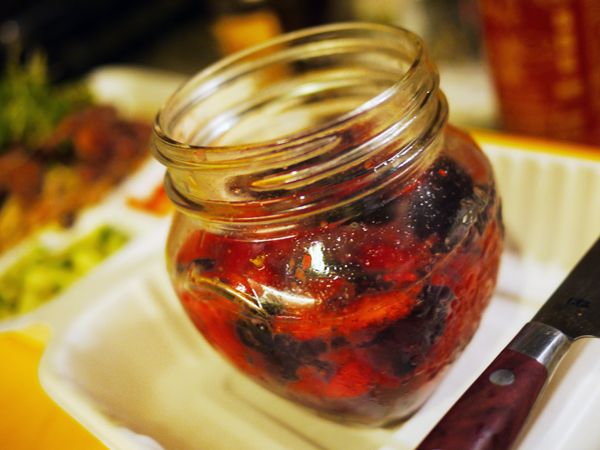 Prepare your simple syrup. ½ cup of sugar with ½ cup of water. Simple. Boil until thicker, like maple syrup, but still transparent. Let cool.
Take a glass, place in 1/3cup of frozen blueberries, ½ cup of frozen strawberries, muddle with 2 shots of aged amber rum and a couple of basil leaves (purple here) or some mint leaves.
Add in 2 tbsp of simple syrup and 200ml of tonic water.