For the Very First Time: Cocktail Thursdays R-18
Save me the gasps of shock.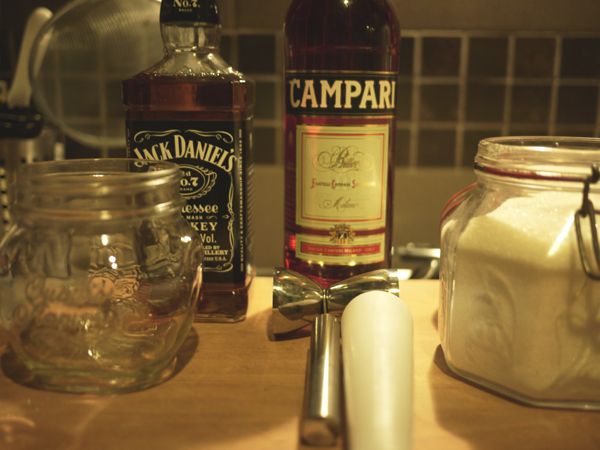 I know i preach a healthy lifestyle all the time, but for those who deserve it, those who have reached their fitness goals, its ok to give in to the dark side a little. In school i took 4 years of Wine/Alcohol Tasting and became very passionate about drinks in parallel with food, because drinks, like food, are a combination of intricate flavours that when mixed wrong, go very badly, but when controlled correctly can be perfect sips of heaven.
So where do we start? As i always say, the basics. Hey, if you are going to cheat, make sure its with the good stuff. I get extremely fustrated that most bars locally, do not know how to mix a cocktail, the rule of thumb in Manila is, the sweeter it is the better; I die a little inside; so that cocktails take on this reputation of being for ladies only and are basically sugar bombs, which are terrible for your diet. So if you're going to indulge sometimes, make sure you do it properly, and keep it to one glass only!!! (and you better be 18!!). Get to know your aclohol and the different mixes, it'll make you a more well rounded individual and you can even start pairing these drinks with food and surprise your next dinner guests.
I want to start with Whisky and it turns out i've already written about this spirit in the Esquire Philippines blog, esquiremagazine.ph
Read up:
"
To start you off, let's discuss whisky and whiskey. The addition of the "e" can seem quite childish, but we all know alcohol isn't child's play. Like winemakers, whisky producers are quite proud of their craft, thus create laws and restrictions to be able to identify exactly how/where/when and with what a certain whisky is made. The "i" et "e" is the first of many distinctions, simply stating that whisky comes from Scotland, France or Japan and whiskey hails from Ireland or the USA.
Secondly, it is good to know about how the stuff is made. Whisky generally is made of 3 basic ingredients water, yeast and grain (barley, wheat, corn and/or rye) that go through a five step process: Malting (germination turning the grain into the malt), Mashing (Mixing with water), Fermentation (Yeast turns sugars into alcohol), Distillation (condensing and splitting the alcohol, could be done multiple times) and Ageing (in oak casks).
The following glossary will hopefully be of help when buying or selecting your drink and assist you in making a knowledgeable decision; also you wouldn't want to look like an idiot when an acquaintance asks you 'why you prefer single malt over single grain' in front of your date.
| | |
| --- | --- |
| Grain Whisky | Made of different grain |
| Blended Whisky, Blended Malt, Blended Grain | Mixed from various distilleries |
| Vatted | Different casks from one distillery |
| Single Malt, Single Grain | Any Grain or Malt Whisky from one distillery |
| Scotch | Scottish Whisky |
| Bourbon | Whisky from Tennessee with at least 51% corn |
| Single Casks | From one single cask |
| Single Barrel | From one single barrel (US) |
| Rye, Wheat Whisky | At least 51% of either ingredient |
| Corn Whisky | At least 80% corn |
| Malt Whisky | Made only from malted Barley |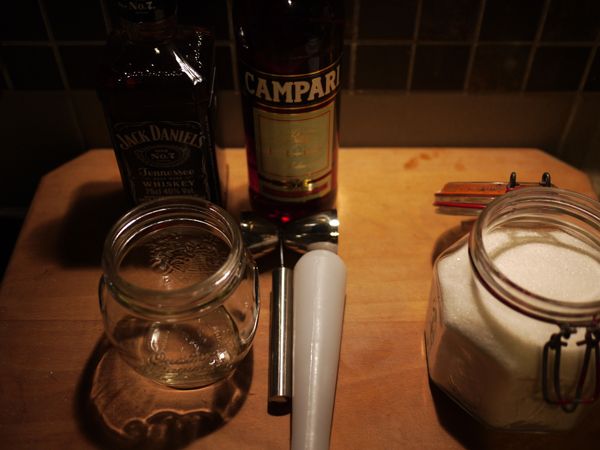 The Whisky Cocktail every man should be drinking:
The Old Fashion
Stray away from your boring beer and wine nights, try something different and become a cocktail convert; it's about time.
Instructions
Place a sugar cube in an Old-Fashioned glass (im using a jar). Wet it with 3 dashes of Angostura bitters and a small dash of water or club soda. Crush the sugar with a muddler. Rotate the glass so that the sugar grains and bitters make a lining. Add a large ice cube (or whisky stones). Pour in the rye or American bourbon. Add a stirrer.