Summer Nights Cocktails – Molly's Irish Cream Liqueur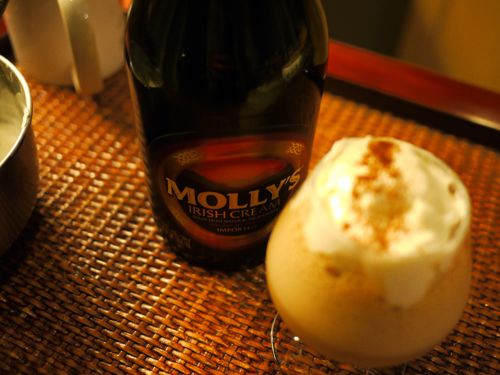 Every year, March 17th, marks a day which is celebrated with lots of drinking, cheering, merry laughter and square dancing? St. Patricks Day. I know that was like 2 weeks ago.
This year St. Patrick's Day flew by me without so much of a pause; it must have been because of a jam packed schedule, trying to fit in all the elements of my slashed life. If you are all wondering, and since most of you do ask me, I'm a Supply Chain Manager and have the lead of Marketing/Brand Management of a Integrated Logistics/ Manpower/ Industrial Catering/ Support Services Company (even the company I work for has slashes) – Newrest SOS, so that keeps me busy 6 days a week, 9am-7pm, I'm also the Food and Drinks Contributing Editor for Esquire Philippines, recently I've been starting to get hired to work on some Food Related projects (videos, podcasts, apps, promotions..) and, obviously, I'm The Fat Kid Inside.
I take all these different functions very seriously and try to balance it out with my personal life: making time for loved ones (most important!!), time to train for my triathlons (work out super early before work and the late before dinner after work!), prepare and eat healthy food and still have a social life. Life seems short for those who don't plan; but since I do plan, I somehow manage to make it work and have some much need R&R from time to time.
The way I kick back is usually with a nice glass of red, a satisfying meal and a good book, after a hot and refreshing shower. When I asked everyone how old they were, on my Facebook account I was surprised to find out that a lot of my readers are female and in the 18-35 bracket. So, ladies, this post is for you, and instead of boring you with wine, I'll show you a recipe for a creative cocktail perfect for these warm summer nights.
So going back to St. Patrick's day and luck of the Irish, one thing we are sure of is that they know how to throw a party: which other country can say they created an international recognised day that celebrates drinking (except for us French with the Beaujolais and the Germans with their Oktoberfest).
So today, in honour of the small and often forgotten island, we will be using Molly's Irish Cream Liqueur, a soon to be introduced, imported, high quality and more affordable cream liqueur that is the perfect Ladies Drink. You'll be able to find it in most wine shops/bars around the Metro, for a nifty little price of 600-650php a bottle.
The new brand is being launched in the Philippines with Angelicopter as the ambassador: a known radio DJ, she also recently joined Survivor Philippines, and she is a host/sportscaster for the PBA.
See video below:
I try to use products that are affordable and accessible to everyone which is why I decided to use Molly for this week's Cocktail Post. Watch my video below as I show you how to make an original fun cocktail that will impress all your friends: Molly's Coffee Frappe with Whipped Cream.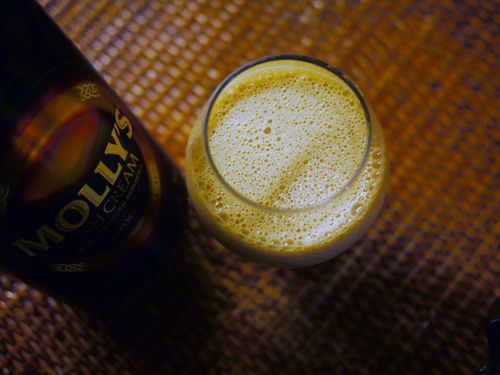 Whip your cream until stiff.
Take 2 shots of thick and flavourful chilled expresso, 1 shot of Molly's Irish Cream, 1 shot of almond milk with a dash of vanilla, and shake what your mama gave you (no. really) until shards of ice break in the shaker, pour in a cognac (or old fashioned) glass and top with the cream and cinnamon.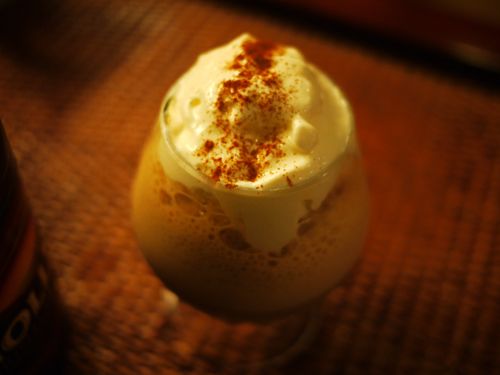 But don't be limited to drinks only, think about the possiblities: Molly's Ice Cream, Irish Cream Cheescake, Banana Bread Pudding with an Irish Cream Caramel!!!
If you want other recipes and interact with the brand, you may check out their official facebook fanpage https://www.facebook.com/mollysirishcreamphilippines
If you find yourself in a bar and wonder what can be made with Molly's, ask for a B-52, if you are, wild and still enjoy your shots or chilled on the rocks for the mellow ones.
And always, Drink Responsibly.