Jamba Juice in Manila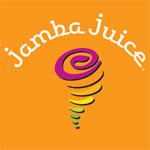 So the first ever Jamba Juice in South East Asia has finally opened, and it's in Manila! The store is located at Bonifacio High Street in the Fort Area, Taguig. It'll be officially opening tomorrow at 10am but along the line they will start opening at 7am, for all you early health food/ sport junkies to get your fix before hitting the gym or those who need a little vitamin and nutrient boost before work.
I'll be creating/serving/selling/making your juices and blending up a storm tomorrow evening at 7pm at the shop. Come by and let the Fat Kid Inside show you his juicing skills (i don't have any -humor will ensue).
For those of you who don't know Jamba Juice, here's an exerpt from their site:
"It all started with a blender, a bunch of fruit, and a vision that's equal parts good and good for you.
From these humble beginnings, Jamba Juice has grown into a favorite destination for better-for-you beverages and foods, making its way into hearts and neighborhoods across the country with more than 700 locations.
The Jamba menu has grown a bunch, too.
Organic tea lattes. Steel-cut oatmeal. Grab-N-Go wraps, salads and sandwiches. California Flatbreads™. But for all the additions, some things haven't changed. Everything's still made with goodness you can taste and feel. All of our products have no artificial preservatives, no high fructose corn syrup and 0g trans fat.
So while we've blended things up over the years, our feel good mission hasn't changed one iota:
to inspire and simplify healthy living for active, on-the-go lifestyles. Which means whether Jamba invites you sip, bite, give back or create, you'll be left thinking the same thing: that felt good. "