From Market to Table: Pork and Vegetables
We are a country that has more or less the same climate as our neighbours Vietnam and Thailand, we also happen to be in possession of micro-climates like Baguio, Sagada and Bukidnon, yet our selection and availability of produce remains quite mundane and limited in its diversity. When I walk around grocery stores I'm saddened by the rows upon rows of uninspiring vegetables and products. How come I can't find garlic flowers, apple eggplant, chive flowers, water lily, heirloom tomatoes, micro greens, Swiss chard, collard greens off the shelf?
I know those people who will say that a statement like that isn't fair will probably be aching for a little word battle to put me back in my place and say that we have the best mangoes, sweetest pineapples, awesome coconuts, etc, etc.. Let me stop you right there: firstly, I'm not saying we have bad produce, I'm saying we have limited produce, secondly, how available and accessible is this best produce?  Finally, open your mind, laying the ground work and admitting faults is the only way things will change for the better; misplaced pride is not.
Having had the opportunity and the luck to travel to different countries, I've seen and experienced what is locally lacking: (seriously, when I step into Whole Foods, I cry)
1.       Diversity in street food and its availability at every corner
2.       Supermarkets that have wide options for each and every single item.
3.       Specialised restaurants (health food, southern French cuisine, northern Thai, western Vietnamese – not just national cuisine, but regional cuisine!)
4.       Market to Table restaurants and cooking.
5.       Gastro Pubs, Microbreweries, Ateliers, Spice Shops, Specialised Equipment Stores (Water Baths, Chemical ingredients…)
I'm not saying that we don't have a strong food culture since that would be blasphemous! All our events and ceremonies are food centric, we plan our days around grub, while eating breakfast we discuss dinner and when someone says "hey you should visit this city", our first and foremost recommendation is which restaurant to try. How come then are we not innovating, educating and pushing the limits of our cuisine and tastes?
I'm not sure how to answer that question, and writing it down has opened my eyes to many answers. I guess, first and foremost everyone here seems to enjoy and be satisfied with fast food, making us more complacent to making the effort of eating fresh every day; out of all the Asian countries, we are the ones with the most fast food and restaurant chains, no questions asked. Moreover, cooking isn't passed down as much as it should; everyone should have a handle on basic cooking skills and take the time to actually understand ingredients and flavours. Thirdly, our culinary past is muddled, not everyone is aware of all the great Filipino dishes there are out there and the richness of our history; proof: when foreigners visit Taiwan, Korea, Vietnam and Singapore they cannot stop raving about the food and delicacies they encountered, however, after visiting the Philippines it is a rarity that our dishes were the centre of attention, they will come out talking about adobo and making squeamish faces at the sound of Balut; yes it has come down to that.
Of course, it isn't all grim and dark; I just have a tendency for the dramatic when I'm trying to get a point across. All I'm saying is that we need to educate our palettes and become more curious with food, so that a need is created and eventually answered by local players. This little pinoy food revolution is slowly starting, with better produce in markets, little specialised restaurants, organic farms, but there is still much work to be done. (Why aren't there more restaurants at the same level as, and with the same meticulous dedication as Anotonio's Tagaytay?)
I've been talking about www.downtoearth.ph lately, this little farm down in Bukidnon, with amazing and different produce, check out their website! For this following recipe I used ingredients only sourced from this farm (with the exception of commodities such garlic and seasoning). Let's support these little farms in hopes that they become bigger and that one day maybe an item like Swiss chard will become just another boring vegetable we can find in every supermarket.
If you feel what I'm saying, comment and let me know what ingredients/food you wish you could find every day!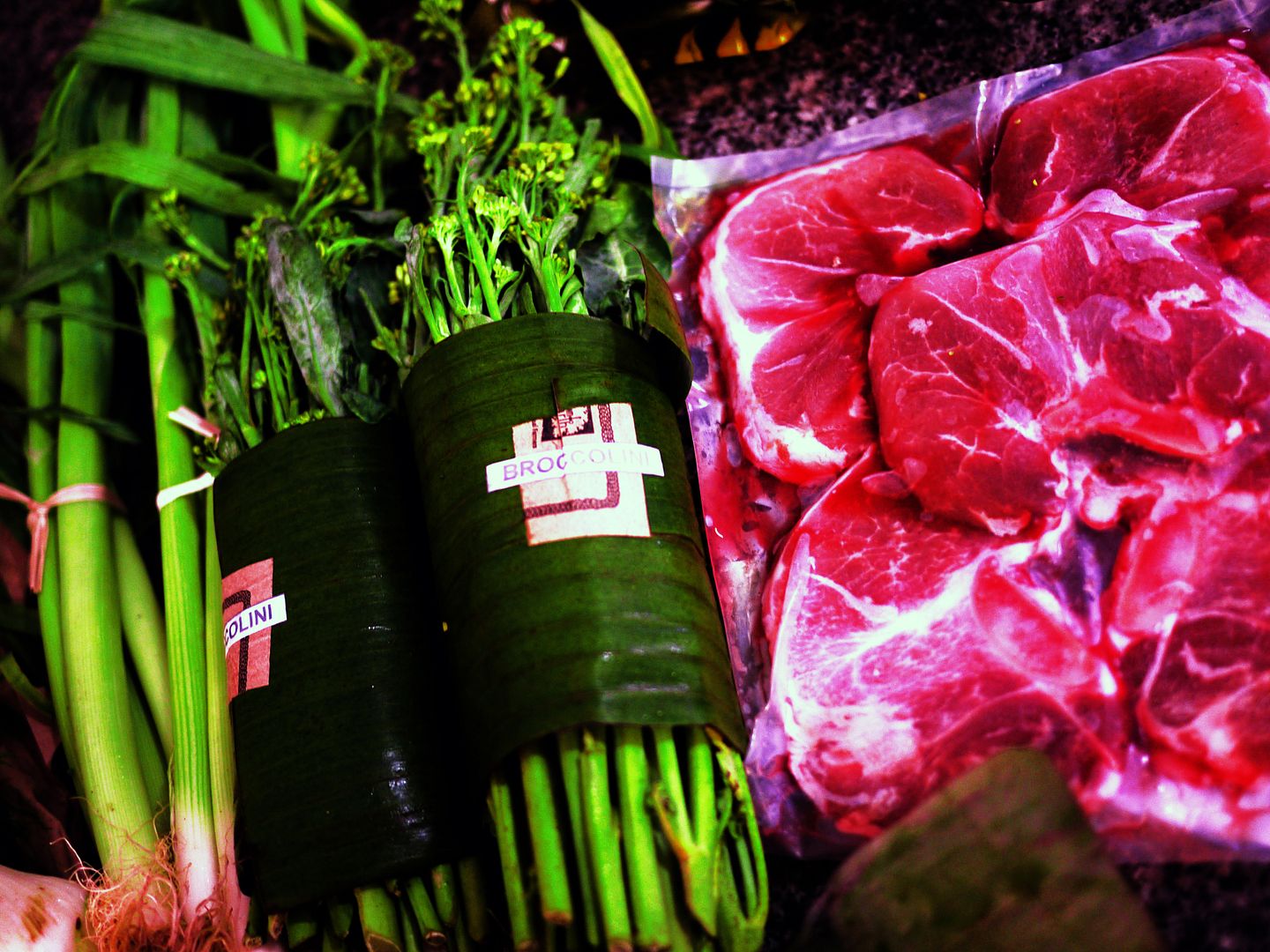 Two sauce Pork Loin and Steak cooked with Fennel and Apples, Buttered Market Vegetables, Stuffed Pumpkin with Micro Radish Salad.
Simple. Fresh. Family Style.
Serves 4
 Stuffed Pumpkin Salad with Micro Radish Salad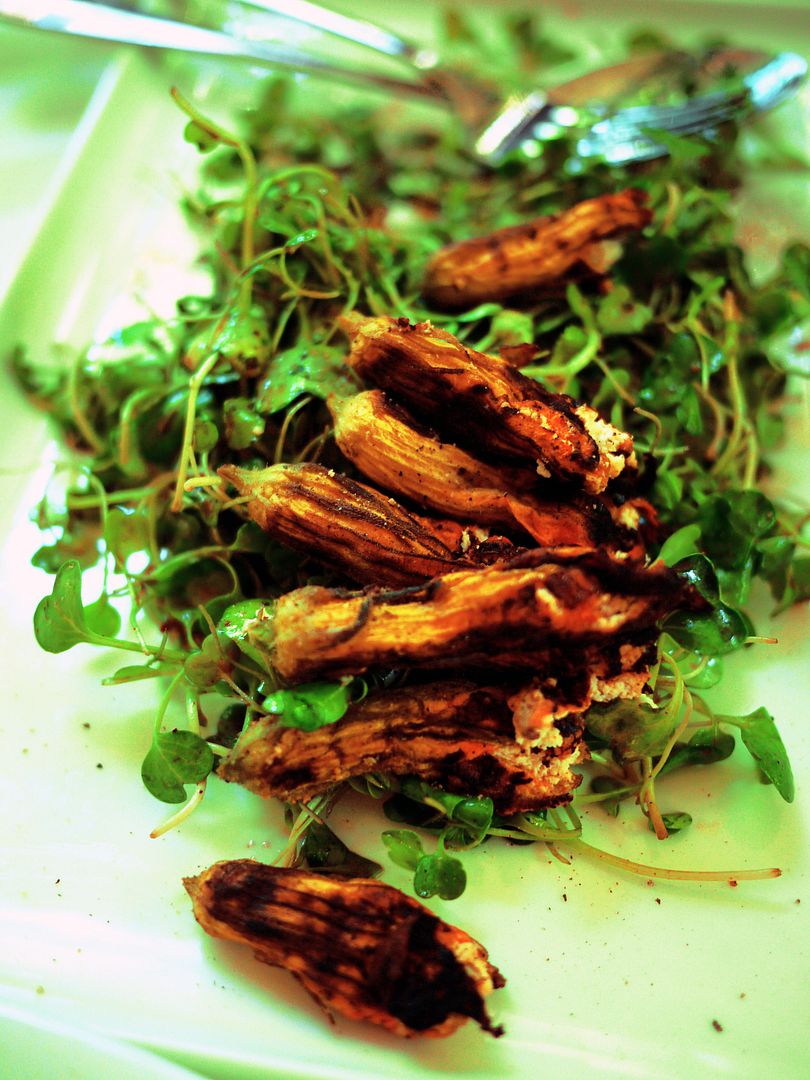 4 handfulls of Micro Radish Salad
16 pieces Pumpkin Flowers
1 cup of ricotta cheese
2 egg
1 cup of flour
1tsp cornstarch
1tsp spanish paprika
1/3 cup of extra virgin olive oil
3 tablespoons of aged balsamic vinegar
juice of 1 lemon
1tsp of natural farm honey
salt and pepper to taste
Mix together, ricotta, paprika, salt and pepper to taste and with the use of a syringe stuff the pumpkin flowers to the brim.
Mix the flour and the cornstarch together. Dip each flower in this mixture, then dip them into the 2 beaten eggs, then back in the flour mixture. Take each flower and deep fry in a deep skillet. Until golden light and crispy.
Beat the honey, lemon and vinegar together, slowly pour in the olive oil until well emulsified.
In a big bowl mix all the micro radish with the dressing, until every last leaf is lightly coated. make more sauce if needed.
Plate up.
Two sauce Pork Loin and Steak cooked with Fennel and Apples
800 grams of Pork Loin (2-3 inch diameter)
2 fennel bulbs
6 small leek stalks
2 apples
1 whole garlic
1 red onion
2 medium white onions
2 tbsp of mustard
1 tbsp of honey
1 bunch of fresh dill
olive oil
salt and pepper to taste
200 ml of beer (pilsner or lager – not light!)
100 ml of beef broth
1tsp brown muscovado sugar
If you are working with pork steak make sure they are about 1 1/2 inch thick each. If you are working with loin make sure your keep it whole. Marinate the meat with some salt and pepper to season, half of the fennel herb from the bulbs chopped up and the crushed whole garlic (skins out). Let sit covered for about 30 mins or longer, depending how quickly you get through the next steps.
in an oven 3 inch deep rectangular pan, place your sliced fennel bulbs, thinly sliced and peeled apples, chopped leeks, red onion, salt and pepper and more or less 3 tbsp of olive oil, lay flat in the pan. Heat your oven to about 220 celsius and place the dish in the lower rack and leave bake for 30 mins or until everything becomes unctuous and caramelized.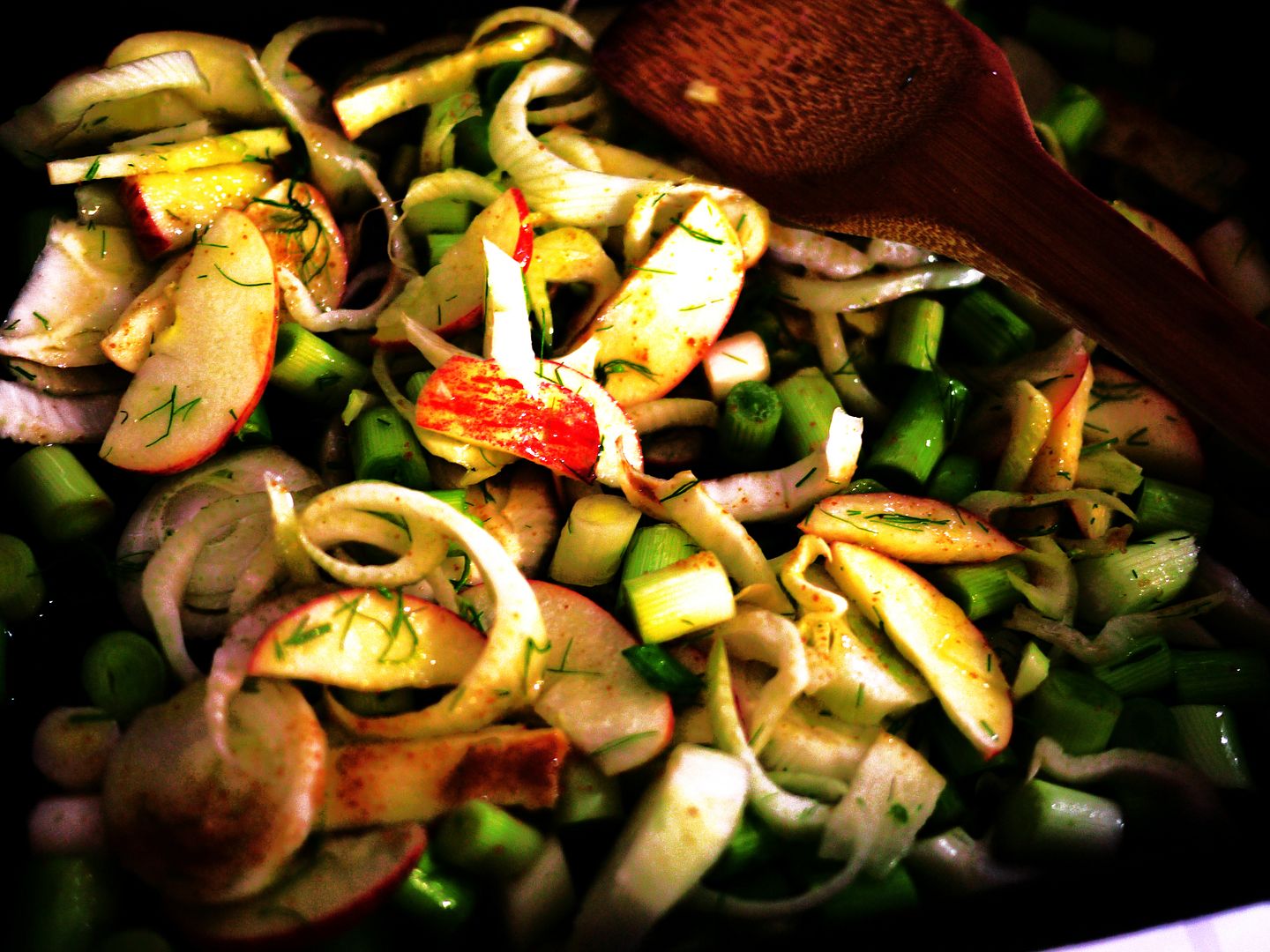 Fry your pork in a very hot pan until  colored on all sides, remember you just want the colour you don't want to cook it through, so make sure that once the appropriate sear is given remove it from the heat (1 min each side). Keep the fat in the pan. Place the pork on top the fennel/apple baked goodness. Lower the oven to 190 and place the pork and fennel/apple mix in for about 15 mins or until a thermometer reads 62.8 celcius or the meat is barely pink. Let rest for 7 mins, to let all the juices go back in the pork, before cutting. (once in the oven you should be able to finish point 4 and 5.)
In the same pan where you fried the pork, with the same discarded fat, fry your sliced 2 medium onions and sugar until caramelized, add the beef stock and the beer and let simmer until nice and thick. Season with salt and pepper to taste.
In a small bowl or mixer, place your mustard, honey and salt and pepper, mix until combined, add the last half of the fennel herb and 2 tsps of chopped up dill. Slowly mix in 3 tbsp of olive oil until well emulsified.
Once everything is ready, get a big serving plate and put the fennel/apple mix in the middle, top with your pork steaks or cut pork loin, brush the meet with your mustard sauce and set aside your beer sauce for dipping! top with some more dill and fennel herb.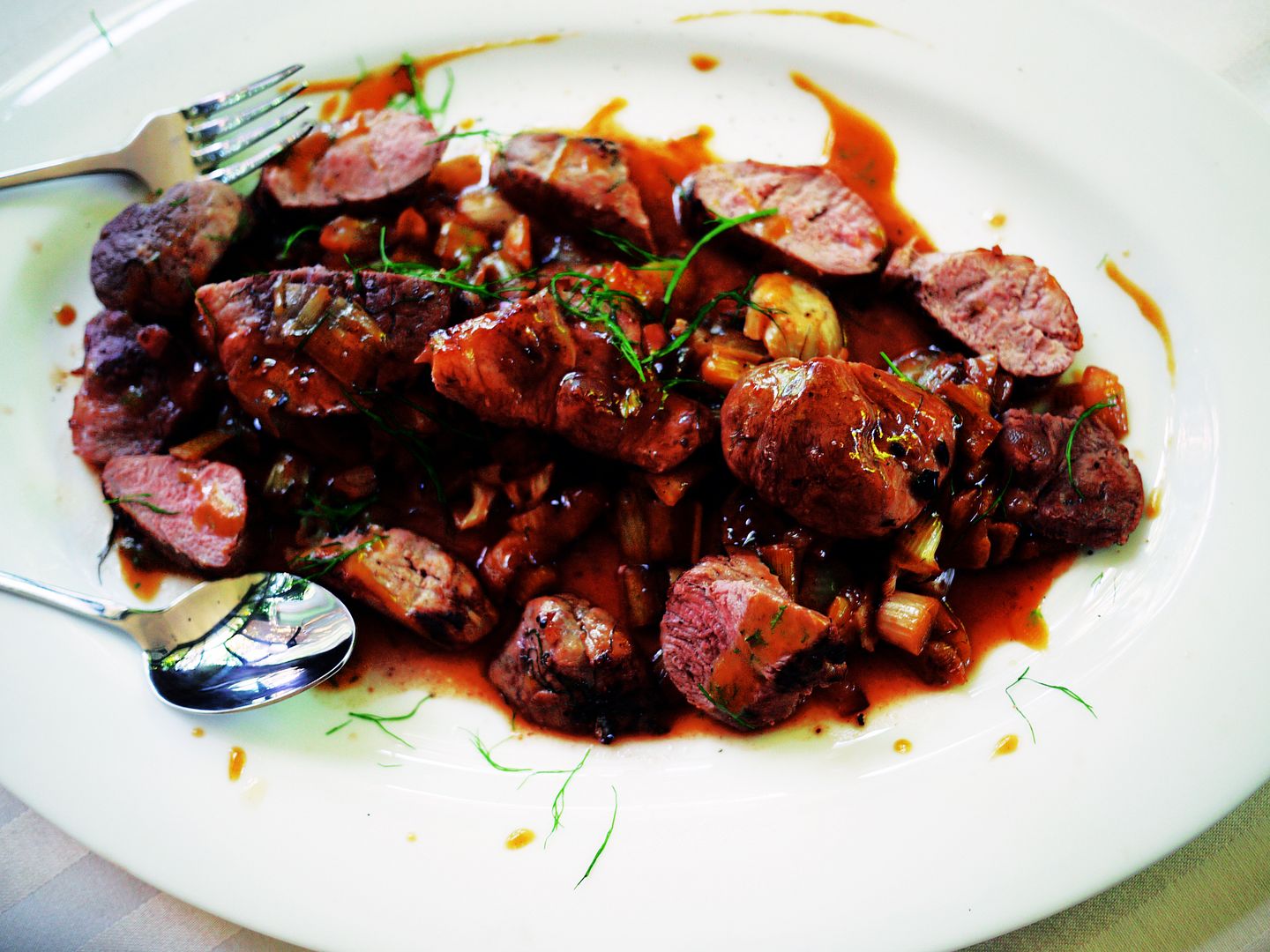 Buttered Market Vegetables
Basically whatever vegetables you find fresh at the market you can add to any dish as a nice rustic accompaniment. I found some nice broccolini, swiss chard and micro carrots.
The rule of thumb here is easy, the thicker and sturdier the vegetable, the longer it will take to cook. So use common sense and do it in steps. Get large hot pan going with olive oil and some crushed garlic cloves, start with your cleaned baby carrots, until they are cooked and tender (but still crunchy). In the same time get a pan going with boiling water and salt, place your broccolini and swiss chard in for 5 mins until vibrant and done, drain, and add them to your carrots. Seasoning with salt and pepper here i key, get the right balance going. Finish off with a knob of butter, as much as you want! enjoy!
I know we did!