Food and Music
If you've been reading the blog for a while now and if you are one of those who actually watch my videos (you should all be watching them!!) then you would know that I am a diehard music fan.
Music for me is something of a saving grace, it can lighten my mood, get me pumped up for a long work out, keep me company on lonely solo bike rides, inspire me to cook dishes, give me ideas on what to write or just make me appreciate the little things in life.
Ever since I was a kid music was something that drew me in close. Like many obedient children growing up in the Philippines, I was enrolled in piano lessons at a very young age, and whilst I looked cute probably making a food out of myself in random recitals I never really truly appreciated the strict compounds of the ebony and ivory keys (yes I was philosophical at a young age). So I mused through the ideas of attempting different instruments. Being a quiet child but extremely curious and raucous in the inside, I drifted towards the drums. My parents, being really cool about it, bought me a mini drum set, probably the worst investment of their lives, not to say that I was terrible, I was actually pretty good, its just that, well, drums are loud, no matter where you put them in a house; and if you've ever heard drums without a band, well, it just sounds like drums. I loved every tap and beat and continued to take lessons for more than 6 years. Naturally the drums had to grow with my height and when I finally got my first adult set, that's when I decided to form a band. We were called No Comment and we were awesome.
To cut a long story short, we had band practice every week, Saturday afternoons to be exact, and it was some of the best days of our formative years. Music brought the band together, and we grew as a group, not only in numbers (every member would always bring along a girlfriend, a friend…) but we also grew closer. Learning from each other and our experiences.
Of course we didn't spend the whole day playing, we also ate a lot, and after a long string of songs, there was nothing better than to eat all together, sweaty and still high off the tunes we created.
I also had never really sung before but after messing around with a few rock songs I decided I wanted to be that drummer who could also sing while playing. At the height of my singing confidence, I preformed, with the band, in front of a live audience for a battle of the bands, without being behind the drums. Asides from being really pissed and having to clap my hands so that the replacement drummer would follow the beat, I was terrified. It went well, I have the video in my archives, and all of you will never see it.
So there, I just thought I should explain why all my videos always have the music I listen to. Usually the songs you hear are the ones that are currently in my mp3 player and I try my hardest to find songs that most people don't know, so that when I discover a band, and if you have an appreciation for music also, you might get inspired the way I do.
Speaking of which, there is this really cool App in Facebook i recently used that lets you create a song for your friend, which BPI Express Credit will produce for you, inviting them to go have a meal with you. It's called the Spend Happy Time Together app and can be found here: https://www.facebook.com/bpi/app_414238415306251
Click more for the instructions and details
It's simple really, just go on the app, personalize your lyrics, choose to who you want to send it to, BPI will produce and record the song for you (how cool is that?) and then they will send it to your loved ones.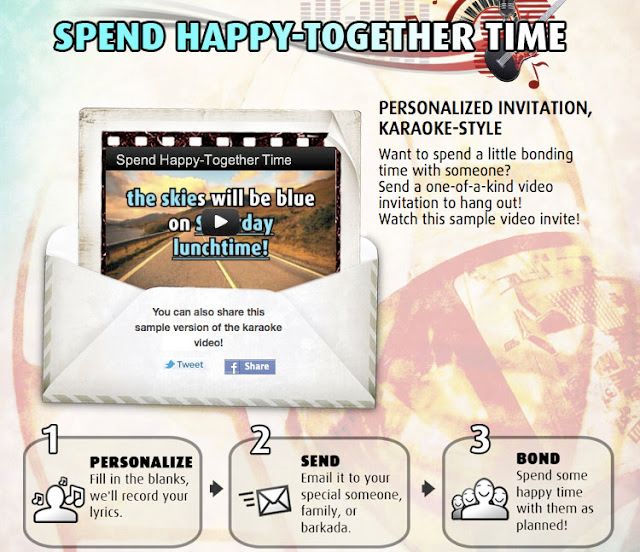 That way you can make someone you havent seen in a while smile through a creative way.
As a BPI Express Credit user myself, check out these perks you get http://www.bpicards.com/RealThrills